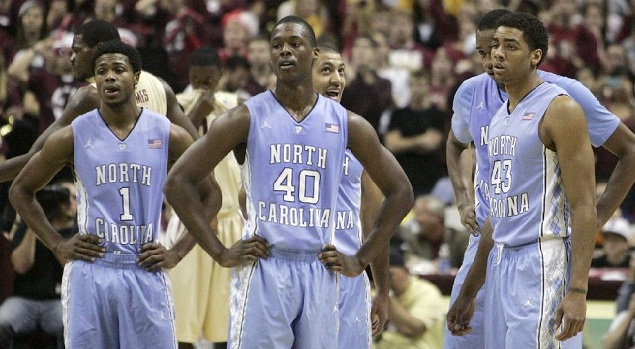 Indiana's weekend could've been worse. Losing to Ohio State by 27 is nothing compared to North Carolina losing by 33 to Florida State.
FSU sometimes has trouble scoring 33 points, let alone beating teams by 33. And the 90 points allowed? Last team that gave up that many to the 'Noles was Stetson. Last season.
So, let's take an assessment of the situation.
North Carolina (15-3) was a near universal pick to win the title this season, mostly because it returned all five starters from a team that won the ACC and reached the Elite Eight. But Williams' team has been largely overlooked the last month or so as others such as Syracuse, Kentucky and Ohio State have posted more impressive wins.
Saturday's debacle was essentially the cherry on top. Here are three takes from Saturday that sum up the performance, the issues and what's next.
From Caulton Tudor of the Raleigh News & Observer:
The Tar Heels obviously aren't a bad team. But we know now they're not a good one, either. That puts them squarely in the fair category. It defies logic, but that's where they are on mid-January.

With so much talent and depth on the roster, the Heels have a fighting chance to make a 180-degree turn. If nothing else, the trip to Florida State provided Roy Williams and his players with an unmistakable reading on who they are.

How a team that easily should be among the nation's two or three best has deteriorated into a 33-point victim to a very average opponent will have to be addressed by Williams, his assistants and the players.
"There is no facet of the game that we do not need to work on from free throws, to box outs, to guarding the ball, to help-side defense, to not turning it over—I mean every phase of the game," UNC coach Roy Williams told reporters. "Florida State made us look like a bunch of junior high guys, and they were veterans."

Williams took a lot of the blame himself, saying he did "the worst job of coaching I have ever done." There might be some technical truth to that, since it was his most one-sided loss at Carolina, but more germane is that he'll need to do one of his best coaching jobs to rescue the Heels from what occurred against the Seminoles.
The only real concern with this game is the margin by which they lost which leads to a very interesting factoid. The biggest loss ever suffered by a NCAA title team in the seeded era is UNC in 1993. The Heels lost to Wake Forest by 26 in Winston-Salem three days after the now famous comeback against FSU. After losing to Wake(who was unranked at the time) UNC went to Durham and lost by 14 to Duke. That team suffered back-to-back losses by double digits in a year they ultimately won the national title.
That's the ultimate takeaway, right? Every team has a hiccup game or even a performance they'd rather forget. But most title teams never have a true debacle. Even when UConn couldn't buy a basket during last season's Big East issues, it never lost by more than 17 (at St. John's).
Is a 17-point defeat more important than a 33-point loss? Normally I'd ignore something like that. Things steamroll during a game, a certain guy goes off (like FSU's Deividas Dulkys) or something like that.
But losing by 33 when you have national title aspirations? That doesn't happen. It shouldn't happen. It can't happen.
Unless the Heels respond strongly in upcoming games against Virginia Tech, NC State and George Tech, it might very well be a sign that they're not good enough to win it all. Talented enough, yes. But those two don't always mesh.
We'll see if the Heels can make it work.
Related stories:
You also can follow me on Twitter @MikeMillerNBC.