It's clear Virginia's one of the ACC's top three teams. The Cavs (14-2) are probably still a step behind North Carolina and Duke, but as Thursday night's 61-58 loss at Durham showed, they're gonna have a chance to win every game.
Mike Scott may be the conference's top player, the defense is excellent, especially on the perimeter and their slow-it-down style usually ensures they're rarely out of a game.
Yes, that non-conference schedule wasn't much – six putrid teams – but they did play and beat the likes of Michigan, George Mason and Drexel. It was enough to make one wonder how Virginia would fare against elite teams, but Thursday answered that.
Not that there were many questions before Thursday.
An enlightening post by Dan Hanner over at RealGM.com showed Virginia was a team that played pretty well against average teams, but was even better against elite teams (before Thursday even!). Even better than unbeaten Baylor. (And the Cavs were just a small part of Dan's table. Go read the whole post, right now.)
Here's Dan's snazzy table: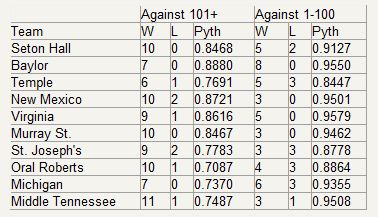 Not enough? Here's how Virginia's played against elite teams compared to the likes of Ohio State, North Carolina, Syracuse and Kentucky:
That's enough to make me think Tony Bennett's team is on the winning track no matter which players transfer.
Related story:
You also can follow me on Twitter @MikeMillerNBC.