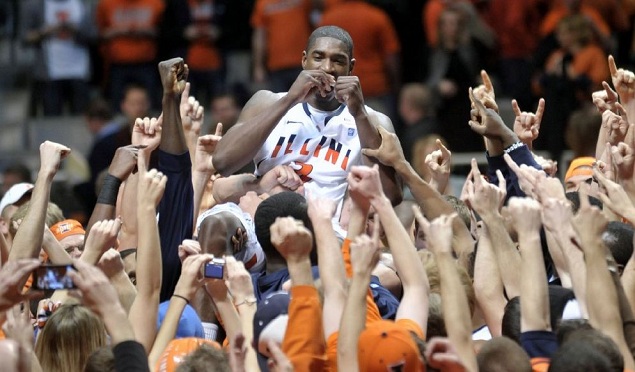 Brandon Paul has always had potential.
Wings with his size, athleticism and ability always do. But Paul has never been able to put it all together. Part of the reason was out of Paul's control. When you spend two seasons sharing the perimeter with Demetri McCamey, there aren't going to be many shot opportunities to go around.
And while Paul made many a Breakout Player list during the preseason, he hasn't exactly lived up to those expectations. He came into Tuesday night's game against Ohio State averaging a career-high 12.1 ppg and 4.5 rpg, but he was shooting a career-low 28.4% from three and just 36.4% from the floor. His efficiency was down from 1.002 PPP to 0.917 PPP.
There really wasn't much argument against the statement that Paul was having a disappointing season.
And then Tuesday happened, and Paul put together what may just end up being to single most-impressive individual performance this season.
He scored 43 points on 11-15 shooting, something that hasn't happened in at least 16 years. He was 8-10 from three and 13-15 from the free throw line. He also added eight boards, two assists, two steals and four blocks, each one more impressive than the last. That's probably enough to make Bruce Weber look past the even turnovers he had, right?
But most importantly, Illinois got a 79-74 win over No. 5 Ohio State at Assembly Hall in Champaign, a win that they desperately needed. Illinois wass on track to be close to the bubble come Selection Sunday, and right now there are not many teams in and around the bubble that have a win like this. If Illinois doesn't build on this, there's a chance that, two months from now, we look back to this game and say that it is the reason that Illinois is dancing.
I'll let other tell you about what the win means, however.
Here, its all Brandon Paul.
The numbers he put up are staggering. His three point shooting percentage climbed to 34.5% on the season, an increase of 6.1%. His field goal percentage went up to 39.2%, moving up 2.8%. He's now averaging 13.8 ppg on the season. Increases like that don't happen January. They just don't.
But what made this performance so impressive isn't the fact that Paul simply scored 43 of Illinois' 79 points, its that he did it on just 15 shots attempts. You want to talk efficiency? That's efficiency. And it seemed like every shot he hit down the stretch was crucial. Every time Ohio State looked like they were getting ready to pull away, Paul would hit a couple of threes to keep Illinois within striking distance. His deep three with 2:02 left on the clock gave Illinois a 69-66 lead. After hitting two free throws, Paul hit a ridiculous three from the corner with Aaron Craft's hand literally in his face to push the lead to 74-70 with just 43 seconds left.
All told, Paul scored 15 points in the final 2:43 of the game.
Did I mention he also blocked four shots?
The key for Illinois now will be whether or not Paul can build on this performance.
The Achilles' Heel for the Illini all season long as been their lack of a star. They don't have a go to player. They don't have a guy that can be counted on to get a bucket in a key situation. McCamey deserves plenty of criticism for the way he played the last two years of his career, but there were times where all Bruce Weber had to do was isolate him at the top of the key and you knew good things were going to happen.
Can Paul be that guy for Illinois?
And will the rest of the Illini be able to capitalize on the better opportunities they will get if defenses focus on Paul?
Because, frankly, this performance is not necessarily a good sign for Illinois. Paul was absolutely unreal in the second half against Ohio State. He put on, undoubtedly, one of the most impressive shooting displays that I have ever seen. He was, in a word, unhuman.
And Illinois still barely beat Ohio State at home.
He's not going to be able to put on this kind of performance every night. What happens when he comes back to earth?
Rob Dauster is the editor of the college basketball website Ballin' is a Habit. You can find him on twitter @ballinisahabit.