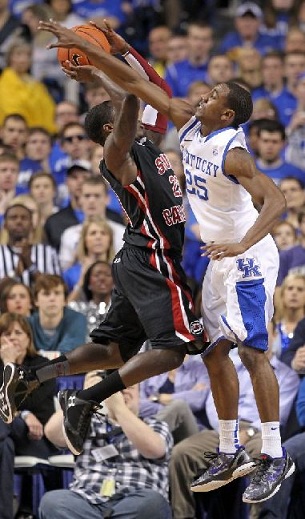 LEXINGTON, Ky. – Bruce Ellington was South Carolina's best player as a freshman.
The diminutive but obscenely athletic point guard led the team in minutes played, scoring and assists. He took 110 more field goals than anyone else on the roster and shot 65 more threes. He wasn't only the guy that had the ball in his hands at the end of a clock, he was the guy that had the ball in his hands, period.
That is why his decision to hit the gridiron for Steve Spurrier this season was so concerning for Darrin Horn's team. Throw in the transfers of Murphy Holloway and Ramon Galloway and the graduation of Sam Muldrow, and the Gamecocks were looking at a season with a roster stocked with youth and a star player coming off of three months worth of pounding from playing football in the SEC.
And as you might expect, there has been a bit of an adjustment period for Ellington.
"Not having played consistently for the last six months will affect whether he can make shots or not," Horn told reporters after the Gamecock's 79-64 loss to Kentucky on Saturday afternoon. "So we just gotta throw him out there like the other guys. Let him play and if he gets tired, pull him out."
You could see the rust against Kentucky.
Ellington did knock down one deep three and he had a couple of nice drives to the rim, but he finished the game 3-13 from the floor. He wasn't moving slowly and he is clearly well on his way to being in perfect basketball shape, but basketball isn't like football, where a smaller guy is going to be able to get by on physical tools alone.
It doesn't matter how difficult it is to stay in front of Ellington if he can't make a defense pay for letting him penetrate.
But prior to Saturday's game, Ellington had been on fire. Against South Carolina State on Tuesday, he was 3-5 from the floor and 3-3 from three in 13 minutes. On December 28th, Ellington went 5-7 from the floor and 5-6 from three in 25 minutes in a win over Wofford. Do the math, and Ellington had hit eight of his last nine threes heading into the Kentucky game.
"I'm getting into the rhythm now, getting into the gym and focusing on basketball," Ellington said after the game. "I'm getting it back."
Making that stat all the more impressive is that on Monday, Ellington had on shoulder pads and a helmet as he helped South Carolina truck Nebraska in the Capital One Bowl, contributing 73 yards in his role as kick returner. One of those returns went for 45 yards.
"I thought I was going all the way," he said during a media session on Thursday. "But some guy came — I guess he got off a block — and tackled me. I thought I was gone."
After the game, Ellington went back to his home in Moncks Corner, SC, rather than travel back to campus with the football team. In the morning, he made the drive to the basketball team's shootaround and officially started the 2011-2012 season as a full-time point guard. Up until now, Ellington has spent most of his time as a football player, joining up with the hoops team over the last month or so as football had some time off between the end of the regular season and their bowl appearance. During that time, Ellington was practicing and playing games with the basketball team, which, when combined with the return of Brenton Williams from an injury, means that Darrin Horn finally has a full deck.
"Not that tough, really," Horn said when I asked him how difficult it has been to reintegrate Ellington in with this group. "He's a phenomenal kid, a great teammate. He has the ability to come out and do what you saw today. He's not shooting the ball well, but he had four assists and zero turnovers. That's probably more impressive when you're playing this kind of defense."
The Gamecocks had a tough start to the season, losing five of their first seven games. Included in that stretch were losses to Elon, Tennessee State and USC and a squeaker against Mississippi Valley State. But prior to the Kentucky loss, USC had won six of seven, with five of those victories coming with Ellington in the lineup. While Williams' return and the fact that Horn can now practice with a full roster have definitely factored into the recent improvement, given Ellington's ability and the position that he plays, it would be foolish to chalk this up as simply a coincidence.
That improvement gets all the more interesting when you consider the fact that Ellington, while still rusty, has actually been better than he was last season. His offensive rating is up to 100.4 from 87.8 last year while his shooting percentages are improved across the board — 35.1 (2PT)/36.1 (3PT)/75.0 (FT) this year vs. 34.2/30.8/63.5 last season.
What happens when he, you know, isn't rusty any more?
"You give him another two weeks, three weeks, a month, and you're going to see a different player," Kentucky coach John Calipari said after the game. "The other ball he was using? It was oblong. This one's round. Now he's using this one and he's still out there doing the things he did."
Whether or not that prediction comes to fruition, the one thing you can count on is the leadership and competitiveness that Ellington brings every time he sets foot on the basketball court. Five months on a football field didn't take that away from him.
As freshman Damien Leonard said, "he's still the same old Bruce."
Rob Dauster is the editor of the college basketball website Ballin' is a Habit. You can find him on twitter @ballinisahabit.