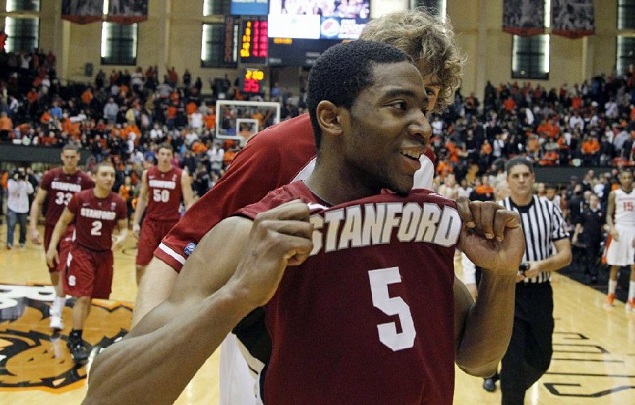 It took Stanford four overtimes to avoid a sweep by the Oregon schools. But it was worth it.
The Cardinal are tied for second in the conference and earned a split in their first real road trip of the season after a wild 103-101 win against Oregon State on Saturday night. Stanford (13-3 overall) is still working out the kinks in its offense, but it came up with some big shots when it mattered most, starting with freshman Chasson Randle and sophomore Anthony Brown.
Randle scored a game-high 24 points, including seven of Stanford's eight points in the final overtime. Brown's 3-pointer in the third overtime came with just 15.4 seconds left and were the Cardinal's only points of the period.
Hey, you play for 60 minutes, you're gonna have some drama.
"We were going to keep punching until someone was knocked out," Randle told the Bay Area News Group. "I think we could have kept going. It was a lot of fun."
There are more notable moments in this rundown by Jeff Eisenberg, which also notes a body slam by the Beavers' Roberto Nelson that wasn't ruled a flagrant foul. Or you could just watch this.
[youtube=http://www.youtube.com/watch?v=fKxagzjWeE8]
The win kept Stanford right behind conference-leading Colorado (Colorado!) and tied with Washington. In a conference that'll be pressed to place more than one team in the NCAA tournament, the Cardinal couldn't afford to drop two straight.
Next up? Resting for home games against Utah and Colorado. Maybe those'll only take 40 minutes each.
Related stories:
You also can follow me on Twitter @MikeMillerNBC.