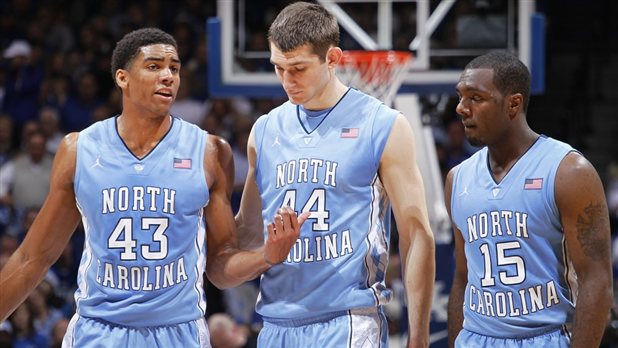 Over the course of this week, we will spend a few minutes catching you up on how some of the best conferences in the country currently look. With conference play starting up, its time to get into the basketball spirit.
Favorite: North Carolina
Is it just me, or does it feel like no one is talking about North Carolina as a title contender anymore? That may be a bit of an overstatement, but since UNC lost to UNLV and Kentucky in the span of a week, it feels like they have become the forgotten juggernaut. Do they have flaws? Of course. Kendall Marshall can't guard a door frame. Harrison Barnes has a tendency to become nothing but a jump shooter. Neither John Henson nor Tyler Zeller have the kind of physical strength inside to bang with a guy like Jared Sullinger. But that almost feels nitpicky when you are talking about a team that has the amount of talent on their roster that the Tar Heels do.
– And-1: Obviously, Duke is the second best team in this conference, and its really not even close. And while the Blue Devils have, essentially, had the last month off, it is worth noting how much development guys like Austin Rivers and Mason Plumlee have shown, even just this season. Rivers is starting to get his shot selection and decision making in check, while Plumlee has shown flashes of being the shot blocking and rebounding force that we've been waiting for four years to see out of him and his brother. The x-factor for Duke's season, however, may end up being a different freshman: Quinn Cook. Over the past two games, Cook has scored 22 points on 12 shots and handed out 17 assists without turning the ball over. As good as Seth Curry and Rivers are, neither of them are a true point guard. Cook is. Will he see more minutes as a result?
Biggest Surprise: NC State
Frankly, there hasn't really been a surprise team in the ACC this season. No one is really out performing expectations given that the league, as a whole, is down once you get past the top two. I'll give the nod to NC State, however, simply because I think this team has a chance to sneak up on people this year. CJ Leslie and Lorenzo Brown are both talented enough to one day make an all-ACC team, Scott Wood can flat out shoot and Mark Gottfried does have some size at his disposal.
– And-1: I'm going to put in a disclaimer here saying that I think a surprise is going to come out of College Park now that Maryland has Pe'Shon Howard and Alex Len healthy. I think Terrell Stoglin is absolutely terrific as the lead guard for this group, and I have also been impressed with the play of James Padgett up front. With Sean Mosley providing experience, Howard giving Stoglin some help as a playmaker and Len playing like, well, a guy that is destined for the NBA, the Terps have the pieces to sneak up on folks this year.
Biggest Disappointment: Florida State
I think that I consistently expect more out of the Seminoles than they are capable of giving me. Simply put: this team cannot score. At all. Michael Snaer is not the player I thought he was going to develop into, Florida State is incapable of shooting the ball and downright horrid and protecting it (they are 331st in the country in turnover percentage). I love their front line — particularly Bernard James — and Ian Miller has provided some scoring punch now that he is eligible, but I am almost to the point where writing this group off seems like a better idea that counting on them to be able to create enough open shots to win a meaningful game.
– And-1: While Clemson is probably more deserving of being called a disappointment, I am going to talk about Virginia Tech here instead. Its not necessarily because I think Seth Greenberg's team is underperforming so horrifically — at 11-3 with no bad losses, they aren't — but because I desperately want to see this team finally break through and get into the NCAA Tournament. To do so, Tech is going to have to win a game against UNC or Duke. Do they have the horses to pull off that kind of upset? I like Erick Green and I love Dorian Finney-Smith, but I think Tech needs to get more consistent scoring out of Dorenzo Hudson.
Something left to prove: Virginia
I am just not sure what to make of this team yet. They are terrific defensively, playing a packed-in man-to-man that almost looks like a zone with the amount of help-side defense they provide. They control the tempo and take an opponent out of their rhythm the same way that Bo Ryan does at Wisconsin. They have a star in Mike Scott at the four. But their only quality win is over Michigan at home and they have a loss to TCU on their resume. The Cavs travel to Duke on January 12th. I think we'll know more on the 13th.
– And-1: I think Miami has the potential to be a sleeping giant in the ACC. We all know about how good their back court is and we all know that Reggie Johnson is a double-double machine at the center spot. But how about the play of Kenny Kadji? Coming off of a 30 point and 12 rebound effort against UNC-Greensboro, Kadji has been terrific playing as an athletic, stretch four. He can run the floor, he can finish above the rim and he is shooting lights-out from beyond the arc, which opens up the paint for Johnson to operate on the block. Now if someone can just convince this group to play some defense.
Player of the Year: Mike Scott, UVA
Here's my thinking: he's taken a team that no one has expected too much out of and led them to a top 25 ranking and the third spot in our ACC power ranking while averaging 16.0 ppg and 9.0 rpg on a team that is 338th nationally in pace. That, and the kids on Tobacco Road are going to split their votes.
All-Conference Team:
POY: Mike Scott, UVA
G: Kendall Marshall, UNC
G: Austin Rivers, Duke
F: Harrison Barnes, UNC
F: Travis McKie, Wake Forest
C: John Henson, UNC
Power Rankings:
1. UNC
2. Duke
3. Virginia
4. Miami
5. Virginia Tech
6. Florida State
7. NC State
8. Maryland
9. Clemson
10. Wake Forest
11. Georgia Tech
12. Boston College