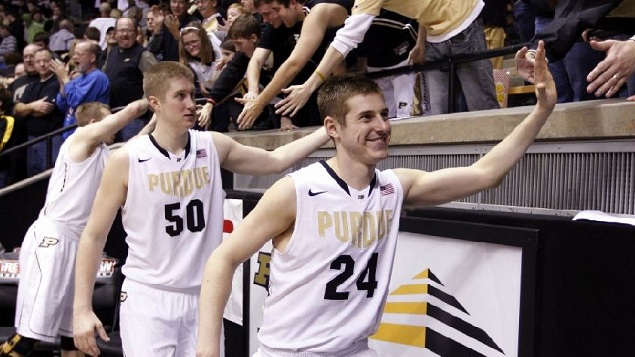 Few teams have leaned on their stalwarts the last few years like Purdue. Whether it was E'Twaun Moore, JaJuan Johnson or a healthy Robbie Hummel, the Boilermakers thrived with guys who could carry the load – and get a boost when needed from the bench.
This year's not too different. Hummel (healthy!) leads the team in scoring, takes a third of its shots and is its leading rebounder.
But the bench is playing a bigger role for Purdue (12-3) than usual.
"Every great (Purdue) team in the past years, we've had guys that can come off that bench," senior point guard Lewis Jackson told the Indianapolis Star. "It helps us when other guys are struggling."
The bench scored nearly half of Purdue's points in its first two Big Ten wins. Yes, it's an odd stat and usually doesn't signify anything more than a team that uses a deep bench. But it seems as though this deeper Purdue bench is here to stay. The bench Boilermakers  account for 35 percent of the team's available minutes. Most years under coach Matt Painter, it's around 28 or 30 percent.
Necessity plays a part.
Jackson's been a mainstay the last four years, while Kelsey Barlow's gone from sixth man to starter. However, neither are reliable scoring options after Hummel. They're efficient, but that's because they excel at getting to the free-throw line. Guys like D.J . Byrd and Ryne Smith are more reliable shooters, while Terone Johnson and Anthony Johnson are still adjusting to their roles in Painter's offense, which is mostly to play defense and rebound. Even a little-used forward like Travis Carroll have a chance to contribute. He's scored 17 points in the Boilermakers' last three games after logging just 25 in the first 12.
Mostly, it places the onus squarely on Painter, who has to find the right combinations and push the right buttons. It was easy with Johnson and Moore around. This group's a little tougher. But perhaps they both yield the same results.
And that says a lot about Painter, right?
Related stories:
You also can follow me on Twitter @MikeMillerNBC.