College hoops coaches dream of reaching a Final Four. Going with two different programs is a rarity. And building a third, then taking it to the NCAA tournament? That should be impossible.
But Gene Bartow did all three.
He also followed John Wooden, coached at half a dozen schools and was by nearly every account a genuinely nice person, let alone a good coach.
Maybe that's why so many places will mourn his passing. Bartow, 81, died Tuesday night after nearly a two-year battle with cancer.
So where to start with Bartow? His résumé – 647 career wins, two Final Fours, 12 NCAA appearances and a spot in the National Collegiate Basketball Hall of Fame – speaks for itself. But there are three things for which he'll be remembered most:
Taking Memphis to its first Final Four
Coaching UCLA after John Wooden retired
Starting the hoops program at UAB
The first earned him national attention. He spent four years at Memphis and never had a losing record. Yet it was his third Tigers team that's still beloved in Memphis, which (oddly enough) lost in the 1973 NCAA title game to UCLA. Two years later, he made a move that most coaches wouldn't dare.
Wooden retired as UCLA's after winning his 11th NCAA title in 1975. Following a legend is hardly the way to burnish your own image – there's nowhere to go but down! – yet Bartow thrived, all things considered. The Bruins were 52-9, reached a Final Four his first season and a Sweet 16 in 1977. But a loss to Idaho State gave him the perfect chance to do something that'd last at UAB.
"I've never regretted walking away (from UCLA) because the most fun I've had in coaching or being a part of college athletics was those first eight years at UAB," Bartow said. "That was just a great period." …

"There are a lot of reasons that people change jobs," Bartow said at the time. "Until I got to UCLA, the reason I changed was in my mind it was a lot better job as far as prestige (and) financial implications. Usually you leave for that kind of reason unless you've been thrown under the bus and I'm one of the lucky ones. In my 38 years in college athletics, I was never thrown under the bus."
He coached the Blazers until 1996 and also served as the school's first AD. And he earned plenty of admires along the way.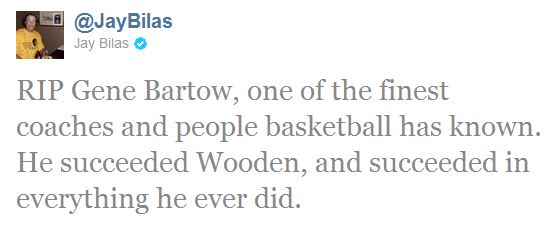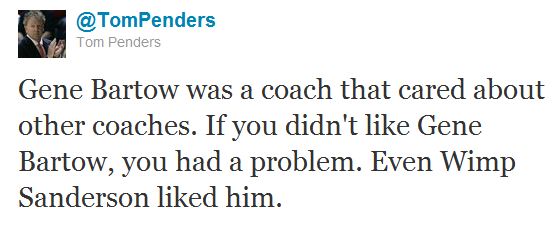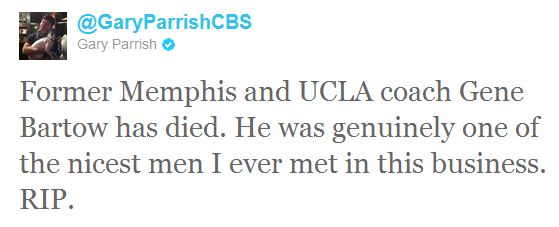 Current Memphis coach Josh Pastner – a year old when Bartow started at UAB – gave the paper a fitting summation of Bartow. Seems he knows his history.
"The best description I can give of Coach Bartow is he was as nice a human being and as good a human being as you'll find," Memphis coach Josh Pastner said. "It doesn't matter if you're the janitor or the president of the United States, he treated everyone the same. He was just a good person, an unbelievable soul."
You also can follow me on Twitter @MikeMillerNBC.