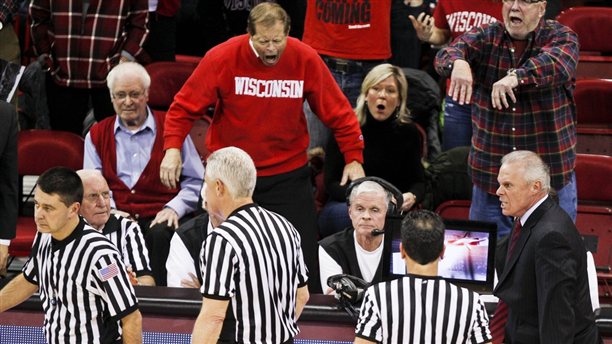 This was Wisconsin coach Bo Ryan moments after referees told him Ryan Evans' shot came too late to force double overtime. Hey, if that decision meant your team was about to drop its second straight home game, you'd be angry too.
But the replays didn't lie. Evans' shot was too late to force double overtime and No. 10 Michigan State left town with a 63-60 win against No. 18 Wisconsin. See for yourself.
[youtube=http://www.youtube.com/watch?v=GPonl86KBJU]
So what was the issue? A clock on the side scoreboard showed there was 0.2 seconds left when the ball left Evans' hand, but the clock above the backboard read :00. Which one to believe?
"Everybody was kind of just waiting for the refs to give the signal," Michigan State's Keith Appling told the AP. "There (weren't) really too many words said, other than us just looking at the refs trying to figure out if we were going to another overtime – or did we win?"
It only took a minute or two, but the officials eventually figured it out – much to the home team's chagrin.
"By rule we have to go by the clock that is on the backboard," referee Pat Driscoll said. "I don't know why there would be different (times) – it could be satellite, electronic, whatever – but by rule we have to go by the clock that is attached to the backboard. In our review on the monitor, the clock clearly showed zeros while the ball remained in the Wisconsin player's hands."
Tough break for the Badgers (12-4), who have dropped two straight at home for the first time in three seasons and are now 163-15 at the Kohl Center under Ryan. Little wonder he was livid. He did his best to shrug it off later.
"What are you going to do?" Ryan said. "Violence is out of the question."
If it's any consolation, there's no shame in losing to the Spartans (14-2). They're playing their best basketball in years thanks to senior Draymond Green (18 points, 14 rebounds) and the influx of young talent such as Appling, Branden Dawson, Travis Trice and Adreian Payne. Adding Valpo transfer has also been a bonus.
They're not Tom Izzo's most talented team, but it's close. And they're not perfect (turnovers, as usual, are an issue, as is perimeter shooting), but they're balanced and all the pieces are fitting together nicely. If it continues, maybe this is the year the Spartans reclaim the Big Ten title.
Still not a believer? Try this nugget: This is the first time Izzo's beaten Ryan in Wisconsin. That makes the ending even more dramatic – and even a little sweeter for him.
"I don't know what happened at the end," Izzo said. "Nor do I care. I thought we played well enough and earned the win, and that's the way I'm going to look at it."
Related stories:
You also can follow me on Twitter @MikeMillerNBC.