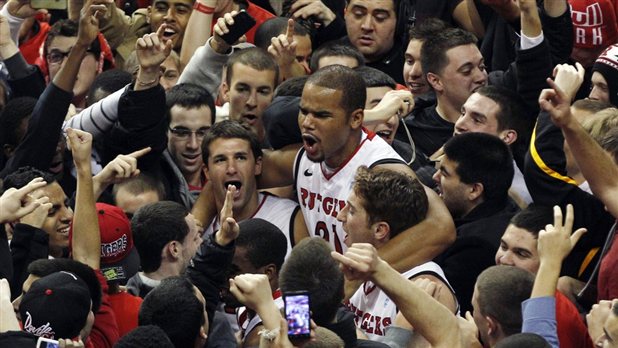 "Those were all freshmen guards. The future is bright."
That's how Rutgers head coach Mike Rice wrapped up his interview with Bill Raftery on ESPN after his Scarlet Knight team knocked off No. 10 Florida 85-83 in double-overtime at the RAC on Thursday night. That also happens to be precisely what every single person in the country that happened to stumble upon ESPN2's broadcast of the game thought.
Why?
Because you know what you are going to get from a team coached by Mike Rice: scrappy defense and the kind of hustle that guarantees his team will lead the league in floor burns. Rice is the kind of coach that doesn't mind missed shots or turnovers so long as his players are giving every ounce of effort possible. Play hard and you play. Its pretty simple.
It worked last season, as Rutgers was more competitive that most people expected them to be heading into the season — the Scarlet Knights knocked off Villanova, a top ten team at the time, in Jersey and won a game in the Big East Tournament. And while much of last season's roster was lost to graduation, Rice teamed some talented returners with one of the more impressive recruiting classes in the country.
What's that mean?
Well, not only does Rice have his team playing hard this season, he's got some talent at his disposal. Eli Carter was absolutely sensational against Florida, finishing with 31 points on 12-24 shooting to go along with seven boards and seven assists. Myles Mack and Jerome Seagears added 14 and 13, respectively. The number of big shots those three hit late in regulation or during the overtimes is probably upwards of a dozen. Kadeem Jack, who may actually be the best recruit that Mike Rice landed this season, was finally cleared to play after injuring his foot back in October and only logged three minutes. Now imagine what this team looks like with a healthy Jack and when games like this from the back court become less of an outlier and closer to the median.
Two years down the road, I think it is fair to say that Rutgers will be an NCAA Tournament team.
But that's two years down the road. Today, as we get ready to change the calendars from 2011 to 2012, Rutgers is a long way from the NCAA Tournament. Those 31 points that Carter had? They are going to seem like a long time ago the next time he has a night like he did against Richmond (three points, no boards, 1-8 shooting) back in November. And the "next time" will only become more often as Big East defenses learn about him and start to defend him to take away his tendencies.
And that, in a nut shell, is why this loss should be troubling for Florida fans.
Yes, Rutgers is a tough team to beat in their home gym, especially when you allow their talented youngsters to gain some confidence. But Florida is Final Four good. They aren't quite on the same level as Kentucky, Syracuse or Ohio State, but its not difficult to justify picking the Gators to make it to New Orleans.
They are good enough that they should not be losing to Rutgers. Ever. Home, away, on the moon, anywhere.
Here's my problem with Florida being a Final Four team: I just don't trust their back court to make good decisions for four straight games against quality opponents. Take tonight as an example. Kenny Boynton was on fire, he finished with 26 points, but the other three members of Billy Donovan's perimeter attack shot 10-29 from the floor and 3-14 from three. They combined for just 29 points while turning the ball over 12 times. Meanwhile, Patric Young — the most dominant player on the floor for Florida — got just eight shots in 41 minutes.
You want a perfect example of what I'm talking about?
After Carter hit a pull-up three at the end of the first overtime to tie the game at 76, Florida called timeout at half court with 13.2 seconds left. Its tough to tell what, exactly, they run because its out of the frame, but with seven seconds on the clock, Brad Beal catches the ball on the wing with Patric Young on the same side block with Carter, who is all of 6'2″, guarding him. In the picture below (click to enlarge), you can see Young sealing for a lob: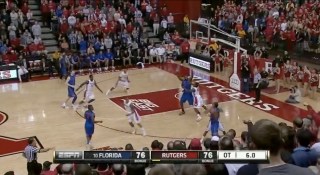 Beal is unable to make the pass because of the defensive pressure from Myles Mack, so he takes a dribble to relieve the pressure. In this picture, you'll see Beal staring down Young, who has perfect position in the post, going one-on-one against a point guard: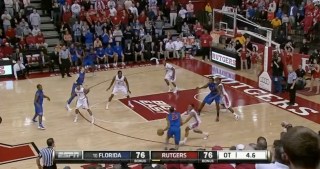 Instead of throwing the ball into the post, Beal drives middle and turns the ball over:
[youtube http://www.youtube.com/watch?v=P_xxOL_eGxI%5D
Is this where I should mention that Young, who only had 11 points on the night, had scored seven straight at that point?
Florida should have won the game right then and there. In fact, had they gotten Young involved prior to the overtime, there probably wouldn't have been an overtime.
As much as I like the Gators, I just cannot see them going four games against good teams without throwing up a performance like this.