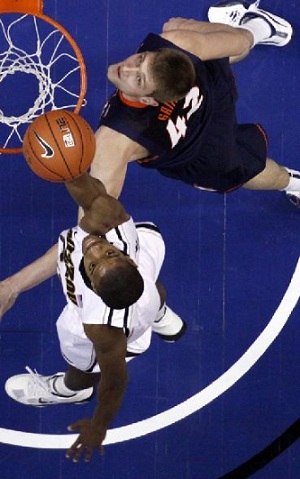 Frank Haith doesn't want 40 Minutes of Hell. He wants 40 minutes of hellacious offense. If that means pushing the pace, so be it. But don't be sloppy in an effort to go fast. Missouri's coach can't stand that.
Especially when it means an opponent can sneak back in a game.
The No. 9 Tigers had Thursday's game against No. 25 Illinois in hand for the first 30 minutes or so. But sloppy play and stupid 3-point attempts helped the Illini turn a double-digit lead into a lead of their own before Mizzou rallied for a 78-74 victory. Haith, the Tigers' new coach, wants his team to note why the lead vanished.
"There's a fine line when you have an athletic team that is good in transition," Haith said. "We don't want to play at warp speed all the time. That allowed Illinois to get back into the game."
To be fair, Illinois (11-2) deserves some of the credit.
Joseph Bertrand couldn't miss, Meyers Leonard couldn't be stopped inside and Illinois found the soft spots in Missouri's defense most of the night, hitting 50 percent of its shots (though just 4 of 16 from deep). Illinois did a decent job ensuring Tigers star Marcus Denmon never got on track. Denmon played 31 minutes and finished with eight points, 11 below his average.
Guards Phil Pressey (18) and Michael Dixon (18) both picked up the scoring slack and Missouri's only real post presence, Ricardo Ratliffe, got key buckets late.
That balance is key for Missouri (12-0), which is off to its best start in 30 years because its offense has been fantastic thus far. They lead the nation in eFG% and turnover percentage and no significant player scores less than 1.11 points per possession. That changed Thursday when Missouri faced the best defense it's seen yet.
Its eFG% dropped 10 points – Leonard only had two blocks, but plenty of altered shots – which'll be worth keeping an eye on later. If Haith's serious about not always pushing the pace, it takes away one of their biggest strengths with that guard-heavy lineup.
Missouri only plays slightly slower than it did last year under Mike Anderson, but any half-court setting in which the 3s aren't falling could create problems. The Tigers move the ball, but without anyone who can score inside, they remain susceptible to teams who can force them to grind out games.
Not that Missouri's too worried. They just endured one of those games.
"We just had to dig it out," guard Kim English said. "An ugly win is better than a pretty loss any day."
Related stories:
You also can follow me on Twitter @MikeMillerNBC.