No. 4 Louisville 69, College of Charleston 62: I can say this pretty confidently — Louisville is not the fourth best team in the country. Don't get me wrong, I like the Cardinals and I think that they have a shot to win the Big East if things break their way, but I think that Louisville is much closer to being the 10th or 12th best team in the country than the 4th.
That said, regardless of where Louisville is ranked, the fact that the College of Charleston went into the Yum! Center and very nearly knocked off the Cardinals is an impressive feat. The Cougars are legit this season. Antwaine Wiggins, a lanky, 6'7″ small forward that can score from anywhere on the floor, is good enough to start at two-thirds of the high-major programs across the country. Trent Wiedemann and Adjehi Baru give CofC plenty of size. Andrew Lawrence isn't Andrew Goudelock, but he is a playmaking point guard that has made some big shots this season. The Cougars would usually be a favorite to make the NCAA Tournament, but they play in the SoCon's South Division.
The same division as Davidson. That will be fun.
Anyway, back to Louisville, they were frustrated throughout the first 30-or-so minutes by a 2-3 zone that the Cougars were playing. As good as Chane Behanan and Gorgui Dieng have been this season, neither of them have the kind of skills that would allow them to thrive at the high-post against a zone. Rakeem Buckles and Jared Swopshire weren't effective in that role, either. In fact, Louisville didn't make their run until Kyle Kuric was put at the four spot. That won't fly against a team like Syracuse. The Orange are just too big to use four guards against.
NC State 67, St. Bonaventure 65: Did the Bonnies get robbed?
It looks like they may have. The Wolfpack and the Bonnies went back and forth for 40 minutes, but it took two Eric Mosley free throws with 3.1 seconds left on the clock to tie the game at 65 and, seemingly, send the game into an extra frame. CJ Leslie had a different idea, however. CJ Williams, who was a quarterback in high school, threw the ball the length of the floor to Leslie, who caught it, pivoted, and scored on a short jumper with 0.6 seconds left.
[youtube http://www.youtube.com/watch?v=C_n2jdrZ_hs%5D
Sure looks like Leslie's right foot is out of bounds, right? The video is grainy and choppy but …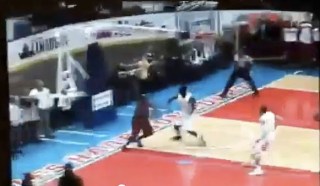 That's pretty clear, ain't it?
Regardless, Scott Wood had 20 points to lead the Wolfpack while Leslie added 12 points and seven boards. Andrew Nicholson had just 16 points and six boards.
Wright State 80, Idaho 78 OT: Double buzzer-beater?
Don't mind if I do. Idaho's Landon Tatum hit a half-court heave at the end of regulation to force overtime. After Dazmyne Sykes his a layup to put the Vandals up 78-77 with just four seconds left in the extra frame, Julius Mays (who finished with 28 points) hit a running three-pointer as the horn went off to win the game:
[youtube http://www.youtube.com/watch?v=XG3CJNmyOqU%5D
Ohio 76, Northern Iowa 59: It may be time for us to start taking Ohio a little bit more seriously. The Bobcats improved to 10-1 on the season (the "1" being a five-point loss to Louisville on the road) with a 17 point beat down of UNI in Cedar Rapids. And this game was a beat down is every sense of the word. Ohio was up 17-8 in the first five minutes. They were up 39-21 before the break. They didn't lead by less than 11 for the final 30 minutes of the game. That will happen when you hit 11-21 from beyond the arc. And, again, this was at Northern Iowa. Impressive.
Arizona 85, Oakland 73: Oakland fought hard to stay with the Wildcats, getting 31 points and six assists out of star guard Reggie Hamilton, but Arizona's best offensive performance of the season was too much. Solomon Hill went for 23 points and 11 boards while Kyle Fogg added 17 as Arizona opened up a 13 points lead in the first half before taking complete control of the game midway through the second half. The Wildcats were up by as much as 19 points.
Richmond 90, Old Dominion 82 OT: Darien Brothers scored 12 of his 38 points in overtime as the Spiders bounced back from a home-loss to Iona by knocking off a rebuilding Old Dominion team. The Monarchs got 21 points from Chris Cooper and 20 points and eight boards out of Kent Bazemore, who hit a 30 foot three with two seconds left in regulation to force overtime. Richmond was up by as much as 15 in the first half.
Gonzaga 71, Butler 55: Kevin Pangos and Elias Harris both had 19 points as the Zags gave the Bulldogs a pretty thorough beating. We all know that Butler is not the same team that it has been the past couple of seasons, but Gonzaga isn't either. Among the issues the Zags have is that they need to have David Stockton running the point and Pangos playing off the ball, but when that it is the case, the Zags cannot guard anyone.
UCLA 89, UC Irvine 60: Freshman Norman Powell had a career-high 19 points to lead five scorers in double figures for the Bruins. UCLA has looked much better in the past couple of weeks. Granted, their last two games have been against UC Irvine and UC Davis, but we're talking about a team that didn't win a Division I game until November 28th. An effective offense against a team like UCI is a start.
The rest of the top 25:
No. 1 Syracuse 80, Bucknell 61: Kris Joseph had 17 points and Scoop Jardine added 14 as the Orange rolled over Bucknell at home. Rakeem Christmas had 10 points, including seven in the first three minutes of the game.
No. 2 Ohio State 70, Lamar 50: The Buckeyes got 18 points and 11 boards in 30 minutes from Jared Sullinger, who had been beat up all year long.
No. 3 Kentucky 82, Samford 50: Doron Lamb had 26 points and the Wildcats rolled despite playing without Terrence Jones, who is battling through a dislocated pinky.
No. 13 Pitt 71, St. Francis (PA) 47: JJ Moore had 15 points and Dante Taylor scored 14 points and added eight boards in the Panther's first game since Khem Birch left the program. Pitt was up 27-4 with 7:26 left in the first half. That's about all you need to know.
Other notable scores:
– Purdue 81, IPFW 56
– Georgia 72, Mercer 58
– Tennessee 72, UNC-Asheville 68
– VCU 68, UAB 49
– BYU 93, Buffalo 78
– Oregon 58, NCCU 45
– St. Mary's 77, Eastern Washington 61
Top performers:
Julian Boyd, Long Island: Boyd has 22 points and 12 boards in a 100-84 win over Texas State.
Darien Brothers, Richmond: Brothers had 12 of his 38 points in overtime as the Spiders knocked off Old Dominion.
Al'Lonzo Coleman, Presbyterian: The Blue Hose big man had 24 points and 11 boards in a 75-71 win.
Vincent Council, Providence: Council had 17 points, 12 assists and seven rebounds as the Friars knocked off New Hampshire.
Matthew Dellavedova, St. Mary's: Dellavedova celebrated getting snubbed by the Cousy Award list by scoring 25 points and six assists against Eastern Washington.
Reggie Hamilton, Oakland: The Grizzly star had 31 points and six assists in a losing effort against Arizona.
Preston Medlin, Utah State: Medlin had 27 points, eight assists and four boards as the Aggies knocked off UT-Arlington.
Rob Dauster is the editor of the college basketball website Ballin' is a Habit. You can find him on twitter @ballinisahabit.