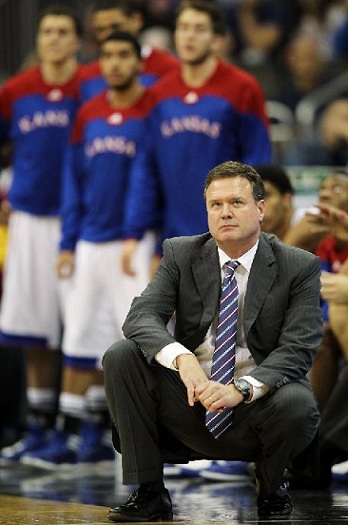 Bill Self did his best to spin Kansas' loss to Davidson Monday night — "That wasn't an upset tonight" – but don't buy it.
The No. 10 Jayhawks were double-digits favorites, yet they got outplayed and outworked by a less talented team and lost 80-74. Can't blame the venue, either. Kansas City is essentially a second home for Kansas. It was 13-2 in the Sprint Center and hadn't lost there in two years.
It just got beat. That happens this time of year when teams have long layoffs because of finals or tend to overlook teams. Especially a team that lost at Charlotte by 23 points.
"They controlled the game," Self said. "They whipped us."
Self knew the layoff could be an issue for Kansas, and he was concerned about Davidson's motion offense. (The Wildcats' perimeter shooting wasn't too shabby, either. They hit 11 of 33 shots from beyond the arc.) Perhaps Kansas was a little complacent after its last victory (against No. 2 Ohio State) or Tyshawn Taylor (with his five turnovers and seven missed shots) was a hindrance after his recent knee surgery.
And it's not like the Jayhawks ignored their best player, either. Thomas Robinson went for 21 and 18 in 34 minutes, though it did seem as though he could've touched the ball on every possession and scored.
Really, it was just one of those nights for Kansas. It missed 13 of 31 free-throw attempts, missed 17 shots from deep and more turnovers. And it probably won't be the last time Self's team has a night like that, either.
We knew this about Kansas. It's not deep, it can go cold from the perimeter and Taylor's a perplexing point guard. He can control a game, but his assist-to-turnover ratio will probably be 1-1 by year's end.
But they're also going to play well against more talented, deeper teams. That's what having Robinson and two physical guards gets you, not to mention guys who do exactly what they're supposed to as role players.
Kansas will occasionally have some maddening losses. It had two (UMass and Texas Tech) the last time it did a serious rebuild. But it'll also log some memorable victories. This year, it had 'em both in a span of nine days.
Related stories:
You also can follow me on Twitter @MikeMillerNBC.