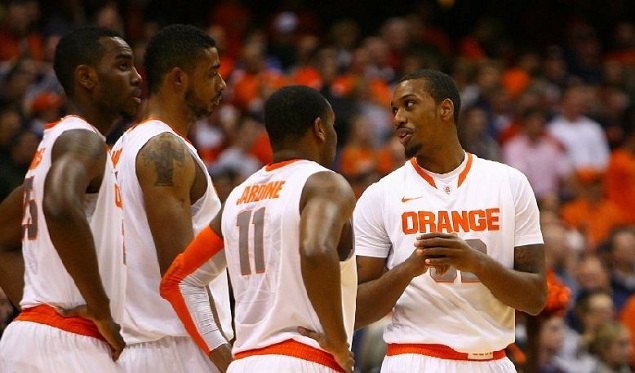 We'll have a new No. 1 team in a few hours. But it may not be unbeaten Syracuse.
Not that the Orange care. (Or so they'll claim.)
"We know we'll have a bull's-eye on our back. It's going to be tough," senior Scoop Jardine said after their win against George Washington on Saturday. "The biggest thing about us is getting better.
"We aren't even looking at being No. 1."
Syracuse has a solid claim to the top spot. It's 10-0 and has good wins against Florida and Stanford. They're experienced, talented and perhaps the most balanced team among all the Final Four contenders. Jardine might be their leader, but wings Kris Joseph and Dian Waiters are their top two scorers, while big men James Southerland, C.J. Fair, Fab Melo and Rakeem Christmas  give them inside depth they haven't had in years.
Plus, they're winning amid the off-court circus that is the Bernie Fine scandal. That counts for something, though Jardine says the players try to ignore it.
"They talk about that and maybe show one or two highlights," he told CBSSports.com. "No disrespect to everything that's going on, because obviously it's serious, but this is our season."
Still, there's a case to be made for Ohio State taking the top spot.
The Buckeyes played without All-America center Jared Sullinger in Saturday's 78-67 loss at Kansas, a place teams rarely win when all their players are healthy. His presence wouldn't have guaranteed a victory, but … let's just say Kansas caught a big break in Ohio State's first road game of the season.
"We competed. We're a competitive team and that's a positive," said forward Deshaun Thomas. "Without Jared, we came out and competed without him. We're a great team with him, don't get me wrong, but we came out and competed and that's one thing that coach noticed."
Are the Buckeyes a more deserving team at 8-1 than the Orange? That's up for debate, though at least one writer is siding with the Buckeyes. Between the two, I'd probably go Ohio State. With Sullinger in the lineup, I think they're the superior team.
But hey, given Kentucky's record and talent, keeping the Wildcats at No. 1 might be the correct answer.
Related stories:
You also can follow me on Twitter @MikeMillerNBC.