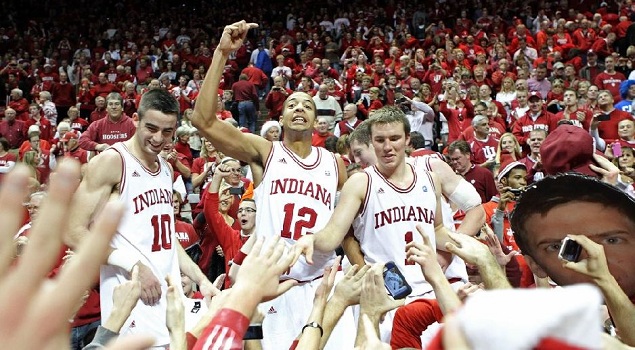 Indiana's 73-72 win Saturday against No. 1 Kentucky was hardly just a delight for the Hoosiers or coach Tom Crean.
Consider it a victory for most of the state.
Crean's spent the last four years rebuilding the Hoosiers from scratch, a result of NCAA sanctions from Kelvin Sampson's firing back in 2008. When one of college basketball's most storied programs wins just 28 games total in the past three seasons, well, something a win against the top team (and a rival, to boot) resonates with fans.
Example A? This video from Nick's English Hut in Bloomington which has been making the rounds today. It starts just before Christian Watford hit his game-winning 3-pointer as time expired.
[youtube=http://www.youtube.com/watch?v=QIjeUZY19dY]
If that's not enough, check out this photo gallery.
Yes, it's December. Yes, it's just one game. But the Hoosiers are 8-0, ranked for the first time since 2007-08 and will seemingly make a run at the Big Ten title. Life is good in Bloomington and the state of Indiana.
Related stories:
You also can follow me on Twitter @MikeMillerNBC.