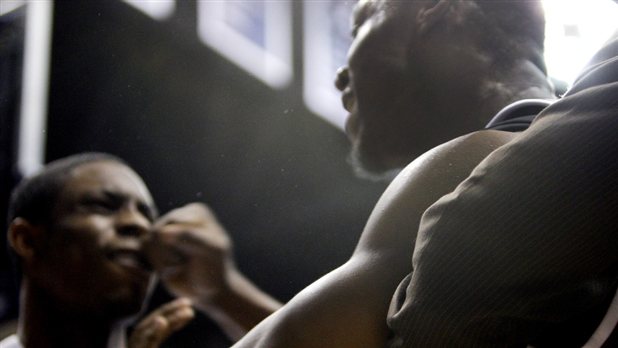 The player ramifications from Saturday's ugly Cincinnati-Xavier brawl during the annual Crosstown Shootout game were announced Sunday. And while neither team got off easy, it was the Bearcats who dished out the most punishment.
Yancy Gates got a six-game suspension for throwing punches, including one that caught Xavier center Kenny Frease in the face and caused a nasty gash below Frease's left eye. At least one other punch also connected with a Xavier player.
Cincinnati also suspended Cheikh Mbodj and Octavius Ellis six-game suspensions, while Ge'Lawn Guy will miss one game. The school consulted with the Big East on the length of the suspensions.
Xavier suspended Dez Wells and Landen Amos four games, while guard Mark Lyons got two games and star guard Tu Holloway will miss one game.
Cincinnati coach Mick Cronin says the suspended Bearcats will have to do more than just sit out to resume their careers, though. From the Sporting News:
"Until I feel that they embody what I said yesterday, that it's a privilege to be at our university and a part of our program, until I believe that – that they really, truly understand these suspensions are a gift, and to be in our program is a blessing – when they convey they not only understand that but believe that, that'll be the first step for them coming back from their suspensions," Cronin said.

"People are going to represent our university and understand they represent our university. If they don't fully understand that, they're not going to be on our team.

"These guys, they embarrassed a lot of people, but what I believe in my heart there's a lot of young guys from their communities that look up to them. They're going to have to do some talking to some kids about the mistakes they made in the heat of the moment, about doing the right thing." Cronin and the UC administration met with all of the players involved individually and as a group.

"Right now, they're all very thankful they're being given the chance by the university," Cronin said. "They're also well aware how I feel about it. It doesn't guarantee them they'll ever play here again."
The brawl didn't even occur until the very end of Xavier's 76-53 win. Here's a short rundown from the AP:
It started in the closing seconds when Holloway talked to the Cincinnati bench. Cincinnati's Sean Kilpatrick had said during the week leading up to the game that Holloway wasn't good enough to start for the Bearcats.

Holloway wanted the last word, and started talking to coaches and players on the Cincinnati bench with the clock stopped at 9.4 seconds. Guyn was standing by Holloway and pushed him in the face. Wells responded by pushing down Guyn. Gates was holding the ball and threw it at Holloway's head, prompting both benches to clear.
Holloway then exacerbated things with his postgame comments.
This video is no longer available. Click here to watch more NBC Sports videos!
He apologized during a press conference on Sunday.
However, it remains to be seen how significantly the suspensions will impact either team's won-loss record.
Xavier should win its next game against Oral Roberts and having Holloway return for Long Beach State could be enough to stave off a loss. Lyons returns in time to face Gonzaga on Dec. 31, though the absence of Wells will be felt for both of those. The LBSU game marks the start of the Diamond Head Classic, which means Lyons will be eligible for the remaining two games and Wells will be back in time for Gonzaga on Dec. 31. That'll be a welcome boost for X.
Cincinnati – if it reinstates everyone as scheduled – won't miss anyone for the next four easy outings. Only a home game against Oklahoma and the Big East opener against Pitt will be in doubt.
As for the future of the rivalry — which has always been one of the sport's most heated — Xavier athletics director Mike Bobinski doesn't want to halt things, but admits the atmosphere needs to change.
"Should we not play the game anymore?" Bobinski said. "I think that's a bad idea. I think that's sort of giving in to the events of yesterday. But I only believe that if we can change the dynamic of the game.
"I've spoken with Whit Babcock, and we've agreed to work together to make this a positive event and a celebration of the Division I basketball that's played in the city of Cincinnati and not the Hatfield and McCoy event that it's turned into over the years."
That remains to be seen.
Related stories:
You also can follow me on Twitter @MikeMillerNBC.