[youtube http://www.youtube.com/watch?v=HuoVM9nm42E%5D
Dick Vitale helped his longtime friend, Jim Valvano, slowly make his way to the podium at the 1993 ESPY Awards.
Once behind the microphone, Valvano, cancer-stricken and in the final months of his life, began his speech with a light-hearted jab at the friend who had helped him to the stage, a jab with the same playfulness and bravado as if he were working the crowd at some small comedy club in New York City.
"That's the lowest I've ever seen Dick Vitale since the owner of the Detroit Pistons called him in and told him he should go into broadcasting."
Difference was, this wasn't some underground club with a two-drink minimum and a lineup filled with some low-level amateurs. This was national television and the heartfelt, authentic speech he was about to give would move grown men to tears and be immortalized as the words that would help launch a crusade against the deadly disease that would eventually take his life.
As he neared the end of his 10-minute speech, his eyes scanned the room and he announced that he would be starting a foundation and it would operate with a simple motto:
"Don't give up, don't ever give up."
—–
Despite a losing effort in the end, North Carolina State, the program Valvano coached to the 1983 national championship, took that advice on Wednesday night in a matchup with Indiana to begin Jimmy V Week, which celebrates his life and helps to raise money to fund cancer research, through his foundation.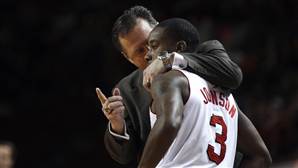 After falling behind 12-3 in the first three minutes of the game, the Wolfpack fought back to lead at the half and by as many as seven points in the second half, before allowing a 28-12 run to close the game, falling to the Hoosiers, 86-75.
Jordan Hulls led the way for the Indiana with 20 points, including 3 of 4 from three-point land, and freshman Cody Zeller added 19 points and nine rebounds. Tom Crean's team improved to 7-0 on the season.
But in a week so heavy with the undertones of Jim Valvano and the ongoing nationwide fight against cancer, the story is N.C. State.
After five seasons under head coach Sidney Lowe and only two NIT appearances to show for it, the Wolfpack decided to go in a different direction. With a search that included candidates like now-Maryland head coach Mark Turgeon and Virginia Commonwealth's Shaka Smart, N.C. State ultimately chose former Alabama head coach Mark Gottfried.
When he was hired in April, Gottfried was tabbed as the man to bring back that spirit and energy that made Valvano an icon in Raleigh and, eventually, around the country. Gottfried spent 11 seasons at Alabama, compiling a career record of 210-131 and five NCAA tournament berths, including a run to the Elite Eight in 2003-04.
But the biggest place Gottfried is beginning to make national noise is on the recruiting trail.
Recruiting in the same state as juggernauts North Carolina and Duke, Gottfried managed to secure three signatures from Top 100 prospects in the Tar Heel State: guards Tyler Lewis and Rodney Purvis, as well as forward TJ Warren. Amile Jefferson, a highly-touted forward from Philadelphia, visited campus in early November and his considering the Wolfpack in his final list of schools. Another homegrown top 100 prospect, guard Torian Graham, decommitted from NC State, but still has them in his final list.
Gottfried's ability to not only keep talent in the state, but away from other powerhouses within the North Carolina border, will make the Wolfpack a contender in the future.
Those freshman, who would be helped along if sophomore C.J. Leslie returns for his junior season, will thrive in Gottfried's up-tempo offense. The Wolfpack average nearly 80 points per game and, with scorers like Lewis, Purvis, and Warren coming into the fold, expect the same kind of numbers, come next season.
As for this year, N.C. State was chosen to finish 8th in the preseason ACC media poll, but their impressive athleticism, especially on the defensive end, can create matchup problems for opponents. They have already beaten Texas and were close with Indiana, until the last few minutes.
Perhaps this year is not the year, but the future is bright. And maybe it wouldn't hurt to take advice from the old ball coach.
"How do you go from where you are to where you want to be?" Valvano asked, rhetorically, in his ESPY speech. "I think you have to have an enthusiasm for life. You have to have a dream, a goal. You have to be willing to work for it."
Daniel Martin is a writer and editor at JohnnyJungle.com, covering St. John's. You can find him on Twitter:@DanielJMartin_