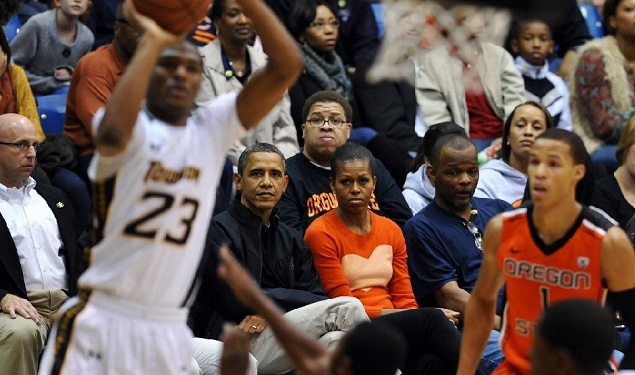 Some people crave football (or a nap) after Thanksgiving. The Obamas go for hoops.
President Barack Obama and his family watched Oregon State beat Towson 66-44 on Saturday, making it the third-straight year they've watched the Beavers play a D.C.-area team. Last year, Oregon State beat Howard. In 2009, it topped George Washington.
The president and his wife, First Lady Michelle Obama, sat courtside. Their daughters, Malia and Sasha were in the first row of bleachers. (Either floor seats at Towson are a hot ticket or the girls wanted some time away from mom and dad.) The crowd gave them a hearty ovation.
See more of Obama at the game at PhotoBlog
Hey, it's one of the best ways Michelle can see her brother, Craig, this time of year. He's now in his fourth season as Oregon State's coach. He also took his team to the White House on Friday.
This marks the second college hoops game the president and his wife will have seen this season. They also attended the Carrier Classic on Nov. 12.
This one doesn't have the same marquee teams, but it's not without its appeal. Fairly certain the Obamas saw at least one jaw-dropping dunk by Jared Cunningham. That alone will made the game worthwhile.
"This is my third time doing it and it's always a great feeling having the president come to watch your game," said Cunningham, Oregon State's junior guard, told the AP. "Other teams are always going to play their hardest because it's on their home court. We did a good job tonight."
Of course, so does getting a chance to chat with Bill Murray. His son, Luke, is a Towson assistant.
Mostly, it sounds like a tradition I can get behind. Who needs college football or the NFL when there are random college hoops matchups to enjoy. Bring on Gonzaga-Western Michigan!
Related posts:
You also can follow me on Twitter @MikeMillerNBC.