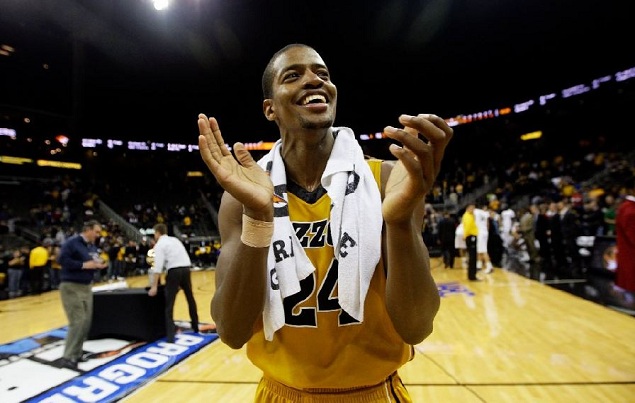 I don't think anyone truly expected what we saw out of Missouri at the CBE Classic in Kansas City this week.
The Tigers started out the week on Monday with an impressive, 87-58 win over Notre Dame. But no one truly expected the Irish to be all that good this season, so the win didn't exactly resonate nationally. Tuesday's performance did. The Tigers abused Pac-12 favorite Cal, winning 92-53.
It was thoroughly dominating. In the two games, Missouri shot 58.5% from the floor. They shot 42.9% from three and 66.2% from inside the arc. They outscored the Bears and the Irish 179-111. Break that down into tempo-free numbers, and Mizzou posted 1.28 PPP while giving up just 0.80 PPP.
I think that we can confidently say that this team is going to be able to score and capable of defending again this season.
Their system is slightly different this season, however. Where as under Mike Anderson Missouri would be pressing for 40 minutes a game, this year's Tigers play tough, physical and pressuring man-to-man defense in the half court. Between Michael Dixon, Phil Pressey and Marcus Denmon, there are always going to be three guards on the floor that are, simply put, pure-bred ball-hawks. They don't really have any shotblockers inside, but so Missouri is going to have to rely on their help-side defense and their ability to draw charges to help protect the rim.
Last night, Kim English drew four charges in the first 14 minutes, and all four were on shots that went in. Jorge Gutierrez committed two of the charges. You don't think that Cal could have used those eight points and would have wanted their best player on the floor and out of foul trouble?
Offensively, this team is just as dangerous as they have always been. Pressey and Dixon are both excellent creators off the dribble that can stick open jumpers. Matt Pressey is known more for his defense, but he's capable of hitting a jumper with space. Ricardo Ratliffe is a land-warrior, but he can rebound and score on the block as well as anyone in the Big 12 this side of Thomas Robinson. And, of course, there's Denmon, who is one of the most lethal pure shooters in the country.
The x-factor for this team, however, is going to be English. At 6'6″, English is a talented wing that uses his ability to shoot the three to set up his dribble-drive. But what makes him all the more important this season is that he will be playing the four as Laurence Bowers' knee injury has forced Haith to utilize a four guard lineup.
So far, the results have been position. English is averaging 16.0 ppg while shooting a ridiculous 60.0% from beyond the arc. He's finally playing with the confidence that he lost as a junior, and he's thriving. He creates a matchup problem for any opponent because of his ability to shoot the ball; he's going to be defended by power forwards for much of the season. And while his strength isn't penetrating off the dribble, he can go by just about any power forward in the country.
Perhaps the most important aspect to this Missouri team is that they share the basketball. There are a myriad of offensive weapons, but they aren't going 1-on-1 on every possession. The ball moves quickly and players attack when they have an opening, not when they haven't taken a shot for a couple of possessions. Some of that likely has to do with the fact that the Tigers aren't as deep. Every player on the roster knows that they can make a mistake and stay in the game, partially because Mike Anderson is gone and partially due to the fact that the Tigers just aren't all that deep.
The issue is going to be on the glass. Missouri game up 17 offensive rebounds to a Cal team that has their own issues on the interior, and its tough to blame English. He's being forced to play out of position. If Haith needs to go big, he can bring in Kadeem Green and Steve Moore alongside Ratliffe, but that limits how dangerous Missouri can be offensively.
English doesn't even need to get the rebounds himself. As long as he is making sure that his man is staying off of the glass, Denmon, Dixon and both of the Presseys are very capable at swooping in and grabbing a board.
After seeing both Kansas and Texas A&M in person the past week, I believe this Big 12 is going to be wide open this year. Anyone can win.
And even with Bowers injured, that includes Missouri as well.
Rob Dauster is the editor of the college basketball website Ballin' is a Habit. You can find him on twitter @ballinisahabit.