Ken Pomeroy didn't invent tempo-free stats – that would be Dean Smith – but he's become synonymous with them because of his site, kenpom.com, a daily requirement for any college basketball writer and most fans. If your team earns some kenpom love, it's a good sign they're headed for success in March. If their rating doesn't mesh with the polls … well, you may be headed for some disappointment.
But the team ratings (along with player stats, coaching info and win projections) usually overshadow that Ken's a blogger, too. His site's been around in various forms since 1998; the current version is archived back to 2003. (Check out this 2002 version.) That's where most of the reliable tempo-free data begins. That year's also the first time he began blogging.
Guys like Rob Neyer and Aaron Gleeman were early influences, though they focused on baseball. He didn't have much of an early audience, but knew there eventually would be others who craved an "intelligent stat-based discussion on the hoops side." (Or at least semi-intelligent.)
The site did grow, as did his reputation. Ken's written for various sites since then – most notably Basketball Prospectus, where he, John Gasaway and the other BP writers provide some of the best college hoops insight around – but he can always be found at kenpom.com, usually providing a hoops nugget or two that defies the general consensus.
Click here for more Blogger Spotlight
Q: So. You're famous now, right? The college hoops universe adores your site, coaches depend on you and the New York Times profiled you last March. I assume Kim Kardashian is trying to call this very moment. Does life feel different than say, five years ago? Aside from you and John Gasaway not being co-workers, that is.
A: The paparazzi makes life difficult, but other than that, things don't feel any different. While advanced stats are more widely accepted than they were five years, it's still a niche market and I think it always will be. There are plenty of people who don't who I am (thankfully), even committee members!
Q: Times change, and so has kenpom.com. In just the last few months, you've added tempo-free info on coaches, more refined players stats and a pay wall. The pay wall was inevitable, right? A site like this couldn't be free forever. What's the response been like?
A: The choice was either pay wall or ads. It may have been more lucrative to go with advertising, but this site is the one thing I've had complete control over for ten years and I've always tried to make it different in terms of the content presented. It seems like every place has ads of some sort, so I decided to go a different direction to preserve the uniqueness of the site. I'm comfortable with people making their own decision as to whether it's worth $20, and if it's not, no big deal. But I've been pleased with the response so far.
Q: What's the ideal sample size before you fully endorse your ratings? I'm guessing you'd prefer people wait until January before people start putting too much stock in who's where. Or have formula revisions become so reliable that November's OK? It wasn't that long ago that you didn't do preseason ratings.
A: This is tough to answer because it's not a binary thing. It's not like the ratings are useless now and then on, let's say, December 12th they become valuable. The ratings are going to miss on more teams now than they will in March, of course, but so will humans. This is just another opinion, and I would argue one worth considering, but not worth blindly following now or even in March. This is just the second season I've done the preseason ratings. And let's just say December ratings are way better with the influence of the preseason ratings than without. I was really happy with their performance last season, and I'm really curious to see how the outlier teams in this year's edition do over the next few weeks.
Q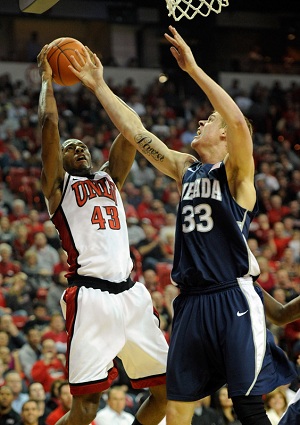 : Any obvious teams people are overlooking right now, according to your ratings? Any being overrated?
A: Now you've gone ahead and forced me to look at the polls. Ugh. I'd throw UNLV out there as a team to watch. Mike Moser has been a great addition for them and as a transfer he wasn't directly included in my preseason calculations which had the Rebels in the top 20 anyway. I've banged on Arizona enough, but seriously, Derrick Williams was probably the most difficult player to replace in college hoops last season. If Sean Miller turns them into a top 25 team, bravo, but they are clearly not there right now.
Q: How often do people ask you to do NCAA tournament projections? I can just picture you shaking your head right now …
A: Just because I love college hoops, most people think I do bracket projections. Guys like Jerry Palm and Joe Lunardi already have that market cornered, and I couldn't possibly add anything to that. Plus, as with recruiting, I'm less interested in bracketology than most fans. That said, if someone ever did a probabilistic projection of the bracket based on a "projected resume", I would promote the hell out of it. I would get more use out of that than the season-ends-today projections everyone does now.
Q: Clearly I need to have Dave Ommen change his NCAA tournament projection methods. It'd be logical to include how a team finishes given how varied teams' schedules are. What other niches would you like to see filled by potential blogs that you don't have time to do?
A: Let's get Dave on the case. Seriously, that would be groundbreaking. Dave would be propelled to a level of respect unmatched in the bracketology industry. As far as other niches, I think we're still looking for the Spencer Hall of college hoops. Who's providing the slapstick comedy element of our sport? No, people, Jeff Goodman doesn't count.
Q: When you're watching hoops – yes everyone, Ken watches basketball, he doesn't just churn out stats – do you gravitate toward any particular conference, team or region? And have your tastes changed in what you seek out in hoops? I still crave a nice up‑tempo game (Washington usually helps me out there), but I've grown fond of more deliberate, precise styles. It's hard not to marvel at systems like Bo Ryan's.
A: It varies by the season, and it often depends on the team and players whose stats diverge most from popular opinion. Last year, I was watching Arizona a lot early and then Washington later in the season. I was watching the Florida/Ohio State game particularly closely this week to get a look at Patric Young who most are predicting to take what would be, at least based on advanced stats, a huge leap from his freshman season. Based on his performance against Jared Sullinger, he may just do that.
Q: Young's interesting. He has the perfect opportunity to boost his production, because of Florida's necessity and by his talent. But how good would he have to be to rank in your Top 10 of guys who improved the most from freshman to sophomore seasons? I know that's in your database somewhere.
A: The problem with comparing Young to anybody is that his usage last season was in the depths that few people reach. The few guys who made great leaps are very obscure players. The closest thing to a name people would recognize with a somewhat similar skill set is UMass's Tony Gaffney whose usage went from 10.6 to 17.4% between his junior and senior seasons. Kudos to the scouts if they get Young's offensive improvement correct. It's almost unobserved in the past 10 years.
Q: What's the most misunderstood tempo-free stat? Do people throw it out there without really understanding what it means? Or does that apply to a lot of the stats?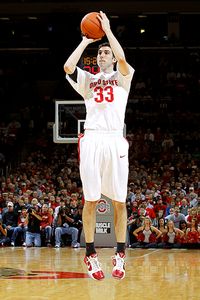 A: I think individual offensive rating still gets used out of context too often. It doesn't mean anything without knowing how active a player was in a team's offense. Jon Diebler was the most efficient player in the country last season, but that's just a piece of trivia really. It is useless from an analytic sense without knowing his usage. One thing I've learned from doing preseason ratings and determining what's important is that guys like Diebler, who are crazy efficient but have a limited role, are not nearly as difficult to replace as people might think. The Diebler-types benefit from their surroundings more than their surroundings benefit from them.
Q: What sites and writers do you seek out? Obviously I'm one of your must-reads, but who else?
A: You and Dave Ommen are 1a and 1b. If you're reading this, you already know about guys like Gasaway, Winn, and Glockner. Obviously, the kids like Brennan and Norlander are great daily reads as well. While I never waste a chance to bash Goodman on twitter, I do appreciate the fact he gives a perspective uninfluenced by analytics. He provides some (usually) intelligent resistance to the runaway train of statistical analysis, and I will admit (reluctantly) that having that viewpoint represented is a good thing. Just don't let it get back to Goodman.
Q: Is there ever gonna be a day when you don't have a 9-5 job? Or do you even want that?
A: I'm really disappointed you didn't ask a weather question, but I guess this is close. I always have a difficult time predicting my own future. I think the safest response is that I doubt I'll ever do basketball full time. If I ditch the day job, I'll have to find some sort of seasonal employment. I've always wanted to be a park ranger or a baseball stadium groundskeeper. I have no experience with either though.
You can find more of Ken's work at his site, kenpom.com and follow him on Twitter @kenpomeroy.
You also can follow me on Twitter @MikeMillerNBC.