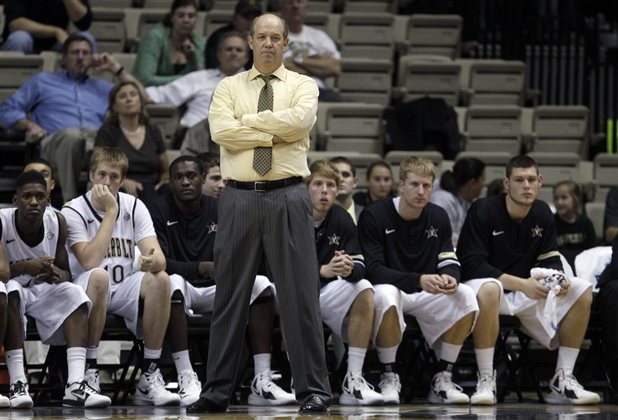 How about we let senior Lance Goulbourne sum up how No. 7 Vanderbilt played against Cleveland State?
"I'm just embarrassed," Goulbourne said.
The Commodores had plenty of skeptics entering this season. Not because of their talent (three NBA-caliber players) but because of their decent-to-poor defense and sometimes maddening effort. And that was before Sunday's 71-58 loss.
It should be noted that Vandy played without center Festus Ezeli, who's out until at least mid-December. He's by far their best interior player and one of the SEC's elite talents. But his absence alone can't account for the Spiders' 54.6 eFG% or Vandy's awful guard play (21 turnovers).
To say coach Kevin Stallings was miffed would be putting it lightly.
"We continually tried to cross the ball over in front of them, and they just continually kept taking it," Stallings said. "I wish they would have sent us a Federal Express package that said, 'We are going to take your ball if you cross it over in front of us because we're good.' Apparently we didn't get the memo because we kept doing it. I really liked how they played."
The loss won't sink Vandy's season or do much in terms of NCAA tourney seeding. But it sure kills their reputation, though the first-round NCAA tourney losses the last two years haven't helped either.
Call it one of those games when Cleveland State brought it (See: Syracuse in 2008) and Vandy didn't.
"I was very impressed with them and very disappointed in us," Vanderbilt coach Kevin Stallings said. "I would say it's right in there about equally really impressed and really disturbed."
Related stories:
You also can follow me on Twitter @MikeMillerNBC.