Few venues can wow a college hoops player. They've been there, done that in pretty much every possible setting.
But when North Carolina and Michigan State saw where Friday night's Carrier Classic would be played, it was straight out of the movie "Hoosiers." Jaws dropped. Eyes got wide. People stared. No wonder. The deck of the USS Carl Vinson is something to behold right now.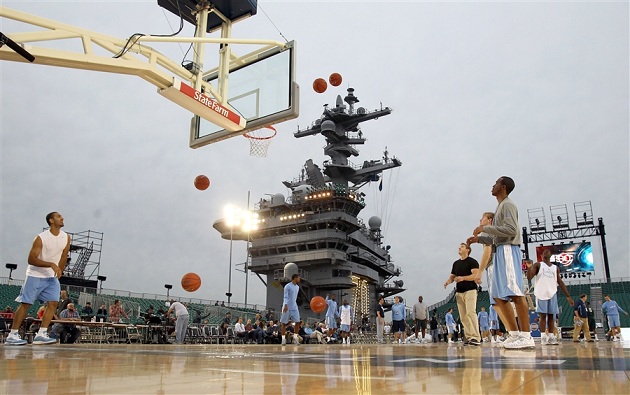 If that shot wasn't enough, try this link. You'll see why this college hoops showcase is essentially the season's kickoff. A setting like this serves as both a celebration (if you're the Navy) and a hot ticket. Only 7,000 fans (mostly servicemen) will be in attendance (it's being broadcasted on ESPN), but one of them will be President Obama.
It's quite the spectacle and the players love it.
"I would be willing to bet 90 percent of our players will be thrilled to death to do something that nobody else has ever done," Michigan State coach Tom Izzo said Thursday. "That's the uniqueness of this, too. There are a lot of great players, a lot of great programs, but you talk about a memory-maker, there's been no player that's ever done something like this. So if they want to play indoors, I hope they tell me before the game; I'll make sure I don't play them. Unless it's a starter."
They've been prepping for this game for a while, too. Attendees had to clear security and the ship's docking site was kept under wraps for months. Then they had to build the court, which took eight days.
This video is no longer available. Click here to watch more NBC Sports videos!
So what's different about playing on an aircraft carrier? Aside from obvious weather factors, not much, really. The aircraft carrier's massive size (it could accommodate 41 basketball courts) and docking ensures nobody will get seasick. This USA Today graphic is explanation enough.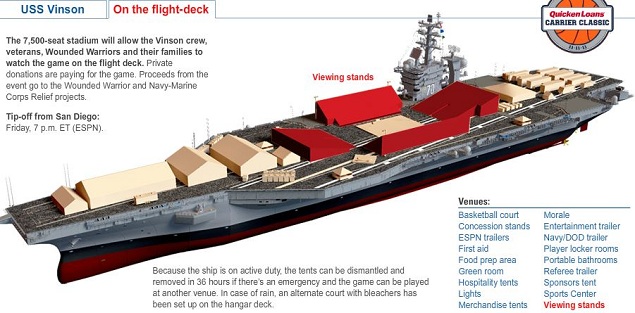 The biggest issue will be shooting into the clear-blue sky, which affects a shooter because they're used to indoor settings. Anyone's who's played in a dome knows the issue. This one's just amplified a bit.
Shots may be off anyway. It's the opener for both teams and they're playing in front of the First Fan. I'm guessing they'll all be a little nervous.
That's why the Heels and Spartans are approaching as more of a high-profile exhibition. They'll be in camouflage-themes uniforms and playing at a unique venue. It's a little different. But they're all psyched.
"This is a celebration," UNC coach Roy Williams said. "The basketball game, from the tipoff till the final horn, we're going to be working our tails off about the game. But every single second prior to it and as soon as the game's final horn is over with, we're thinking about hopefully putting a smile on some people's faces who represent our country and serve our country.
"I'm as thrilled as I could possibly be," Williams said. "They're not fake — I've got cold chills up here talking about it. It's the neatest thing that I've ever been involved with."
Related stories:
You also can follow me on Twitter @MikeMillerNBC.