Preparing for a season's hard enough when you're transitioning to a new program. But when there's are potential NCAA sanctions coming your way, it just makes everything so … dreary.
But that's not how Jim Larranaga rolls. And right now, the same goes for Frank Haith.
The guy who built George Mason into a name synonymous with March Madness jubilation is just days away from a new era at Miami, an ACC program more accustomed to missing the Big Dance than enjoying it. That would be enough to challenge any coach, but there's the looming shadow of an August report of rampant cheating in Miami's program, including improper benefits accepted by a former Hurricane baller during Haith's tenure.
So how does Larranaga handle that? He has to have his players ignore it.
"The general public has their own opinions and points of view," he told the AP recently. "'But we also have a very specific job to do, and we're not going to allow anything to distract us from doing that job. You can only control the things you can control. We share that thought with the players and coaching staff.
"If you watched practice, you could see there was no cloud in this gym today."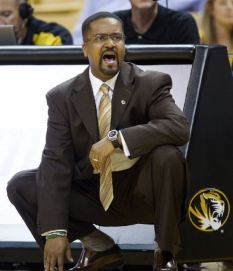 Larranaga's always been a guy with a sunny disposition, so it's easy to understand his stance. What's he gonna do? Encourage Durand Scott and Malcolm Grant to suck because trouble might be on the way? Forget it.
And Haith, now at Missouri after leaving Miami before the allegations arose, is taking the same tact. He wasn't a popular choice by fans and the news canceled out some of the work he did during the summer to win over the fans. He inherited a talented roster capable of challenging for the Big 12 title, but will it all be for nothing if the NCAA drops the hammer on him?
"I can't worry about things I can't control," he told the AP. "All I'm focusing on is doing what I'm paid to do, and that's coach basketball."
Two programs, two distractions. Seems the games can't come soon enough.
Related stories:
You also can follow me on Twitter @MikeMillerNBC.