AWARDS
Player of the Year: Tu Holloway, Sr., Xavier
There is simply no argument that can be made for this award to go to anyone other than Holloway. The reigning Player of the Year, Holloway spent much of the season as one of only four players to averaged 20 ppg, 5 rpg and 5 apg — Nolan Smith, Norris Cole and Charles Jenkins were the others — before a five point performance against Marquette in the NCAA Tournament left him nine points short. Holloway is not overly explosive, but he is tremendously quick, which makes him difficult to stay in front of. He has a knack for drawing fouls and getting to the line, and one of the major reasons his scoring went up so much as a junior was the development of his mid-range game. I don't expect Holloway to post to same numbers he did last season — 38.4 mpg, 19.7 ppg, etc. — simply because I believe Xavier will have some more help offensively and improved depth. Holloway will still be the star, but he won't have to carry this team quite as often. One of the things that doesn't show up for Holloway in the box score is that he is at his best in the clutch. He wants the ball in his hands down the stretch, and he makes the big shots and the big plays late.
And a close second goes to…: Andrew Nicholson, Sr., St. Bonaventure
Nicholson is, hands down, the best post player in the Atlantic 10. Offensively, there isn't much that he can't do. He's got a very good low-post game. He can score on either block with either hand and he shows off solid footwork and fluid moves. Hopefully he added some strength to his frame, as being able to power through defenders is something he'll need at the next level. Nicholson also showed off a solid touch in the mid-range, out to about 15 feet. Seeing him get more active on the glass and better at recognizing the double-teams that will, no doubt, be flying as him all season long is going to be a key not only to how well he team does this season, but whether or not he's able to sneak into the first round of the NBA Draft after the season.
Breakout Star: Tyreek Duren, So., La Salle
Duren has the chance to become one of the better point guards in the conference. A well-regarded recruit coming out of Philly's Neumann-Goretti High School, Duren is everything you imagine when you think of a Philly kid. He can get out and push the ball in transition, something the Explorers did quite a bit of last season as they notched the seventh most possessions in the country. Duren can get to the rack, but he's also a capable creator, averaging 4.4 apg last year. Those assist numbers will likely go down as Duren become more of a focal point offensively; with La Salle losing a potential NBA forward and two 1,000 point scorers, there won't be as many options offensively.
All-Conference First-Team:
– POY: Tu Holloway, Sr., Xavier
– G: Juan Fernandez, Sr., Temple
– G: Mark Lyons, Jr., Xavier
– F: Ramone Moore, Sr., Temple
– F: Chris Johnson, Jr., Dayton
– C: Andrew Nicholson, Sr., St. Bonaventure
All-Conference Second-Team:
– G: Tony Taylor, Sr., George Washington
– G: Langston Galloway, So., St. Joseph's
– G: Tyreek Duren, So., La Salle
– F: Chris Gaston, Jr., Fordham
– C: Kenny Frease, Sr., Xavier
Four summer storylines
– Aaric Murray transfers to West Virginia: Aaric Murray just never bought into what John Giannini was selling. One of the most highly-regarded recruits to go to La Salle in a very long time, Murray had quite a bit of success of the stat sheet, averaging 15.2 ppg, 7.7 rpg and 2.3 bpg a season ago. But the versatile, face-up four never bought in on the defensive end of the floor and was, in fact, benched by Giannini on multiple occasions this past season. Murray made the decision to transfer to West Virginia, but he will leave a gaping hole in the front line of the Explorers, who expected another two seasons from the big man.
– Coaching changes: The biggest change in the coaching ranks was the decision of Brian Gregory to take over the head coaching position at Georgia Tech where Paul Hewitt had ben fired. It was a fairly smart decision by Gregory. He was starting to wear out his welcome in Dayton as his team's consistently underachieved, and with Chris Wright's graduation, the timing was right. The strangest decision came two months after Gregory left, as the new George Washington athletic director fired head coach Karl Hobbs just seven days into his tenure. Its interesting timing. While its true that Hobbs had not been able to sustain the success the program experienced in the mid-2000's, he had his best team in recent memory returning this year. As an interesting side note, Hobbs' firing meant that assistant Roland Houston lost his job. When he was hired at George Mason, his nephew — top 75 center Eric Copes — got a release from his letter of intent at GW and followed his uncle.
Perhaps the most surprising coaching maneuver of the summer didn't involve a coaching change. Richmond was able to keep Chris Mooney around, signing him to a 10 year contract, despite the fact that a number of bigger programs were interested in his services and that Richmond graduates four starters and their two first-team all-league players.
– Fran Dunphy's 'stache is no more: He lost a bet to Dionte Christmas, who got is degree this summer. So Dunphy paid his debt: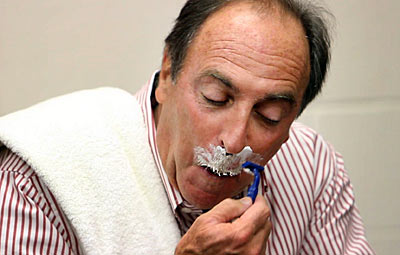 – Tornado's in Massachusetts: If what was an awful tornado season, the names and stories from Tuscaloosa, AL, and Joplin, MO, will not be forgotten anytime soon. And while the devastation wasn't on the same level as those two twisters, the tornado that ripped through Derek Kellogg's Springfield, MA, hometown caused plenty of damage. Three people died and a stretch of downtown was destroyed. Kellogg and some of his players helped in the rebuilding and relief efforts.
Four storylines heading into the season
– Can anyone challenge Temple and Xavier this season?: The battle for first place is, as always, going to be an entertaining one in the Atlantic 10 this season. Both Temple and Xavier bring back a number key pieces from last season and have enough talent on their roster that they will be in and out of the top 25 all season long. They only play once this season — at 9:00 pm on Saturday, February 11th — and if you haven't already circled that date in your calender, you are doing something wrong.
But perhaps more interesting is going to be the push for third place. After Temple and Xavier, things get messy. There are about six or seven teams that have a legitimate chance to finish third in the league. Watching the season play out will be quite entertaining.
– Is George Washington for real this season?: The Colonials have been an Atlantic 10 afterthought since 2007, but last season GW finished tied with Duquesne for fourth in the conference. They return the majority of that team, including star point guard Tony Taylor and Lasan Kromah, who was GW's second-leading scorer as a freshman before injuring his foot and missing all of last season. While there is new leadership in Foggy Bottom with Mike Lonergan taking over for Karl Hobbs, GW has the talent and the depth to be a factor in the conference race this season.
– How far does Richmond fall?: Its no secret that the Spiders lost as much as anyone in the conference to graduation. Kevin Anderson, the league's 2010 Player of the Year, graduated. So did star forward and NBA Draft pick Justin Harper. Dan Geriot and Kevin Smith, who both played huge roles for Chris Mooney's club are also gone. There are some pieces remaining on this team, however, but the talent is young, especially in the back court. Can Darien Breshers or Cedrick Lindsay become a star in the back court? Will Darius Garrett finally live up to the potential his athleticism gives him?
– Can Kwamain Mitchell return to the form that he had as a sophomore?: St. Louis was supposed to be the Atlantic 10's sleeper in 2010-2011, but a sexual assault allegation involving the team's two best players — including Mitchell — put a damper on that enthusiasm. But the Billikens didn't exactly have a disappointing season, as their freshmen developed and gelled late in the year. All five starters are back, and in addition to throwing Mitchell back into the fold this year, St. Louis adds Toledo transfer Jake Barnett, who averaged 12.9 ppg in 2009-2010. The one issue that may arise is that Mitchell plays essentially the same role as Mike McCall, a sophomore guard that led the team in scoring last season and averaged 14.6 ppg over his last seven games.
Power Rankings
1. Xavier: Last year was supposed to be the season that the Musketeers finally snapped that streak of consecutive NCAA Tournament appearances. Not only were they losing Jordan Crawford, but both Brad Redford (a torn acl) and Justin Martin (academics) were unavailable for coach Chris Mack. An 8-5 start to non-conference play only solidified that idea. But once league play started, the Muskies turned things around. Tu Holloway finished his transformation into one of the most unstoppable players in the country, Kenny Frease and Mark Lyons embraced and flourished in their roles as sidekicks and Dante Jackson and Jamel McLean were as blue-collar and valuable as they have ever been.
Obviously, Holloway will once again be the center piece of this team. There's not much to say about him beyond what is written above — simply put, there is a reason that he will be all over preseason all-america teams. The key for Xavier is going to be ensuring that Holloway has plenty of help, and there are more than enough pieces to do so. In the back court it starts with Lyons, an athletic slasher that averaged 13.6 ppg as sophomore. He needs to be more consistent, however. Redford, who is one of the best shooters in the country, and Martin, who is a 6'7″ small forward but has a reputation for being dangerous on the perimeter, will both be back in the fold, as will another freshman named Dezmine Wells. Wells is a very highly-regarded recruit, a terrific athlete that will be a star as he develops his offensive skills. Up front, Frease will be the focal point in the paint. Its taken time, but he is finally showing Musketeer fans why they were excited when he joined the program three years ago. His low-post game is finally developing and at 7'0″, he can rebound and block shots. Four other players will get a crack at seeing minutes up front: junior Jeff Robinson is a defensive playmaker that would be a good fit replacing McLean; Monmouth transfer Travis Taylor averaged 17 ppg as a sophomore before sitting out last season; Vanderbilt Andre Walker is probably the most versatile of the group and can play both the three and the four if need be; and Griffin McKenzie is a face-up four with the jumper to spread the floor. Xavier will once again be a favorite to win the A-10.
2. Temple: Fran Dunphy finally broke his streak. 17 years and nine trips to the NCAA Tournament since the last time that he won a game in the Big Dance, Dunphy finally took his team past the first round thanks to a buzzer-beating leaner from Juan Fernandez. They almost won again, as the Owls took SDSU into a second overtime in the second round. It was the end of another very good season for Dunphy and Temple, one that saw them win 14 league games and 26 games overall.
Once again, Fran Dunphy has his Temple team in a position to make a lot of noise in the Atlantic 10. On the perimeter, the 2011-2012 version of the Owls is loaded. Point guard Juan Fernandez, who feels like he has been in college for a decade, returns for his senior season. His numbers dipped a bit as a junior, but don't be surprised when he has a big senior year as this team's leader. Ramone Moore turned into the Owl's go-to scorer as a junior, and should once again fill that role as a senior. Throw in a healthy Scootie Randall, talented junior Khalif Wyatt and a couple of hungry and capable youngsters in sophomore Aaron Brown (who performed well when moved into the starting lineup to replace the injured Randall late in the season) and freshman Will Cummings, and Dunphy will have plenty of options at his disposal. I would go as far as to say Temple has one of the best perimeter rotations in the country. Up front is a bigger issue, as Temple will have to replace Lavoy Allen, who was so important to this team's defensive attack. Michael Eric should be healthy and will be counted on for a big season defending the rim and cleaning the glass. Rahlir Jefferson should also see a bump in production as a junior and will be a factor rebounding the ball. Depth is the biggest issue on the front line. Behind Jefferson and Eric, Dunphy only has two big men in Anthony Lee and Jimmy McDonnell, both redshirt freshmen that still need to add weight and strength. Even with the front court question marks, Temple should give Xavier a run for their money at the conference title.
3. Saint Louis: Last season was supposed to be the year that the Billikens made a run at the Atlantic 10 title, but those plans were thrown into utter disarray when Kwamain Mitchell and Willie Reed, the two best players in the program, were kicked off the team and out of school over an alleged sexual assault. No charges were ever filed, and while Mitchell was readmitted to the school, midway through the season, he opted to redshirt instead of wasting a year of eligibility. As a result, St. Louis was left with a roster full of youth. The bad news was that meant the team started out the season slowly, but the good news is that a late-push combined with a couple of additions this season give SLU a reason to be hopeful for next year.
A second-team all-conference player as a sophomore, Mitchell had a shot at being the league's Player of the Year had he continued to improve. A 5'10" scoring guard, Mitchell is muscular and understands how to use that strength and his quickness. He's a big time player that hit a lot of big shots, but it will be interesting to see just how much sitting out a season affected him. Mitchell will only be a piece in what is a loaded back court for the Billikens. Sophomore Mike McCall was the team's leading scorer a year ago, going on a tear over the last seven games when he averaged 14.6 ppg. Senior Kyle Cassity and sophomore Jordair Jett also return in the back court, with sophomore Jake Barnett finally getting eligible after transferring in from Toledo. There are plenty of options on the front line as well. Senior Brian Conklin and sophomore Dwayne Evans were the second and third leading scorers, respectively, but both are short forwards. Rob Loe, Cody Ellis and Cory Remekun all started games as well. Throw in freshmen John Manning and Grandy Glaze, and front court minutes will be tough to earn. Seeing how all of the pieces will come together will be interesting, but this is a St. Louis team that can definitely make some noise this year.
4. George Washington: Karl Hobbs, who had been at George Washington for a decade, lost his job as the Colonial head coach after GW replaced their athletic director in May. It was odd timing for the coaching change. While understandable — Hobbs had been unable to rebuild the program after fielding a top 10 team in the country in the middle of the decade — it came at an odd time. The Colonials actually have a shot to do some damage this season. After winning 10 league games last season despite playing without Lasan Kromah, the Colonials essentially bring back everyone. Its not a bad situation for new head coach Mike Lonergan to be walking into.
GW's strength this season is going to be in their back court. As we mentioned, they will be getting Kromah back. Kromah is a 6'5″ shooting guard that is dangerous when he gets hot. He missed last year after injuring his foot and getting surgery shortly before the season started, but as a freshman he averaged 11.8 ppg. He won't even be the best player in GW's back court as Tony Taylor, a senior that led the team in scoring and assists a year ago, is also back. Taylor is a playmaker, talented enough to make second-team all-league. Junior Bryan Bynes and and Aaron Ware and sophomore Dan Guest will round out the back court rotation. Junior Dwayne Smith and sophomore Nemanja Mikic should once again start at the forward spots. Smith is more of a small forward and a slasher, although he is the team's best offensive rebounder, while Mikic is the definition of a face-up four. Despite being 6'8″, Mikic took 172 of his 205 shot attempts last season from beyond the arc, hitting 43.6%. The key for the Colonials may end up being what kind of production they get in the paint. Senior Jabari Edwards, who has had knee issues through his career, is a terrific shot-blocker, but can he become a bigger threat in the post and on the glass? Will junior David Pellom be able to score on the block? With Mikic's ability to shoot the ball at the four, there will be plenty of space in the paint for those two to operate, either with the ball or on the offensive glass. There is enough talent here for a top four finish in the league, but it is all going to depend on how Lonergan makes the pieces fit and whether or not the players buy into his system.
5. St. Bonaventure: Looking at their overall record, it wouldn't appear as if St. Bonaventure has made any progress over the past three seasons, as 15-15 turned into 15-16 and, in 2010-2011, 16-15. But for the first time since 2002, the Bonnies made a postseason tournament in 2011, losing in the first round of the CBI. That 2002 season was also the last time that they had finished above .500 overall. Throw in the fact that the Bonnies also finished at .500 in Atlantic 10 play and return four starters, and you start to understand why there is finally some optimism around this program.
The biggest reason for that optimism is their biggest player, Andrew Nicholson. Nicholson is a big-time scorer with a possible NBA career in front of him. He will, in all likelihood, averaged over 20 points again this season, and what makes him so dangerous is that he can do it with his back to the basket or by stepping out and knocking down a 15 footer. Nicholson is joined up front by 6'8″ senior DaQuan Cook, a bruiser that was the team's best offensive rebounder. Marquise Simmons will provide front court depth. In the back court, starters and double-figure scorers Michael Davenport and Demetrius Conger both return, but the major loss will be Ogo Adegboye, who started at the point and was the facilitator for this team. Depth was, and still is, an issue for the Bonnies, highlighted by the fact that Adegboye averaged an obscene 39.0 mpg last year. With Derrick Millinghaus opting to enroll at prep school instead of at St. Bonaventure, where he may have ended up starting, the Bonnies will be forced to rely solely on Eric Mosely, a point guard transfer from Austin Peay.
6. Dayton: The 2010-2011 season was the end of a couple of disappointing eras. It starts with Chris Wright's graduation. Wright was a talented small forward with an unbelievable amount of talent and potential, and while he scored 1,600 points and will leave as a member of the winningest recruiting class in Dayton history, Flyer fans always believed that he could have been so much more. The other is head coach Brian Gregory. In his last few seasons at Dayton, Gregory — who replaced Paul Hewitt at Georgia Tech — fielded a team that underperformed given their expectations. And while its frustrating for the fans to watch a team expected to compete for conference title consistently finish in the middle of the pack, the fact that back-to-back 20 win seasons was a disappointment should tell you something about the program he built.
The big loss of the offseason wasn't Gregory, however. It was Juwan Staten, a freshman point guard that was the team's third-leading scorer and the conference's leader in assists. Staten had a chance to be a special player for new head coach Archie Miller, but even with his departure, Sean Miller's kid brother should have plenty on options on the perimeter. Senior Chris Johnson, the second-leading scorer and rebounder for Dayton last year, appears primed to become the star of this team. He'll be joined on the wing by Paul Williams. Both Johnson and Williams are good enough shooters that they will be able to keep the floor spread. It will be interesting to see who takes over the point guard spot. Josh Parker is the senior veteran that backed up Staten last year, but fellow MVC cast-off Kevin Dillard (Dillard transferred in from Southern Illinois, Parker from Drake) has the talent to be a difference-maker for Dayton. Dillard dominates the ball and is more of a scorer than a distributor, which could end up being a problem. Dayton is deep up front, but with Wright gone it will be interesting to see who capitalizes on the available minutes. Josh Benson looks like he may end up being the anchor as he is the most dangerous low-post presence, but sharp-shooting senior Luke Fabrizius, junior Matt Kavanaugh, sophomore Dean Oliver and freshman Alex Gavrilovic will all see time as well. Dayton should finish near the top of the league, but we've all heard that before.
7. Duquesne: Midway through conference play last season, the Dukes looked like a team that was prepping to make a run at the NCAA Tournament. Despite being unable to earn a win against some of their bigger name opponents, Ron Everhart's club was sitting pretty at 8-0 in Atlantic 10 play, taking over the lead in the conference at one point. But a two-point loss to St. Bonaventure on the road sparked a downward spiral that Duquesne was never able to pull themselves out of. They would go on to lose six of their last eight games in league play and drop the opener of the A-10 tournament, taking themselves right out of contention for an at-large bid and sending themselves straight to the CBI. The worst part about that tumble is that the Dukes lost their two best players to graduation, and while the pieces are there to be able to fill the void left by Clark's scoring, finding a replacement for the all-around game that Damian Saunders possessed will be difficult.
Everhart will have a number of pieces to work with in his back court. It will start with sophomore TJ McConnell, who came in and started 30 games at the point last season. McConnell can do a lot of things well — he was the fourth-leading scorer, the most consistent perimeter shooter and the leader in both assists and assist-to-turnover ratio — and he should only get better as he continues to develop. Fellow sophomore Mike Talley and senior BJ Monteiro, the team's leading returning scorer, will start along side McConnell in the back court. Expect Monteiro to be the guy that gets Clark's shots and becomes the go-to scorer for the Dukes. Junior Sean Johnson, who players the role of lightening in a bottle for Everhart off the bench, and senior Eric Evans will provide perimeter depth. The front court is going to be a major question mark, as Duquesne had size issues last season as well. Andre Marhold is the best returner, but even he only managed 20 games and 45 points on the season. Derrick Martin, an athletic 6'9″ post, could end up seeing a lot of minutes, but he's only a redshirt freshman coming off of a year in which he didn't qualify. With a couple of other freshmen joining the fold, it will be interesting to see how Everhart handles this team. With their back court strength, this is a team that can finish in the top five in the league. But with their lack of a front line, they could just as easily finish in the bottom five.
8. Richmond: The 2010-2011 season was arguably the best in the history of the Richmond program. They won a school-record 29 games. They won their first A-10 title, making a run from the three-seed to the tournament championship. As a capper, they knocked off both Vanderbilt and Morehead State en route to the Sweet 16 as a No. 12 seed. The bad news, however, is that so much of that success was the result of a stellar senior class — Justin Harper was an NBA Draft pick, Kevin Anderson was a former A-10 Player of the Year, and Dan Geriot and Kevin Smith were both starters that played key roles.
And while the cupboard is certainly not bare, the most important returner this season is head coach Chris Mooney. Mooney made the decision to return to the Spiders despite the fact that he likely had a chance to make the jump to a bigger school in a more powerful league. This season will, in all likelihood, be a rebuilding year for Mooney, but that's more of a result of youth than it is of a lack of talent on the roster. In the back court, Darien Brothers — a junior off-guard that started last season — and sophomore point guard Cedrick Lindsay will likely get the first crack at starting. Both are talented players that should be expected to see their scoring jump up into double figures. Behind those two, three freshmen will be battling for minutes — diminutive point guard Kendall Anthony, redshirt freshman Wayne Sparrow and swingman Trey Davis — with junior Greg Robbins. In the front court, senior Darius Garrett is a terrific athlete and makes a lot of things happen in the paint, but his skills still need to develop to be effective. Francis-Cedric Martel, a senior, split starts with Kevin Smith, although he's more of a shooter than a defender or playmaker. Senior Josh Duinker and a couple of freshmen — Luke Piotrowski and Alonzo Nelson-Ododa — will provide depth. Richmond will probably still finish in the top half of the league, but it will be at least a year before they are competing for a league title again.
9. St. Joseph's: Its hard to believe that just eight seasons ago, Phil Martelli had an NBA back court on a team that was one of the best of the decade not only in the Atlantic 10, but nationally. But when you put together back-to-back 20 loss seasons, people tend to forget about your successes. That said, there is reason to be optimistic about the group that St. Joe's is bringing back. After starting out the year 5-16, St. Joe's rallied down the stretch of the season, going 6-6 in their final 12 games and making the semifinals of the A-10 Tournament.
The Hawks essentially bring back every important piece from last season's team, with the exception of Idris Hilliard. This group is going to be built around their back court of junior Carl Jones and sophomre Langston Galloway. Jones is a lightening quick, 5'10" point guard that averaged 17.0 ppg last season. Galloway is more of an off-guard than Jones, but he has the potential to develop into a first-team all-league player before he leaves Hawk Hill. Daryus Quarles will likely return to the starting lineup, where he plays the three, but the x-factor appears to be Chris Wilson, a freshman point guard that Martelli believes will be the missing piece in his back court. There is a ton of potential on the front court. CJ Aiken and Ronald Roberts Jr. were both highly regarded recruits, and both played well as freshmen. The key up front, however, may end up being Hofstra transfer Halil Kanacevic, a 6'8″ sophomore that will provide some bulk (Kanacevic is listed at 258 lb, Aiken at 190 lb) on the interior. The Hawks should be more competitive this season, and I don't think finishing in the top half of the conference is out of the question. The best news? Everyone is back again for the 2012-2013 season.
10. Rhode Island: The Rams 2010-2011 season was what we've come to expect out of the Rhode Island program over the last few years. After performing well during the non-conference portion of their schedule, Jim Baron's club finished smack in the middle of the conference after a loss to St. Bonaventure in their regular season finale. The bad news? The end of the 2010-2011 season brought with it the end of an era. Delroy James, the Ram's leading scorer and rebounder last season, has graduated along with fellow starters Marquis Jones and Will Martell and reserve Ben Eaves. Throw in Daniel West's decision to leave school, Akeem Richmond's transfer and the fact that PJ Lockridge no longer appears on the team roster, and URI is going to have quite a bit of rebuilding to do.
There will be some pieces on this team, however. In the front court, senior Orion Outerbridge and junior Nikola Malesevic both return. Malesevic is a 6'7″ face-up power forward with an a deadly stroke. If Outerbridge, who was productive in fairly limited minutes off the bench as a junior, can become a presence on the block, he and Malesevic will form a solid inside-outside duo. Junior Ryan Brooks should see minutes this season, as should Jonathon Holton, a 6'9″ freshman with a similar skill set Malesevic. The back court will be a question mark until the semester break, when Billy Baron and Andre Malone both become eligibile. Baron is a sharpshooting sophomore that started his career at Virginia before deciding he wanted to play for his dad at URI, while Malone was a starter and a double-figure scorer at Auburn before transferring out. When they become eligible, they will give URI a solid perimeter attack when senior Jamal Wilson and freshman Dominique McCoy are factored in. But until those two are available, Rhody will be short-handed in the back court. Expect senior Anthony Malhoit and freshmen Mike Powell and TJ Buchanan to fill in. The Rams will be a middle-of-the-pack A-10 team once their roster is complete, but midseason additions are always a risk to team chemistry.
11. Charlotte: Last season could not have gone much worse for Charlotte. After a promising start to non-conference play, which included a four-game winning streak in their 8-6 record, the 49ers went just 2-14 in league play, missing the conference tournament when they lost to St. Joe's by one point on the final day of the regular season. It was more than just losses, however. Shamari Spears, who was the most talented player in the program, was suspended at the start of the season before eventually getting thrown off the team after just five games. Phil Jones was declared academically ineligible after the first semester. Throw in the injuries to a couple of bench players and a first-year head coach in Alan Major, and it should come as no surprise that Charlotte struggled.
The season did have its moments, however. Charlotte knocked off Tennessee by one in December and handed Xavier their only conference loss of the season. The 49ers also lost seven league games by single digits, including three in overtime. Despite their issues, this team was still competitive at times and they do have some talent returning. It will start with the back court. Senior Derrio Green and junior Jamar Briscoe both proved themselves to be talented scorers, capable of going off for big games. But they struggled with their consistency, as neither shot over 40% from the floor. Green took 207 threes on the season despite shooting just 27.1%. Part of that can be attributed to the fact that Charlotte needed them shooting to compete. One of the keys for Major will be to find a way to put those two kids in a position to score with needing them to force shots. There is some depth on the perimeter as well. Jarvis Barnett started 25 games and proved to be a consistent three point threat. Georgia transfer DeMario Mayfield should have an impact, as well as sophomore Luka Voncina, a talented guard that was ineligible last season. Throw in a couple of recruits, and Major has pieces to work with in his back court. The key returner up front is Chris Braswell, a junior that had a couple of big games inside. He'll need help from guys like KJ Sherrill, E. Victor Nickerson and Ijilia Ivanovic. There is some talent on this team, especially in the back court, but finding the right way to utilize that talent — and getting some front court help — will determine whether the 49ers can approach .500 in the A-10 this season.
12. Fordham: I say this without any hint of sarcasm — Fordham's 7-21 season was a step in the right direction for the program. Not only were they able to win two more games than they had in the previous two seasons combined, but the Rams, under new head coach Tom Pecora, knocked off St. John's and ended a 41 game conference losing streak by knocking off UMass in the last game of the regular season. With only one player graduating and a number of key pieces with multiple years of eligibility left, the Rams are at least moving in the right direction.
For Fordham, it all starts with junior Chris Gaston, who averaged 15.9 ppg, 11.3 rpg and 1.5 bpg as his numbers dipped from his freshman season. Seeing his numbers go down was actually a good thing. It means that Gaston is starting to get some talent built up around him, that he isn't being asked to do everything when he is on the floor. Joining Gaston up front will be big senior Kervin Bristol, the team's leading shot-blocker and second-leading rebounder who averaged less than a shot-and-a-half per fame. Sophomore Marvin Dominique will also see time in the front court and should push Bristol for minutes. The back court will be anchored by senior Alberto Estwick and sophomores Lamont Samuell and Branden Frazier. Throw in a solid crop of freshmen, headlined by big man Ryan Canty, and Pecora has some pieces to build on. How much gets built this season depends on how that sophomore back court develops, but I'd expect Fordham to, at the very least, be more competitive this year, maybe even sneaking their way into the Atlantic 10 Tournament.
13. La Salle: Last year was the year for the Explorers. With a starting five that was as talented as any in the conference — featuring a potential pro in center Aaric Murray, two 1,000 point scorers in Jerrell Williams and Ruben Guillandeaux, a Big East transfer on the perimeter in Earl Pettis and stud freshman point guard Tyreek Duren — La Salle was a team built to make a push for the top of the A-10. But for all that talent on the offensive end of the floor, the Explorers simply could never find a way to get enough stops to win games consistently. The Explorers were atrocious defensively, which is a big reason they ended up finishing the year 15-18 and just 6-10 in the A-10.
While La Salle will lose both of those 1,000 point scorers to graduation, they also lose Murray after just two seasons. Murray didn't enter the NBA Draft, but whatever divide had built up between him and head coach John Giannini — he was suspended twice during the season — had become too much to overcome. Losing Murray could end up being a blessing in disguise, however, has he became a distraction last year. La Salle will also still have some pieces to work with next season. Duren will be the center piece of the La Salle attack and the sophomore, who averaged 9.8 ppg and 4.4 apg last year, has the potential to become one of the best point guards in the conference. Throw in Rutgers transfer Pettis, who started and averaged 9.1 ppg last season, and South Carolina transfer Ramon Galloway, who received a hardship waiver and will be eligible immediately after averaging double figures with the Gamecocks, and the Explorers have a very good perimeter attack. Sophomore Sam Mills will likely be the first guard off the bench, with freshmen DJ Peterson and Rohan Brown providing depth. The front court is a different story. Devon White is really the only returner, and he played all of 12 mpg last season. Matt Lopez is a redshirt freshman that still needs to add some weight, while true freshmen Steve Zack and Jerrell Wright will also be on the roster. La Salle's back court could be enough to get them in the neighborhood of .500 next year, but unless some size develops during the year, their potential as a team is limited.
14. UMass: Derek Kellogg's club started out the 2010-2011 season 7-0, finally looking like they were a team that could make a tun at finishing near the top of the Atlantic 10. But as their schedule got tougher, the Minutemen fell apart. The biggest problem? They couldn't find a scoring option outside of Anthony Gurley, who averaged 18.7 ppg, which was more than double the team's second-leading scorer. Unfortunately, both Gurley and back court mate Gary Correia graduated, leaving the Minutemen not only without a go-to scorer in the program, but also without one of the team's leaders and most experienced players.
The biggest issue for UMass next season is going to be finding back court play. With Correia and Gurley gone, Darryl Traynham having been kicked off the team and Trey Davis being ruled ineligible, the Minutemen are going to be forced to rely on some youngsters to provide the engine for a team that liked to get up and down the floor. Junior Freddie Riley, the team's third-leading scorer from a year ago that should move into the starting lineup this season, and sophomore Jesse Morgan are the returners of note. Freshmen Jordan Laguerre, an athletic left hander, should have an impact simply based on the way he plays, but the key could end up being Chaz Williams. Williams is a transfer from Hofstra, where he averaged 7.4 ppg and 4.2 apg as a freshman in 2009-2010. The UMass front line will remain intact next season. Junior Javorn Farrell will be counted on to play a bigger role, as will classmates Terrell Vinson and Sampson Carter. Sean Carter will provide some height on the interior, as will sophomore Raphiael Putney and redshirt freshman Maxie Esho. Expect UMass to fall somewhere in the middle of the A-10 this year.
Rob Dauster is the editor of the college basketball website Ballin' is a Habit. You can find him on twitter @ballinisahabit.