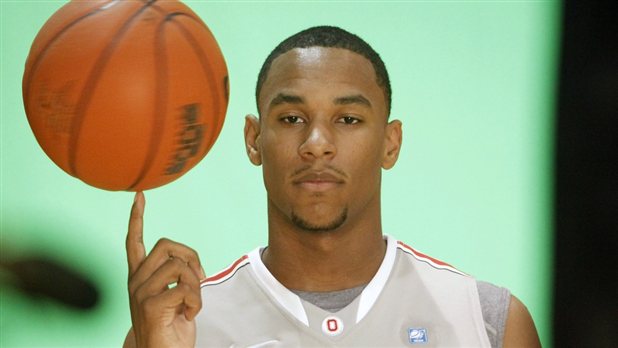 There's no perfect All-America team in college basketball. There are too many players from too many teams.
But it's fun to put together.
Our group contains 15 players from BCS-affiliated conferences and five who aren't – if you think I'm gonna label Xavier a "mid-major" you're nuts – and I'm certain arguments can be made for at least 20 other players who didn't make our cut. Like I said, there's no perfect team.
On that note, it's easy to agree on a few guys. Jared Sullinger. Harrison Barnes. Tu Holloway. Terrence Jones (though maybe he should be higher). But beyond that, who's too high, who's too low and who should be on this list or off it? Rob Dauster weighs in.
FIRST TEAM
Jared Sullinger, Ohio State
Harrison Barnes, North Carolina
John Jenkins, Vanderbilt
Tu Holloway, Xavier
Jordan Taylor, Wisconsin
Rob's take: There really isn't much to quibble about with the first team. Sullinger is the best big man in the country, Barnes is the best wing in the country and Taylor is the best point guard in the country. It would be very difficult for anyone to make a sound argument for leaving any of those three players off of the first team.
Holloway will be less of a consensus pick, but I think he deserves the preseason honor. We're talking about a kid that was one of just three players in the country — along with Nolan Smith and Norris Cole — to average 20 ppg, 5 rpg and 5 apg until he had a disastrous, five point performance in the NCAA Tournament. This year he's surrounded by enough talent to make Xavier a legitimate threat to make a run at the Final Four.
Personally, I'd swap out Jenkins with Terrence Jones or Anthony Davis. That's not a knock on Jenkins by any means — I love players that can stroke it like Jenkins — but it is a testament to what I think the two Kentucky forwards will bring to the table this year. Davis is a bit of an unknown as a freshman, but I fully expect Jones to come into this season with a chip on his shoulder, playing with something to prove.
SECOND TEAM
Perry Jones, Baylor
Terrence Jones, Kentucky
John Henson, North Carolina
Jeremy Lamb, UConn
Seth Curry, Duke
Rob's take: I've already touched on how I feel about Terrence Jones and John Jenkins swapping places, so I'll skip that. I have two beefs with this team. First of all, John Henson. I love the way he plays and what he brings to the table for UNC, but I hate him on an all-american team. He's going to be a shot-blocker and a rebounder for a Tar Heel team that doesn't have many shots or minutes to spare. And while he may end up averaging 10 ppg, 10 rpg and 3 bpg, will that be more deserving of an all-american nomination than Tyler Zeller, who will be the go-to post presence for the Heels?
I'm also not as sold on Seth Curry as a lot of other people are. I talked with Mike about this pick last week, and he is expecting Curry to have a Nolan Smith-esque kind of year. I think Curry will be good, but I see him playing more of a facilitatory role. I think he'll be closer to second team all-ACC than second team all-america.
THIRD TEAM
Anthony Davis, Kentucky
Thomas Robinson, Kansas
Draymond Green, Michigan State
Doug McDermott, Creighton
Ashton Gibbs, Pitt
Rob's take: I love Ashton Gibbs and Draymond Green. Two of my favorite players in the country, and two guys whose ability is criminally underappreciated because of their lack of flash. Gibbs is a spot-up shooter that thrives running off of screens playing the role of go-to scorer for Pitt, while Green is a burly, 6-7 power forward that may end up leading the Big Ten in assists next year.
Anthony Davis and Thomas Robinson are the exact opposite. Davis is the No. 1 recruit in the country. Robinson is the guy everyone expects to have a breakout season in 2011-2012. Both of these guys have the potential to be first-team all-americans this year, and while they are unknown quantities at this point, their placement may look silly by the end of the year.
FOURTH TEAM
Drew Gordon, New Mexico
Michael Glover, Iona
Orlando Johnson, Santa Barbara
Austin Rivers, Duke
Kendall Marshall, North Carolina
Rob's take: Its tough to argue with any of these picks. Austin Rivers will put up points as a freshman, Kendall Marshall may lead the country in assists, Drew Gordon may lead the country in rebounding and both Glover and Johnson are high-major talents playing at mid-major schools.
The two biggest snubs? Marcus Denmon at Missouri and William Buford at Ohio State. Denmon is going to be counted on even more by the Tigers this year with Laurence Bowers going down with a torn acl. While his scoring numbers may go down this year playing in a more controlled system, his value to Missouri's attack won't. Buford is a guy I'm expecting to have a big year. Ohio State loses a lot on their perimeter with the graduation of Jon Diebler and David Lighty, and I expect to see Buford absorb some of that responsibility.
You also can follow me on Twitter @MikeMillerNBC.