AWARDS
Player of the Year: Bradford Burgess, Sr., VCU
Playing a role as the second — and, at times, the third or fourth — offensive option for VCU a season ago, Burgess still managed to average 14.3 ppg and 5.1 rpg. He also happened to be a guy that seemingly made every big play for the Rams. Whether it was a momentum-changing three, getting a late-game stop, slipping a screen for a game-winning bucket (hello Florida State) or calming his team down — Shaka Smart credited Burgess for bringing the team together after Smart was given a technical foul in the second half of VCU's Elite 8 win over Kansas — Burgess has all the makings of a go-to player and a leader. And with so much talent leaving the Rams, Burgess will undoubtedly be the first option for VCU offensively. Now think about this stat: Burgess took 14 or more shots in five games last season. In those five games, he averaged 24.6 ppg and hit 17-26 from beyond the arc.
And a close second goes to…: Samme Givens, Sr., Drexel
This was tough, as the CAA has a number of very good upperclassmen this year. I'll go with Givens simply because I think he is as valuable to the Dragons as any player in the country is to their team. I also love undersized players that aren't afraid to mix it up in the paint, and there certainly isn't a front court player that is, inch-for-inch, more effective than Givens. Standing just 6'5″, Givens averaged more than 10 rpg last season and was the biggest reason why Drexel led the country in defensive rebounding percentage. You see, Drexel's ability to clean the glass is the reason they win games. Bruiser Flint's teams don't force turnovers. They play fundamental, physical and positional defense, forcing you into tough shots — they were seventh in the nation in defensive effective field goal percentage. By cleaning the defensive glass and limiting opponents to one shot per possession, the Dragons make it incredibly difficult to score against them. Givens is one of the major reasons why Drexel will be successful playing that style of basketball. Oh, and he's probably going to average around 13 ppg.
Breakout Star: Devon Saddler, So., Delaware
In his first game as a Blue Hen, Saddler went for 19 points on 8-13 shooting while adding seven assists and six rebounds on the road against a team in Ohio that was coming off of a first-round upset of Georgetown in the NCAA Tournament. Not a bad way to introduce yourself to a fan base. And while he was a bit inconsistent throughout non-conference play, Saddler only got better during CAA play, something you don't often see out of freshmen. He averaged 18.7 ppg over the last 12 regular season games, winning CAA Rookie of the Year. If his hot shooting continues — he was 20-40 from three over the last eight games of the season — and he can learn to protect the basketball — he averaged most turnovers than assists — Saddler has a chance to become a national name by the time he's done at Delaware.
All-Conference First-Team:
– POY: Bradford Burgess, Sr., VCU
– G: Quinn McDowell, Sr., William & Mary
– G: Devon Saddler, So., Delaware
– G: Kent Bazemore, Sr., Old Dominion
– F: Ryan Pearson, Sr., George Mason
– F: Samme Givens, Sr., Drexel
All-Conference Second-Team:
– G: Devon Moore, Jr., James Madison
– G: Chris Fouch, Jr., Drexel
– G: Mike Moore, Sr., Hofstra
– F: Juvonte Reddic, So., VCU
– F: Keith Rendlemen, Jr., UNC-Wilmington
Four summer storylines
– VCU's training with Navy SEALs: I mean, its pretty self-explanatory. We wrote about it more here if you are interested, but I would recommend watching the video.
– Turnover at George Mason: Simply put, Jim Larranaga was not happy at George Mason. He wasn't happy with his salary, he wasn't happy with the salary his assistants received, he wasn't happy with his athletic director, and he wasn't happy when he saw Shaka Smart sign an extension worth more than double what he was making annually for accomplishing the same thing he did five years prior. So he left for a job that paid better, had a boss he got along with, and was located in South Florida. Not that tough of a decision. As a replacement, Mason brought in Georgia Tech's Paul Hewitt, and while Hewitt could not hold keep Luke Hancock in the program, he was able to sign Roland Houston as an assistant and get him to bring along his nephew, top 100 center Eric Copes.
Larranaga was an icon at George Mason, a school he had built into a powerhouse in arguably the nation's top mid-major conference with a better-than-you-think-it-is fan base. The program has momentum. Will Paul Hewitt — who was unable to capitalize on a run by his Georgia Tech team to the national title game — build on it?
– Blaine Taylor's 'stache: Its gone.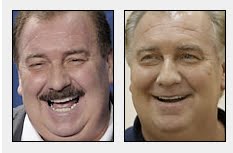 – Towson's overhaul: When you go 4-26 on the season and 0-18 in conference play, changes have to be made. For Towson, those changes came in the form of a complete overhaul of the program. Out is head coach Pat Kennedy. Out were star forwards Isaiah Philmore and Braxton DuPree. Troy Franklin was out before the end of the first semester. With Pat Skerry, the Tigers bring in a completely new culture to their program. Even with Kelvin Amayo ineligible for this year, Skerry did a solid job recruiting, landing Georgetown transfer Jerelle Benimon. If he can tap into the fertile recruiting grounds of the Baltimore-DC corridor, Towson has the potential to be one of the best programs in the CAA.
Four storylines to follow this season
– Kent Bazemore's foot: Bazemore, Old Dominion's lone returning starter and a potential CAA Player of the Year in 2012, broke a bone in his left foot playing in a Hampton, VA, summer league. He underwent surgery in the beginning of August and initially expected to be healthy by the time the season finally rolls around. Now it appears as if the reigning defensive player of the year in the conference may be out until early December. If he is not at 100%, ODU is in trouble this season. Bazemore is one of the best perimeter defenders in the country, a guy that head coach Blaine Taylor can build a defense around. He's also an athletic scorer that developed into a well-rounded offensive threat. It would be a shame to see him go out like this.
– George Mason's back court: The biggest concern for the Patriots heading into the season has nothing to do with who their head coach is and everything to do with their back court. Cam Long and Luke Hancock were GMU's two best playmakers, accounting for nearly 50% (240 out of 483) or their team's assists a season ago, but both are now out of the program. Then in September, Andre Cornelius, a senior guard and returning starter, was arrested for credit card fraud, meaning that Vertrail Vaughns, who averaged a whopping 9.5 mpg, is the most experienced returnee in the back court that doesn't have legal trouble hanging over their head.
The strength of this year's George Mason team is going to be their front court, but there are some major question marks in the back court. Assuming Cornelius is able to play this season, he's less of a playmaker than he is a spot-up shooter. Vaughns was efficient and productive in his limited minutes as a freshman, but how will he handle a larger role where he is going to be counted on as a playmaker? Can sophomore Byron Allen or freshman Corey Edwards take over the point guard duties? Whether or not Paul Hewitt can find a playmaker on his perimeter will likely determine just how good George Mason ends up being this season.
– Devon Moore's status: As a sophomore, the 6'4″ Moore developed into one of the more exciting young guards in the conference to watch. He averaged 11.4 ppg and 4.2 apg on a team whose focal point was a slow-footed center. With Denzel Bowles gone, the Dukes had planned on becoming a more uptempo team. With talents like Julius Wells and Wyoming transfer AJ Davis — who could be a difference-maker for JMU this year — around Moore, there was reason fans to be excited heading into the season. But Moore has been ruled academically ineligible for the first semester. Its never easy to incorporate your point guard in at mid-season, especially when that point guard is the most important piece to a new offensive system. How will the Dukes respond to the change?
– Youngsters at Old Dominion and VCU: Old Dominion and VCU were two of the best teams in the conference last season, but combined, they graduated eight of their top ten players. The two guys that return — Kent Bazemore and Brad Burgess — are both near-locks to be first-team all-conference if they stay healthy, but how good those two teams end up being will be dependent on how well the youngsters on the roster develop. Are Juvonte Reddic and Rob Brandenburg primed for big sophomore years with the Rams? Is Darius Theus ready to be Joey Rodriguez's replacement? Can ODU's Trian Iliadis maintain his efficiency while playing an expanded role? Will Chris Cooper be able to control the paint the same way Frank Hassell did?
Power Rankings
1. Drexel: The Dragon's 2010-2011 campaign could be considered a success based on the fact that they won 21 games (only the second time that he has crossed the 20-win plateau as the head man of the Dragons), knocked off Louisville in Louisville and finished fifth in the conference, behind three teams that made the NCAA Tournament and a fourth team that sent a player to the NBA. Doing all that despite losing two players, including their leading scorer, after an offseason armed robbery just makes it all the more impressive. But the season was also a disappointment in that the Dragons didn't play in any postseason tournaments.
This season's version of the Dragons is quite intriguing. They bring back six of the seven players in their rotation from a year ago and add a solid recruiting class to the mix. The crux of this team comes on the defensive end of the floor. I think it is safe to say that the Dragons play an ugly style of basketball. They defend and they rebound — they were seventh in the country in defensive effective field goal percentage and led the nation in defensive rebounding percentage — limiting their opponents to one shot per possession as well as anyone. That won't change next season. Back is Sammie Givens — who led the CAA in rebounding at 10.3 rpg despite standing just 6'5″ — who will once again be joined up front by 6'9″ junior Darryl McCoy (7.8 rpg in 22.5 mpg) and 6'8″ sophomore Dartaye Ruffin (7.4 rpg in 23.3 mpg), who made the all-freshmen team a season ago. Returning in the back court is sophomore point guard Frantz Masserat, another all-freshmen team member, and 6'4″ senior Derrick Thomas. The key, however, will end up being leading scorer Chris Fouch. Fouch is a big-time shooter that can get as hot as anyone in the country, and while he finished the season with a 14.9 ppg average, the bulk of that damage was done early in the season. His shooting numbers dipped all the way to 33.3% from long range and 37.9% from the field by the end of the year as he battled injuries; he's banged up to start the season again as well. He averaged just 12.7 ppg in league play. If Fouch, a junior, can get more consistent throughout the season and one or two of Flint's five freshmen are able to provide solid rotational minutes, Drexel has a shot of winning the Colonial this season.
2. George Mason: As we mentioned, George Mason had as much turmoil and turnover this offseason as anyone in the country. It started with the change in leadership, as Paul Hewitt took over for Miami-bound Jim Larranaga. Then it was the transfer of Luke Hancock to Louisville, which — in addition to the loss of Cam Long — will hurt the Patriots more than people think. Finally, the addition of Roland Houston as an assistant coach brought in Top 100 freshman Eric Copes, one of the best centers in the 2011 recruiting class.
For the 2011-2012 season, the biggest key for George Mason will be finding a playmaker. With Cam Long graduating and Hancock heading to the Big East, the Patriots not only lose two of their three leading scorers, they lose their two best playmakers; those two combined for 50% of GMU's assists a year ago. 5'10" senior Andre Cornelius was, technically, the Patriot's point guard last season, but he's more of a spot-up shooter than he is a creator, although its unclear when he'll return from suspension for credit card fraud. There are minutes to be earned on the perimeter. Redshirt sophomore Vertrail Vaughns could be in line for a breakout season. He was the most efficient player on the George Mason roster last season and used a significant number of possessions (20.9%) despite playing a limited role (just 9.5 mpg). Sophomore Byron Allen was rated as one of the top 50 point guards coming out of high school while incoming freshman Corey Edwards is a playmaking point guard that had interest from a number of high-major programs, including Villanova and St. John's. Also joining the mix on the perimeter will be freshman Vaughn Gray and redshirt sophomore Sherrod Wright, who average 5.5 ppg as a freshman before missing last season with a shoulder injury. Mason's strength next season is going to be on the interior, however. 6'7″ face-up power forward Ryan Pearson, who was GMU's second-leading scorer as a junior, is back for his senior year and will become the Patriot's go-to scorer. He'll be joined on the front-line by Mike Morrison, a long and athletic center, and the freshman Eric Copes, a burly and relentless post presence that will have an immediate impact on Mason's rebounding totals. Copes has the potential to develop into a difference maker in the paint. There are a lot of question marks with this team, but the talent is there to compete for another CAA title. Will all the pieces come together?
3. VCU: I don't think I need to tell you what kind of success the Rams had last season. Despite going just 12-6 in conference play, a run to the finals of the CAA Tournament was enough to get VCU an at-large invite to the Big Dance and, well, the rest is history. The Rams rolled through USC, Georgetown, Purdue, Florida State and Kansas en route to the Final Four, the second time in five years that a team from the CAA made it that far as an 11 seed. But with four of their top five players graduating — and key reserve Toby Veal opting not to return to Richmond — the Rams will be in a bit of a rebuilding year this season.
That said, there is still quite a bit of talent on the VCU roster. It starts with Brad Burgess, who is a legitimate candidate to win the CAA Player of the Year award. Burgess is sharpshooting small forward that can score and rebound and always seems to hit a big shot when VCU needs it. But most importantly he's going to be the veteran leader of this year's team. After Burgess, the Rams are going to be relying on quite a bit of youth, but those youngsters are promising. Junior Darius Theus will likely takeover at the point for Joey Rodriguez while sophomore Rob Brandenburg will slide in alongside him. Brandenburg had a couple of big scoring outputs last year — 23 against William & Mary and 22 versus Georgia State — and is a prime candidate for a breakout season. Theus wasn't as much of a scorer, but he's a capable penetrator that notched four or more assists nine times as a sophomore. In the front court, the guy that will be looked at to replace Jamie Skeen's production is Juvonte Reddic. A highly-regarded recruit coming out of high school, Reddic has a nice blend of length, athleticism, and touch and wil hopefully develop into a more productive player as a sophomore. DJ Haley, a seven-foot sophomore, will also be counted on for a boost. After that, VCU has a lot of minutes available off the bench and six freshmen — two of which redshirted — that will fight for those minutes. Redshirt freshman Reco McCarter, an athletic, 6'7″ lefty small forward, is probably the best out of that group.
4. James Madison: Matt Brady hasn't done a bad job in making over the Dukes' program since taking over in Harrisonburg, VA, three years ago. He's won 20 games twice and reached a postseason tournament twice, both of which happened last season. But the real gauge for where this program is headed will be this season, as one of the biggest reasons for JMU's success a year ago — their biggest player, Texas A&M transfer Denzel Bowles — graduates. How good was Bowles? After becoming eligible in December of the 2009-2010 season, Bowles still managed to score 1,000 points and grab 500 rebounds in his year and a half with the Dukes.
That kind of production is difficult to replace at any level of college hoops — let alone in the CAA — but the good news for James Madison is that they bring back a good amount of talent on the rest of their roster. Forward Julius Well, a 6'5″ senior, averaged 16.6 ppg as a sophomore when he and Bowles where the entire JMU offensive attack. While his number dipped this past season, it had quite a bit to do with the development of Devon Moore as a potential star in the back court. Moore averaged 11.7 ppg and 4.2 apg as a 6'4″ playmaker, coming on strong late in the season. Unfortunately, he'll have to miss the first semester, which may end up being significant as Moore's ability in transition is a reason Brady wants to play an uptempo styles next season. Rayshawn Goins is a 6'6″, 275 lb workhorse that will need to up his production with Bowles gone. The same can be said for Andrey Semenov, a face-up four man with a dangerous perimeter stroke that will see a bump in minutes this year. With Humpty Hitchens, a diminutive scorer with a terrific name, and AJ Davis, a Wyoming transfer (and Moore's cousin) that averaged double figures as a 6'6″ wing at Wyoming who could end up being a difference maker, give the Dukes a very capable core. The question will be size. Their tallest returning player, Semenov, likes to float on the perimeter. Can junior Trevon Flores, Virginia Tech transfer Greg Swindle (who hasn't played in three years thanks to a knee injury thought to be career ending), or freshmen Kenyan Pittman or Enoch Hood fill that role? If yes, JMU is a sleeper to win this conference.
5. William & Mary: The Tribe were the surprise of the 2009-2010 season, as Tony Shaver's club used a tricky offense — think of it as a combination of the Princeton offense and something that John Beilein would run — and a number of experienced sharp-shooters to launch their way to 12 league wins and a near-upset of North Carolina in the NIT. Last season was tough, as the Tribe were forced to rebuild. Their record was not pretty — 10 wins and a 4-14 mark in league play — but they lost 10 games by five points or less and bring back just about everyone from a team that got heavy minutes from freshmen and sophomores.
The Tribe will be built around senior and potential CAA Player of the Year Quinn McDowell, a 15.5 ppg scorer that shoots the three at 45.5% and is the unquestioned leader of this team. He's played in this system for four years and has been through the ups and downs. I'm not the only one that expects a terrific year out of McDowell. McDowell is joined on the perimeter by two sophomores that should be expected to have big seasons as well. both Brandon Britt (10.9 ppg as a frosh) and Julian Boatner (6.8 ppg) really came on strong late in CAA play as they earned more of Shaver's trust. There's an argument to be made that that three-man group will end up being the best perimeter in the conference. Veterans Matt Rum and Kendrix Brown and freshman Marcus Thornton will also see time in the perimeter rotation. Up front, senior JohnMark Ludwick and junior Kyle Gaillard give Shaver a couple of big men that can handle themselves on the perimeter and knock down a three, something that is key for his quirky offense. But the most important player on the front line may end up being Tim Rusthoven, a 6'9″, 230 lb sophomore. With Marcus Kitts graduating, the Tribe will need someone in the middle to do the dirty work — grab some rebounds, set some picks, block some shots. Rusthoven could end up being that guy.
6. Old Dominion: Last season was the year that the Monarchs were supposed to have their run. With an experienced and talented roster chock full of size and athleticism, Blaine Taylor had his ideal team. They played like it in the regular season, too, beating Clemson, Xavier and Richmond before finishing second in a strong CAA to George Mason. But after running through the CAA Tournament, Old Dominion lost in the first round of the NCAA Tournament to Butler on a buzzer beater.
Next year, ODU is going to look different as they lose four players that have been starters/key rotational pieces for three and four years. The guy that they do return is Kent Bazemore, the CAA's reigning defensive player of the year who will hopefully be healthy after getting surgery on his foot this summer.. At 6'5″, the senior Bazemore is a terrific athlete, a tremendously improved threat offensively, and one of the best perimeter defenders in the country. After Bazemore, however, only three players that were able to crack Taylor's rotation return. Chris Cooper, who will be asked to replace Frank Hassell, is a 6'9″ senior that proved to be a monster on the glass in his limited minutes last season. Trian Iliadis is shooter that was efficient and effective off the bench a season ago. The development of those two this season will be critical to ODU's success. Marquel De Lancey, a 6'0″ senior, will likely see minutes at the point. Beyond that, however, there are minutes to earn for the Monarchs and a number of young players at each position that are hungry to get playing time. There are few coaches in the country better than Taylor at ably moving around parts to better the whole. With a healthy Bazemore, ODU will be competitive, but there is no question they will also be rebuilding.
7. Delaware: The Blue Hens had a promising season in 2010-2011, one that has some folks believing that Monte Ross has finally turned a corner with the program. After knocking off Old Dominion in their opener, Delaware went on to finish with an 8-10 record in conference play, their best finish since 2008. And while the bad news is that the Fightin' Blue Hens (which remains one of the best mascot nicknames in the country) will lose the majority of their back court to graduation — including Jawan Carter, their leading scorer and a third-team all-CAA performer — there is enough young talent returning that UD fans shouldn't be concerned about too much of a dip this season.
It starts with sophomore Devon Saddler, last season's Freshman of the Year in the CAA. Saddler will need to improve his shot selection and his ability to protect the ball (he had more turnovers than assists last season), but there is valid reason to believe that the 6'2″ combo-guard can develop into a star this season. Saddler came on strong late in the year, winning the rookie of the week award the last four weeks of the season and hitting for 20 points four of the last seven games. Also returning is 6'8″ junior Jamelle Hagins. Hagins was the conference's leading shot-blocker as a sophomore and also averaged 7.3 rpg. Like Saddler, Hagins will be counted on for a bump in offensive production to make-up for the loss of Carter. Hagins isn't the only returnee on the front line. Josh Brinkley, a 6'6″ junior, was having a solid sophomore campaign when he went down with a stress fracture in January. Hakim McCullar and Kelvin McNeil also return up front and will be joined by promising freshman Marvin King-Davis. The x-factor for this team will be how the new faces develop in the back court. Can sophomore Kaleb Clyburn take advantage of the available minutes? Will freshmen Jarvis Threat, Khalid Lewis, Larry Savage and Kyle Anderson be ready when they get thrown into the fire of CAA conference play in January? Those five players will likely determine whether Delaware again finishes below .500 in the league or moves up into the top half of the conference.
8. Hofstra: Its nice to be a first year coach at a mid-major program with an NBA player on your roster. Just ask Mo Cassarra, because that is the exact situation that he walked into with the Pride. As a senior, Charles Jenkins would go on to have one of the best seasons in recent, winning his second consecutive conference Player of the Year award and eventually getting picked in the second round of the NBA Draft. The question now becomes how do you rebuild from that? How does a team that relied so much on one player move on when that player leaves?
Its quite obvious that the Pride will have a different feel next season, as Jenkins was not only their leader on the court but off it as well. The role of go-to scorer will most likely be filled by Fordham transfer Mike Moore, who averaged 14.9 ppg, 5.5 rpg and 2.2 apg as Jenkins sidekick a year ago. The role of the playmaker will likely be filled by either Dwan McMillan, a senior that averaged 6.8 ppg and 3.3 apg playing alongside Jenkins last season, or Stephen Mejia, a junior transfer from Rhode Island. Its not out of the question that those three will be on the court at the same time. Sophomore Shemiye McLendon may be primed for a breakout year as well. Jenkins wasn't the Pride's only loss, center Greg Washington also graduated, leaving a weak Hofstra without a shotblocking presence. Junior David Imes, a the team's leading rebounder a season ago, will be counted on to produce more, but beyond Imes there isn't much in the way of proven players for Cassarra to choose from. Sophomore Stephen Nwaukoni was solid in limited minutes and Hofstra will have three newcomers on their front line, but unless they Cassarra found a diamond in the rough, the Pride will be overmatched in the paint in just about every game. Moore may end up being an all-CAA talent, but Hofstra will probably consider it a successful season if they finish in the top half of the league.
9. UNC-Wilmington: The 2010-2011 season was an introductory one for Buzz Peterson. He got to know the school, he got a chance to get a feel for his players, and he spent a season learning the CAA. And he did all that with one of the best player in UNCW history, Chad Tomko, leading his team. With Tomko's graduation, the Peterson's club is now in full-on rebuilding mode.
Its going to be a tough year for Peterson. That's the way that it works when you have a roster with eight freshmen, four sophomores, and just three upper-classmen. But there is reason to be hopeful. For starters, the recruiting class that Peterson brought in is strong. Led by Chicago-native Luke Hager, a 6'7″ combo-forward, and Georgia-bred two-guard Adam Smith, Peterson brought in a group that should develop into solid players in the CAA, if not stars. The issue? The whole "over time" aspect of the class. Its tough to ask a group of freshmen to play important roles at any level. I do expect UNCW to be competitive and to win some game, however. Keith Rendlemen, an active and athletic 6'7″ power forward, had a solid sophomore season and should be ready to become more of a go-to option as a junior. Senior Trevor Deloach will be back to anchor the back court along with sophomore Tanner Milson and Dante Morales. Seven-footer Matt Wilson will be counted on to have a productive season as well. Expect a similar year to what William & Mary did in 2010-2011 — a record that doesn't quite reflect how competitive the team was.
10. Georgia State: The Panthers are in a tough position. Located in the heart of SEC country, in a city that houses four professional sports teams and a state with two other major universities, Georgia State is a tough place to earn recognition. From fans, from recruits, from anyone. Eventually it did in Rod Barnes, who was fired as the head coach prior to the team's trip to the CAA Tournament. Georgia State did make a solid hire, however, luring Ron Hunter from IUPUI to continue the rebuilding job. He inherits a team that was stout defensively but, simply put, could not score the basketball.
Hunter will be in a tough position in his first year in Atlanta. While he returns a team that will have quite a bit of experience — seven of the 11 players that averaged double-figures in minutes last season return and Florida State transfer Jordan DeMercy will be eligible — that team's only experience at the collegiate level is the struggle to finish tied for ninth in the CAA last season. The biggest issue Hunter will have is on the offensive end of the floor. The Panthers didn't have a single player average more than 9.4 ppg last season and finished 294th in offensive efficiency as a team. Throw in the fact that they lost their two best shooters to transfers, and what you get is a team that is going to have to win games 50-48. Seniors Eric Buckner, Brandon McGee and Josh Micheaux will anchor the front line with 6'10" junior James Vincent playing a role off the bench. Jihad Ali is the leading returning scorer on the perimeter, with James Fields and Devonta White likely joining him in the rotation. DeMercy, an athletic 6'7″ small forward, should have an impact as a defensive playmaker, but he's never been known as a big time scorer. Freshmen guards Kevin Shaw and Tony Kimbro, Jr, should also get a chance to play. It will be difficult for Hunter to get his team out of the bottom half of the conference.
11. Northeastern: After taking over the Husky program in 2006, Coen almost immediately built Northeastern into a team that could compete at the top of the CAA. In his first four seasons, the Huskies never finished below .500 in the league, earning a third-place finish in 2009 and second-lace in 2010. Unfortunately, much of that success was built on Northeastern's 2006 recruiting class, one headlined by Matt Janning. The Huskies struggled last season, starting out the year 4-15, before finally finding a rhythm midway through the season. They reeled off four straight wins — including an upset of VCU — before ending the year at 11-20, 6-12 in conference play.
It will be tough for Northeastern to avoid taking another step back this season with the graduation of their point guard and star player Chaisson Allen, but its certainly doable as the Huskies have a couple of solid pieces coming back. Junior guards Jonathan Lee and Joel Smith both developed into deadly shooters and capable all-around players by the end of their sophomore seasons and will be expected to provide increased production and leadership this season. Alwayne Bigby, who missed all but seven games a season ago with injury, is back. 6'8″ freshman Quincy Ford should combine with Bigby to give Northeastern some versatility on the wing. 6'10" center Ryan Pierson made the all-rookie team last season, but he'll need to improve a great deal on his strength in the paint and ability on the glass. Juniors Kauri Black and Dinka Marshavelski are also back in the front court and should get a boost from freshman Reggie Spencer. But is going to be replacing Allen. And with Alex Harris transferring out, that means Northeastern is either going to have to rely on a freshman to run the point or hope Lee or Smith can take over the ball-handling duties. Neither are ideal. Expect another finish in the bottom half of the league.
12. Towson: The Tigers, frankly, were horrible last season. They won just four games, losing their last 19, including all 18 in the CAA. It was enough to cost head coach Pat Kennedy his job. New head coach Pat Skerry won't have it easy his first season, either. Towson's talented forward duo of Isaiah Philmore and Braxton Dupree both left school — Philmore transferred to Xavier, Dupree went pro — after the season while Troy Franklin transferred midway through the year. Josh Brown graduated at the end of last season while talented recruit Kelvin Amayo was found ineligible by the NCAA. That's a lot to lose for a new head coach.
Essentially, the Tigers are going to be a brand new team next season, and that is not necessarily a bad thing. Kennedy's club didn't lack talent last year, but there was something missing that did not allow that talent to come together on the court. Skerry's club will be a defensive-minded group that is anchored by former walk-on Robert Nwankwo, a 6'8″ senior that redshirted last year after averaging 9.2 rpg and 3.2 bpg, both of which led the CAA, as a junior. RaShawn Polk is also back. He averaged 11.6 ppg as a junior last season. After that? Its a whole bunch of new faces. After losing their two best players from a four-win team, its difficult to picture Towson anywhere but the bottom of the CAA next season. But with the culture change of a new head coach, the ship at least looks to be pointed in the right direction.
Rob Dauster is the editor of the college basketball website Ballin' is a Habit. You can find him on twitter @ballinisahabit.