Wanna win a national title? Better be clutch. Or at least have someone who can carry you in the clutch.
North Carolina, Ohio State and Kentucky make that cut thanks to Harrison Barnes, Jared Sullinger and Terrence Jones. Vandy's also got a go-to guy in John Jenkins.
But what about Syracuse? Do the Orange have someone they can trust late in games?
Corey Schmidt writing at Basketball Prospectus (he also keeps an excellent blog, Halcyon Hoops) broke down a player's effectiveness in clutch situations by points per weighted shot (the higher PPWS, the better) and their shot percentage (to see how often they're used in late-game situations). The result was a series of nifty graphs that made it easy to instantly see how well the players on those contenders handle clutch spots.
Click here to see the graphs for Kentucky, UNC, Ohio State and Vandy. It's the Syracuse one I want to excerpt: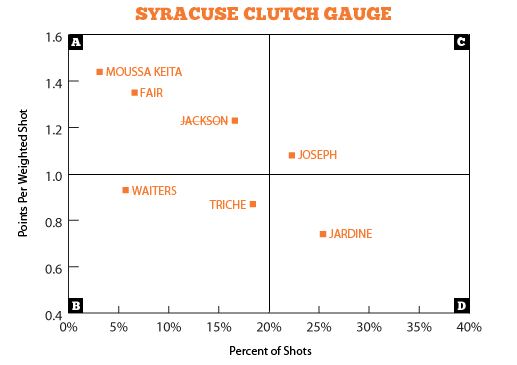 That should make Orange fans – and Jim Boeheim – a little nervous. It also shouldn't be overly surprising.
Scoop Jardine often had the ball in late-game spots, which rarely had the same result. But while he was the worst in terms of PPWS, Brandon Triche and Dion Waiters, two guys who could see the ball a lot in similar situations this season, weren't much better.
Kris Joseph, a guy who could be a star, was the best of the bunch, but you'd hardly call him a true go-to guy in the clutch.
With any luck, Corey will revisit this once March rolls around. Otherwise, it'll make people awfully nervous about advancing Syracuse very far in the Big Dance.
Related stories:
You also can follow me on Twitter @MikeMillerNBC.