Nobody's got a handle on the conference realignment mess. Just when you think things have settled, someone else gets happy feet. If it's not Missouri trying desperately to leave the Big 12, it's TCU being courted by the Big 12 and away from the Big East.
Hey, even the conference commissioners hardly know what's going on.
But if you need news and some semblance of understanding, the guys at Big East Coast Bias are tough to beat.
Makes sense. The Big East has taken the brunt of the realignment chaos, losing two founding members – Syracuse and Pittsburgh – to the ACC, while another founding school – Connecticut – is trying to do the same, while West Virginia consistently mentioned as possibly the SEC's 14th member. That makes Mark Ennis, one of the site's managers, ideal for the return of Blogger Spotlight.
I traded emails with Mark recently over a 10-day period, right when the Big 12 seemed on the brink of collapse and right before TCU became a courted school. We did our best to figure out what's ailing the Big East, what can be done and how BECB is handling it all.
Click here for more Blogger Spotlight
Q: Big 12 fans spent most of the last six weeks fretting about what the future holds. But at least they knew this was coming (thanks Longhorn Network!). Safe to say everyone in the Big East was thrown by Syracuse and Pitt applying to the ACC, conference commissioner John Marinatto among them?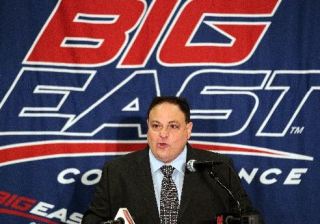 A: You know Syracuse has long had a wandering eye for the ACC and the Big East has had to try and stop them from going to the ACC before, but Pittsburgh making such a quick move like this, yeah, you could say that the conference's remaining members and the Big East leadership were quite thrown by both the move and the clandestine nature of the whole thing. You can see it clearly in the comments from Louisville athletic director Tom Jurich. Pittsburgh's leadership was viewed as one of the main parties rallying the football schools to be bold. To then turn around and leave unannounced, it's stunning.
Q: Thus prompting Rick Pitino's "Godfather" themed betrayal blog post. There's some serious animosity rising among schools. What will the season be like for Syracuse and Pitt – and UConn if it bolts? (I'd include Rutgers, but I'm certain nobody will care if the Knight leave.) Road trips will not be pleasant.
A: I imagine that for both football and basketball, the road trips for Pittsburgh and Syracuse will be harsh, especially from those schools who might be left with no real options because of the decisions made by those two schools. Can you imagine the animosity for a place like Seton Hall, a founding member of the conference that might be forced to the Atlantic 10 or something? It'll be understandably rough.
Q: And it sounds as if – though this could change – that both Syracuse and Pitt won't be in the ACC until 2014! Hope they're ready thousands of obscenities thrown their way. Might want to get those plastic shields soccer teams have to protect their benches in some of the more … ahem … vigorous fans. So what's the best way to combat this? What would help the Big East schools feel better about their situation?
A: I've been asked this question by a number of people and honestly I have no idea what could have been done to make Pittsburgh or Syracuse feel more secure in the Big East prior to their departure and I definitely don't know what could be done now to keep the remaining teams more committed outside of miraculously adding Notre Dame as a football playing member right now. Which, of course, we know won't happen.
Q: What about hiring a new commissioner? The Big 12 ditched Dan Beebe. Would moving on from John Marinatto help, even if it's only for cosmetic purposes? (As you say, Notre Dame football is really the only thing that would solve everything, but that isn't happening.) Or is that just like trying to put out a fire with a water pick?
A: Firing Marinatto might help, but only if there was a guy out there that would definitely bring some sort of fireworks with him, or perhaps an "in" that would ensure some quality football teams are also coming to the Big East. I've knocked Marinatto as much as the next guy, but, I'm honestly not sure what anyone else could have done to make the Big East better than it has been.
Q: That's life in a league that isn't built around football, right? So I have to ask: Would the conference be better served if it only had basketball and had the schools play football in other leagues? Or is that something that hurts too much to think about?
A: I think that might wind up being its future whether it would be better or not. With the conference openly discussing adding Temple rather than allowing Villanova to grow up in the league, it's pretty obvious that they really aren't concerned with what's best for the basketball playing members even though, with the loss of Syracuse and Pittsburgh, the value in the conference is clearly on that side.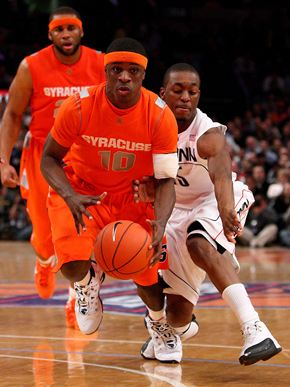 Q: I'll say. Declaring the Big East tournament as the most important – and perhaps best  — tourney after the NCAA tournament, protecting that might just be more important than retaining that automatic BCS bid. 
A: I think there's a lot of true to that. And since you mention it, is there anything sadder than the thought of a Big East tournament in MSG without Syracuse? No Flynn overtime magic, no McNamara, no games with Georgetown. It's a shame the ACC and Pitt/Syracuse sacrificed that in a panic over superconferences.
Q: I'll miss Pitt just as much. For a while there, they seemingly were in the title game every season. And UConn just ripped off its historic run yet it's openly trying to get out. Fairly certain winning the ACC tournament (in Greensboro) won't hold the same appeal. But hey, you're a Louisville guy, right? Maybe it'll give your Cardinals a boost.
A: I'll you that Louisville and Rick Pitino love being a part of the Big East Tournament and all of the pageantry associated with it. They'd miss that if all of this resulted in a conference change.
Q: Would the conference just be better off as a basketball-only league? Football's crucial for thriving, but I'd wager the Big East is the one league that could make it work as a hoops league. The logistics would be hell, though.
A: I think that's the question that everyone is trying to grapple with. It might be in the best interest of schools like Marquette, St. John's, Georgetown, etc. to go ahead and have discussions about whether they even want to bother dealing with the football members anymore. The television contracts are essentially separate anyway. If the football schools came to a meeting and said they wanted to stick you with playing basketball games against East Carolina or Central Florida, wouldn't you at least think twice about just going it alone? It's illustrative of the biggest problem with the Big East: members whose interests are not just different, but diametrically opposed.
 Q: OK then, onto to other things. Big East Coast Bias. How's the reception been since it launched? Do you miss covering only Louisville sports?
A: The response to the site has been fantastic, and I feel badly for the basketball minded fans because we launched in the deadest of dead seasons and then went right into football. We love basketball and the idea for the site was something Pat Johnston and I hatched during the NCAA Tournament because of the negative attitude toward the Big East and the way it played in the tournament. As basketball draws near, we'll expand coverage of it.
Conference realignment rumors also tend to help drive traffic.
Q: You seem like a football guy. Would you rather focus on hoops or football, or do you just go with the news and time of year?
A: I would say I understand football at a deeper level than basketball, but like most everyone that moves to Kentucky from somewhere else, basketball gets into your blood. I love splitting my time between both and it's fun as a blogger that looks at the entire conference to get to be a fan of just about everyone on any given night. It's a bit of a schizophrenic experience to cover the best basketball and worst BCS football conference, but it helps you stay grounded.
Q: What's your hope for the site's future and your place in it? Is this the dream?
A: I would love for the site to become synonymous with Big East sports, but that's a very big picture goal and with the (daily) changing landscape of conference membership, I honestly have shifted my focus to just trying to stay on top of who the Big East's members and hoping the league survives.  If the league survives as a viable BCS league and doesn't water down the basketball side of things, I think Big East Coast Bias has an extremely bright future.
You can read more of Mark's writing here and follow him on Twitter @Mengus22 and follow Big East Coast Bias @becg_sbn.
Related stories:
You also can follow me on Twitter @MikeMillerNBC.