It won't earn him beatification, but Pope Benedict XVI did pull off a small miracle Tuesday.
He rendered Dick Vitale speechless.
When the loquacious ESPN college basketball analyst met the pope on Tuesday while vacationing in Italy, he admitted that his hands were shaking and he was in awe.
In fact, Vitale tweeted that his goosebumps were so severe that the pope actually started a conversation between the two. (Probably wanted to discuss whether UNC or Kentucky was the more worthy preseason No. 1).
Vitale kept his cool and "asked his Holiness to pray 4 peace in our world & 4 my fam." Hours later, he was still giddy about the encounter.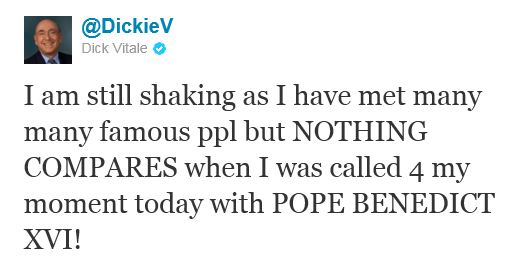 That's a big week for a devout catholic. How does one say "Awesome baby!" in Latin?
You also can follow me on Twitter @MikeMillerNBC.