Northwestern hoops might finally be worth watching – if you like purple.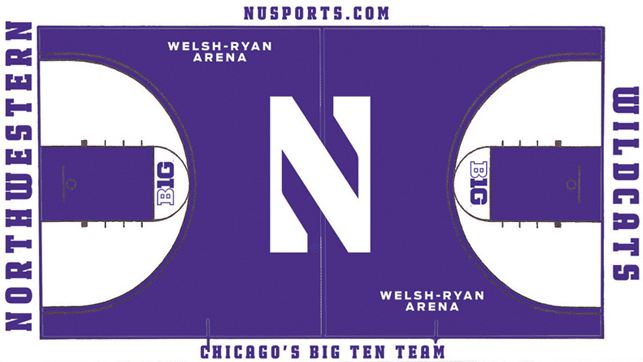 The mostly purple floor above is one of four options the school is considering for Welsh-Ryan Arena's facelift for the 2011-12 season. The other three are your standard floors – big honkin' logo in the center, school colors on the sides and a neutral color for most of the court. Here's hoping Northwestern takes a chance and embraces the purple.
It's bold, distinct and would help set Wildcat basketball apart from the rest of the Big Ten. For once. This is Northwestern basketball, one of the few programs that's never been to the NCAA tournament. Why not do something original?
The school's even willing to solicit fan input. Anyone so inclined can voice their opinion on Facebook.
"We'll definitely take a strong look at what the fans want to see," Northwestern associate athletic director of athletic communications Nick Brilowski told Jeff Eisenberg of the Dagger. "They're the ones who are paying to come to our games. We want to seriously take a look at what they want."
Not everyone's in favor of the all-purple approach, but it's not an anathema, either. Besides, Northwestern would hardly be the first school to roll out an idiosyncratic floor.
Oregon made a splash with Matthew Knight Arena last year. Towson saw it and readied its own version for next season. Even if Northwestern passes, it won't be the last school to consider a bold approach. Schools want to be distinct. They want to be unique. Set 'em apart from the rest.
Maybe some won't go this far, but I wouldn't rule it out.
You also can follow me on Twitter @MikeMillerNBC.