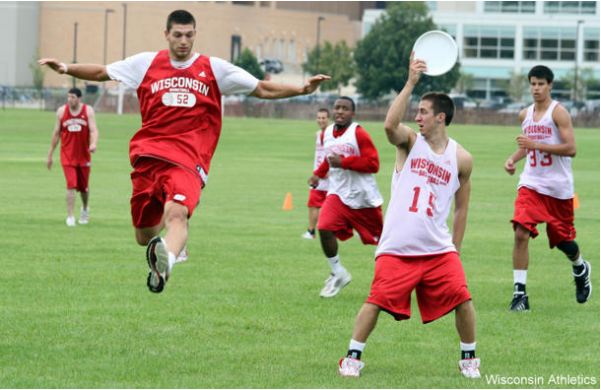 Forget about Wisconsin's deliberate, exacting offense. Try to think of Bo Ryan's team as a free-flowing, wide-open group that can run with anyone.
At least when it comes to ultimate.
The Badgers dust off their typical offense in summer for a month-long intrasquad ultimate Frisbee event that serves as a way to shake up their conditioning and build on their team chemistry. As recounted in this fantastic story by Jeff Eisenberg, it's an annual tradition the players love.
"We definitely get into it," sophomore guard Josh Gasser told Eisenberg. "All week long, all we talk about is the game coming up. It's good to get your mind off things but still get a workout in. It just shows how competitive we all are that we're playing a sport that isn't really natural to any of us yet we all want to win so badly."
Wisconsin strength and conditioning coach Scott Hettenbach started it 16 years ago in an effort to avoid the standard weightlifting and conditioning during summer. So he chose a sport that would boost the players' hand-eye coordination and their overall fitness.
But he didn't know just how effective it'd be.
"It's a chance for me to see who steps up and who works through fatigue in a game-type situation," Hettenbach told Eisenberg. "A lot of that comes out early. It's surprising how much carries over into practice. You go, 'Man I could tell that three months ago in July when I watched them play Frisbee.'"
The story's filled with player testimonials and anecdotes from the competition, which is refreshing. Good to know summer can be fun and not just about scandals and conference realignment.
You also can follow me on Twitter @MikeMillerNBC.