Kentucky's so pleased with John Calipari's first two seasons that it's paying him even more handsomely than before. It announced an extension Monday that makes his contract worth $36.5 million and will keep him in Lexington through 2019.
"The people of Kentucky have embraced our family as one of their own and we love being here and there is no other place we'd rather be," he said. Our fans are the best in all of sports and even though you're crazy, we love it."
A new deal is a smart move given the Wildcats' success the last two seasons – 64-12 overall, a Final Four berth and nine players drafted – and his immense popularity in the hoops-crazed state.
"What John Calipari has done on and off the court in the past two years to reunite and rejuvenate this fan base has been magical," Kentucky athletics director Mitch Barnhart said in a release. "He understands the responsibility that goes along with this position and there is no other coach out there that is a better fit for the best basketball program in the country."
Calipari's guaranteed $3.8 million a season the next eight years, eligible for up to $850,000 in annual incentives and receives a retention bonus of $1 million in five of the next eight years and $1.1 million in the final year.
The smartest move of all? Restructuring Calipari's buyout clauses.
His contract previously had a buyout clause of $2 million in 2011 (which no longer applies), $1 million in '12 and $500,000 in '13. Now it's $1 million in each of the next three years. After March 30, 2014, no buyout is required.
Even if the new contract prices Calipari out of the NBA market, it was wise for the school to ensure that if he ever does leave it's basically negating his retention bonus. That makes for less pressure on both parties should the perfect NBA situation ever arise.
John Clay's take is spot on: If Calipari does leave, it won't be because of money. It'll be because he wants a new challenge. He's happy, the school's happy and if anything ever changes, parting won't be one big mess.
"Obviously, there's buyouts and all that kind of stuff in there but I'm excited about being there," he said Monday. "I'm happy about this opportunity. It took me a long time to get to a place like Kentucky. No disrespect to UMass or Memphis — both great programs — but to have an opportunity like I have to be connected to our fan base like we are, and to be part of a situation that's so passionate, I'm excited about it."
(A PDF of his contract details can be found here. The contract with the amendment is here.)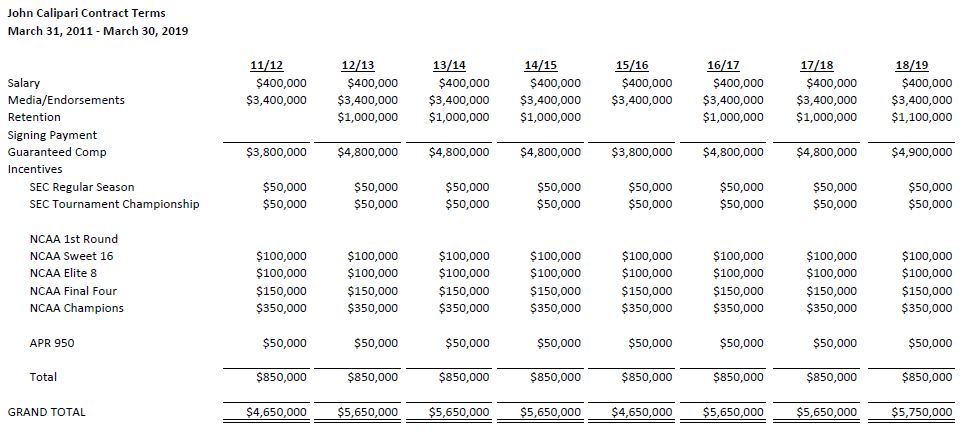 You also can follow me on Twitter @MikeMillerNBC.