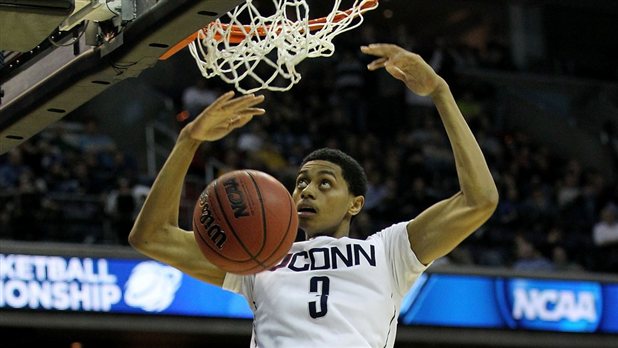 Jeremy Lamb's a baller. He was Robin to Kemba Walker's Batman in the Huskies' run to the NCAA tournament title this spring.
So would it surprise you to know that he'll be one of the top three players in the Big East next year? Or is it a bigger surprise to pinpoint UConn as the third-best team in the conference?
The guys over at Cracked Sidewalks crunched more numbers from their Value Add database (for more on that, click here) and determined the Big East essentially has three tiers next season. There are five teams ahead of everyone else, a logjam from 6-12 and the rest are way behind. It breaks down like this:
(Team, cumulative projected Value Add, top players and their Value Add ranking among BE players)
1. Louisville +56.3% (Kuric 2nd, Smith 10th, Siva 11th, Dieng 25th)
2. Syracuse +52.5% (Joseph 5th, Jardin 13th, Triche 16th, Fair 28th)
3. UConn +44.5% (Lamb 3rd, Oriakhi 4th, Napier 18th, Smith 21st)
4. Pitt +41.5% (Gibbs 1st, Taylor 24th)
5. Cincy +39.5% (Gates 9th, Dixon 12th, Kilpatrick 15th, Wright 17th)
6. Marquette +23.4% (Crowder 7th, DJO 22nd)
7. Georgetown +23.4% (Thompson 14th, Clark 20th)
8. West Virginia +23.1% if sign +5% Karron Johnson (Jones 9th)
9. St. John's +22.6% (JUCO Lindsay 30th, many FR could be)
10. Notre Dame +21.0% (Abromaitis 6th)
11. Nova +20.2% (Wayns 26th)
12. Seton Hall +19.8% (Theodore 19th, Edwin 27th, all defense)
13. Providence +10.9% (Batts 51st)
14. S. Florida +10.1% (Noriega 52nd)
15. Rutgers +8.6% (Biruta 29th)
16. DePaul +8.4% (Melvin 52nd)
Of course, the guys at Cracked Sidewalks are concerned with how the Golden Eagles fit into all of this, which is what they should be doing. Until they have numbers for Jamil Wilson, it's tough to know how good they'll be.
Also of note? St. John's. Nobody knows how Steve Lavin's newly all-new team will mesh or how good the JUCO guys will be from the start.
You also can follow me on Twitter @MikeMillerNBC.