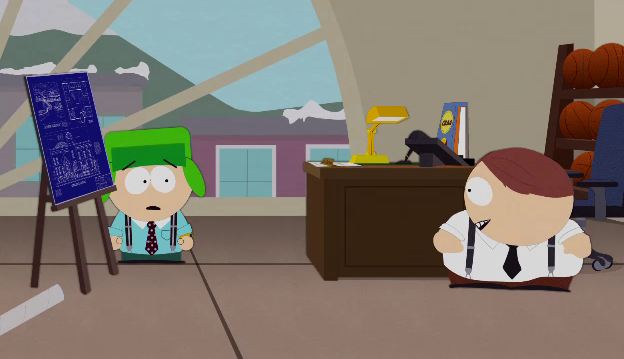 Leave it South Park to deliver the finest criticism of the NCAA yet.
Wednesday night's episode "Crack Baby Athletic Association" offered a satirical look at amateurism in major college sports when Cartman launched a basketball league for crack babies and starts to rake in money – mostly because he decided paying the babies is against the rules.
(If you've never seen an episode of South Park, the premise will sound strange. But you're strange if you've never seen an episode.)
One scene featuring Cartman questioning the president of the University of Colorado is a gem (Jeff Eisenberg has a fantastic rundown here), as is a scene when Kyle figures out how to ease his conscience – slightly – by giving the crack babies something back.
Kyle: I've been doing a lot of thinking about how the company is going to spent the money we make off the EA Sports Deal. We're going to use 30 percent of the money to build an orphanage for the crack babies.

Cartman: What?

Kyle: I've designed it to be the best place for them to live. A place where they can finally have the care and happiness they deserve. And if you don't like it, I don't care.

Cartman: Oh my God. It's genius Kyle!

Kyle: What?

Cartman: This is the answer to our problems! A $300,000 building but we buy ourselves a million dollars' worth of goodwill with the public!  We can say we gave our "stu-dent ath—o-leetes" a place to live and grow for a few years! It's like moral Teflon!
I give it six months before "stu-dent ath-o-leetes" and "moral Teflon" become common phrases in college sports.
You also can follow me on Twitter @MikeMillerNBC.