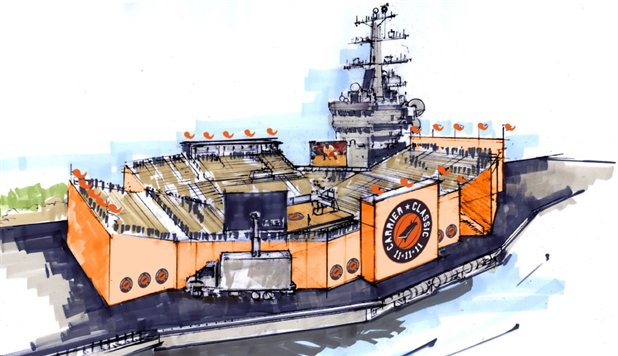 Still trying to figure out how to score a ticket to the Nov. 11 aircraft carrier game between on North Carolina and Michigan State?
Don't worry. It'll be on TV. That news became official on Wednesday.
Still up for grabs? The halftime act, the postgame concert and just which carrier will host the game. But that's where it gets interesting.
Mish Whalen of Morale Entertainment Foundation says officials won't be able to settle on the carrier until a few weeks before the game – security reasons – but that it'll likely be the USS Ronald Reagan or the USS Carl Vinson.
And if it's the Carl Vinson, prepare for an even larger media blitz than expected because that's the ship where Osama bin Laden's body was brought after he was killed by Navy Seals. He also was buried at sea off it.
You also can follow me on Twitter @MikeMillerNBC.