Maryland plans on naming the court at Comcast Center after recently retired coach Gary Williams, which seems like a no-brainer given his success (461 wins and a national title) and 22-year tenure.
What about Jim Larranaga? The former George Mason coach spent 14 years at George Mason and put the school on the basketball map with an historic run to the Final Four in 2006. Does he qualify?
That's the question posed by Halcyon Hoops, which breaks down the coaching tenures of 22 coaches who've had courts named after them and compares those coaches by tenure. In fact, there's a fantastic chart that I'll post here, but remind you that Corey Schmidt at Halcyon made it.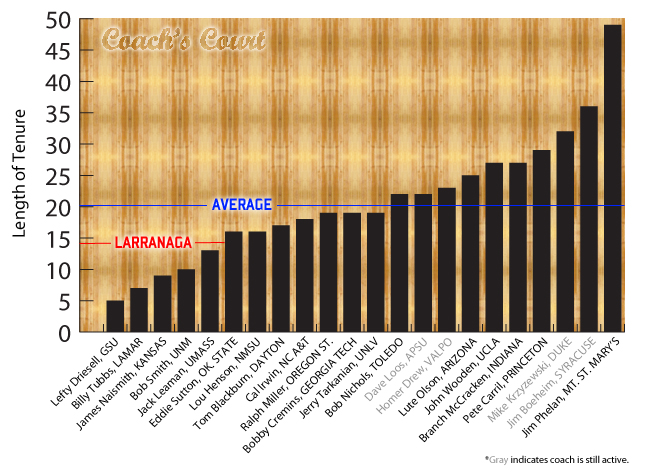 Some context: Larranaga's tenure is similar in length to that of Jack Leaman at UMass, Eddie Sutton at Oklahoma State, Lou Henson at New Mexico State (in two stints) and Dayton's Tom Blackburn. His overall record (273-164) isn't as good as those four, but his accomplishments are similar. Henson, Leaman and Blackburn built programs and reached title games. Sutton thrived at Ok. State.
The sentiment might be there, but there are two considerations: Was his departure for Miami last month acrimonious and would a school that doesn't even retire player jerseys name the court after its most famous coach? It won't be answered for some time.
Perhaps more interesting are the other court candidates Schmidt offers. Jim Calhoun and UConn is a no-brainer, though it'll get tricky depending on Geno Auriemma's influence. Rick Byrd being honored by Belmont and Fang Mitchell by Coppin State seem likely.
And here's one more that'll be strongly considered in seven or eight years: Mark Few. Gonzaga's coach has stayed in Spokane despite numerous overtures from various schools, including his alma mater, Oregon. If he reaches 20 seasons with the Zags, it'll be a done deal.
(Thanks to Eric Angevine at CBSSports.com)
You also can follow me on Twitter @MikeMillerNBC.