UPDATE, 9:33 p.m. ET: The move's not final yet. According to the NY Daily News, Johnson has an offer from Fox. Once Johnson's reps present that offer to CBS, it could be matched. We'll know it about two weeks.
The voice of March Madness – at least in the eyes of most college basketball fans—is leaving CBS.
Gus Johnson spent the last 16 years calling some of the NCAA tournament's most memorable plays, yet he and CBS couldn't agree on a new deal, according to SI.com's Richard Deitsch.
That's a move that'll aggravate many of the game's die-hard fans. Johnson was almost as revered as some of the games he called. Fans devoted a soundboard, top-10 lists, Facebook fan groups and various tributes on YouTube to his energetic, engaging style.
Check out of the immediate Twitter reactions.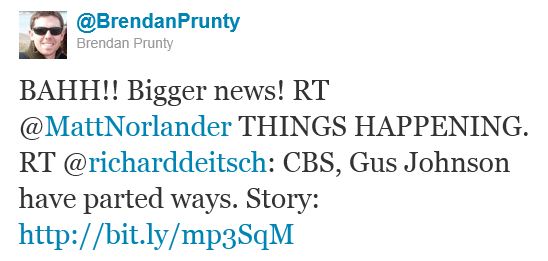 Of course, not everyone liked Johnson. They said he was too loud, to excited, too, much. To which he told the N.Y. Times, pish.
"When people say that I'm too excited, they're inferring that I'm lying," Johnson told the paper. "Manufacturing. Manipulating. And that's not true. Do I give it an extra sizzle, as a performer? Of course I do. This is theater. It made me famous!"
So what's next? Fox Sports seems a likely landing spot with its college football coverage as part of its new Pac-12 contract. Does this mean Johnson will never call a Final Four? Maybe. But one can hope.
So let's end on a high note. Here's to you, Gus.
[youtube=http://www.youtube.com/watch?v=zB2KOhEceNM]
You also can follow me on Twitter @MikeMillerNBC.