UPDATE: Knight issued an apology on Wednesday: "My overall point is that 'one and dones' are not healthy for college basketball. I should not have made it personal to Kentucky and its players and I apologize."
Forget Rick Pitino. Bob Knight might go down as Public Enemy No. 1 among Kentucky fans.
College basketball's winningest coach ripped John Calipari back in Dec. 2009 – "integrity is really lacking" – and has offered up various potshots at Calipari and the Kentucky program ever since.
The latest salvo came during a Saturday night speech in Wabash, Ind., where Knight told the audience that "Kentucky, year before last, started five players in the NCAA tournament games that had not been to class that semester. That's that one and done philosophy." (Right around the 4:10 mark below.)
[youtube=http://www.youtube.com/watch?v=Zdun5cyqFmY]
Cue an irate Big Blue Nation. Thing is, they're not wrong to be mad, either.
Of that 2009-10 Kentucky players he referred to, only Daniel Orton stopped going to class. The rest either graduated (Patrick Patterson), got good grades (John Wall) or remaining in good academic standing (DeMarcus Cousins, Eric Bledsoe.) And that's not just Wildcats fans offering up rebuttals, either.
Patrick Patterson had this to say, while DeMarcus Cousins tweeted this: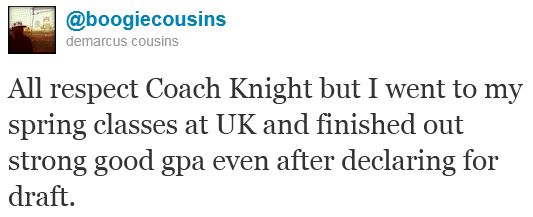 Writers also tweeted their displeasure: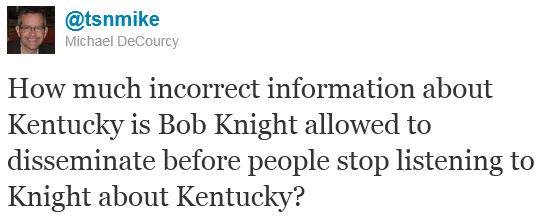 While the university issued a statement:
"The University of Kentucky, our student-athletes and their families take great offense to the blatantly erroneous comments made by Bob Knight that 'Kentucky, year before last, started five players in the NCAA Tournament games that had not been to class that semester," "UK Athletics Director Mitch Barnhart said in a statement released to LEX 18 Sports.

"Academic performance has always been a priority at UK and it's unfortunate that, although every starter from the 2010 season finished the spring semester in good academic standing, these myths exist. Our men's basketball team's APR score reflects our attention to academic progress and our student-athletes take great pride in representing the University of Kentucky on and off the floor," says Barnhart.
For such a smart coach, Knight sure insists on making dumb statements about players he doesn't know anything about.
Of course, it wasn't all vitriol. I did enjoy the #BobKnightTruths Twitter hashtag that popped up Monday night.
You also can follow me on Twitter @MikeMillerNBC.