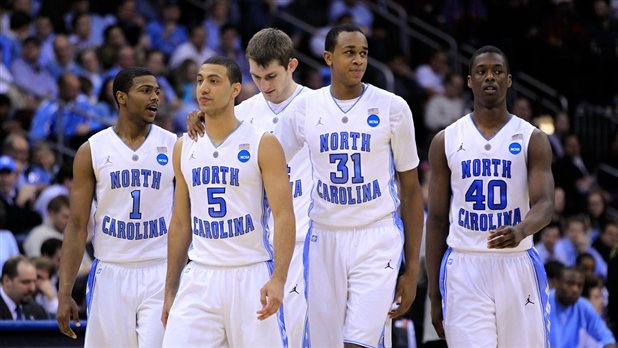 It's official. North Carolina will be ridiculously talented and awfully good in 2011-12. Question is, how good?
Now that wing Harrison Barnes will return for his sophomore season, Roy Williams' team has all the pieces back from a 29-8 team that reached the Elite Eight and won the regular-season ACC title. Frontcourt players Tyler Zeller and John Henson also passed on the draft, while guards Kendall Marshall, Dexter Strickland, Leslie McDonald and Reggie Bullock are also back. Throw in two 5-star prospects in forward James McAdoo and guard P.J. Hairston and the Heels are loaded at every position.
And they know it.
"As a team, we're preparing for a special season. My off-season plans are to diligently work on honing my basketball skills in all areas with one team-goal in mind — to bring the 2012 national championship home to UNC," Barnes said in a release Monday.
It's a situation similar to 2008-09, when the Heels returned every player from a 36-3 team that reached the Final Four. That squad entered the season No. 1, dealt with the loss of defensive stopper Marcus Ginyard and still won the NCAA tournament despite massive expectations.
But this team isn't quite on that level. The talent's there, but that squad was more experienced, was far more efficient on offense and just as good on defense. Plus, it was more experienced. Next year's roster will feature three sophomores and at least one freshman in prominent roles. (Though UConn's championship continues to make class standing somewhat diminished.)
It'll be interesting to see how they handle those expectations next season, especially when they won't be the only team out there loaded with high-level players.
Duke adds three 5-star prospects and a 4-star recruit – along with a roster already brimming with talent despite the losses of Nolan Smith, Kyrie Irving and Kyle Singler.
And Kentucky welcomes four 5-star prospects to a roster that could feature four starters from this year's Final Four squad. If Terrence Jones and Brandon Knight both return to school – unlikely, but so was Barnes returning to UNC – the Wildcats would have an excellent argument for No. 1.
But as of mid-April, Carolina's the team to beat. For what that's worth.
You also can follow me on Twitter @MikeMillerNBC.