Every spring includes a few odd early entrants in the NBA draft. But most players usually wise up, withdraw their names and go back to school.
Malcolm Lee is not one of those guys.
The UCLA junior had planned to test the draft waters, but Tuesday brought news that he plans to hire an agent, putting an end to what's been an incredibly average college career.  
The 6-5 guard has played 65 games the past two seasons, averaged 12.6 points in that span (12.1 last year, 13.1 this season) and never shot better than 44 percent from the field either season. He's also a terrible perimeter shooter, 27.8 percent for his career.
He emerged as the Bruins' top on-ball defender this season, which is clearly his best attribute and could help him draw comparisons to former Bruin Jrue Holiday, who has a similar frame and put up similar stats before being drafted 17th overall in 2009.
But Lee's not Holiday. He's not as quick or as nasty on the ball. He's also rated as a borderline Top 50 NBA prospect.
This tweet from Arizona Republic reporter Doug Haller sums it up: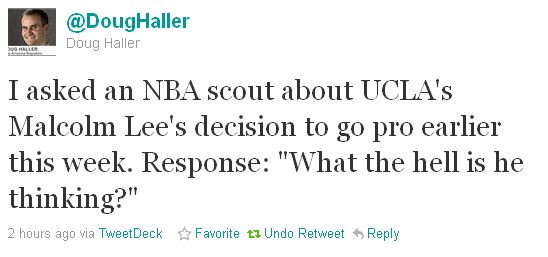 And that was before Lee said he'd sign an agent. Obviously Lee feels differently. During a teleconference with reporters last week, here's how Lee assess himself.
"I feel like I'm a first-round draft pick," Lee said, "but my opinion really doesn't mean anything. If they feel that I'm not a first-round draft pick, I can improve my stock in the workouts."
To be fair, this year's draft is shaping up to be weak, which would boost Lee's stock. There's something to be said for taking a chance when more talented players are staying in school. But just because it's a weak draft doesn't mean he'll go in the first round. Someone must've told Lee differently. Whether that someone actually knows what they're talking about – or just needs a client – is another story.
Or maybe he's just sick of school.
Either way, it's an odd decision that leaves UCLA coach Ben Howland without two of his best players for next season. Wing Tyler Honeycutt will also stay in the draft.
"I thought that would have been in his best interests," Howland said. "Malcolm knows he's a good player and he really wants to take this step now and I have to respect that.
"I think he's going to make it eventually. I'm just hoping this works out for him."
You also can follow me on Twitter @MikeMillerNBC.