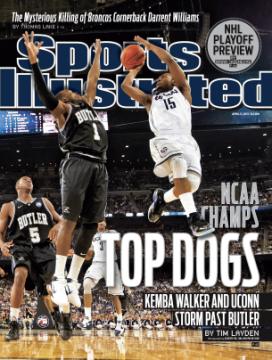 The Connecticut men's team has made the cover of Sports Illustrated seven times, all since 1999. Two were for winning the NCAA tournament in 1999 and 2004, three were college basketball preview issues (and regional covers) and the other two were mid-tournament covers.
No. 8 is this week.
Star guard Kemba Walker graces the cover, with the headline "Top Dogs" in honor of the Huskies' third national title.
At this rate, wondering if coach Jim Calhoun will rate a cover when he retires.
You also can follow me on Twitter @MikeMillerNBC.