The Big "Least" got the last laugh.
The Big East got panned after the NCAA tournament's first weekend when the likes of Pitt, Notre Dame, Syracuse and Louisville had already been sent home. But that wasn't its fault.
The conference was dealt a tough situation before the tournament even began because of its 11 teams included and the unlikelihood of its reaching its PASE, Performance Against Seed Expectation.
But Connecticut – a team that finished tied for 9th in the Big East regular-season standings – motsly redeemed the conference with its title run. It doesn't completely overshadow the league's shortcomings during the Big Dance, but helps to put them in context.
After all, if a conference's 9th-place team can win the whole thing, it should reaffirm the NCAA tournament is a crapshoot, right?
Besides, it was a rough tourney for pretty much any league not named the CAA. Final PASE numbers are below.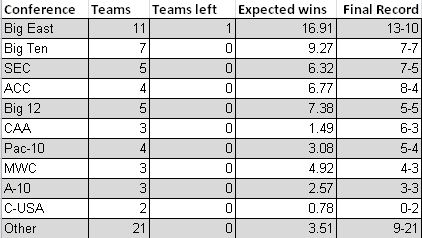 *Note: Includes wins from First Four games
You also can follow me on Twitter @MikeMillerNBC.