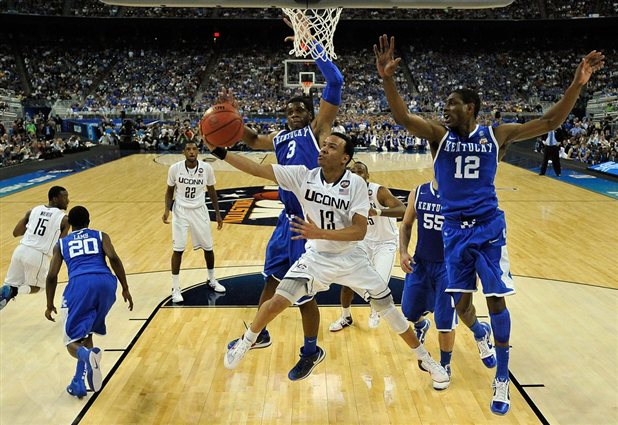 With less than 30 seconds left in their semifinal matchup against Kentucky, UConn was clinging to a 54-52 lead.
Shabazz Napier had the ball in his hands, dribbling down the shot clock before the Huskies were going to try and put Kemba Walker in a position to score. But Brandon Knight knocked the ball out of Napier's hands and Kentucky dove on it, calling a time out.
In the huddle, the UConn coaching staff was worried about how the freshman point guard was going to react. He had been an integral part of UConn's defense, playing a major role in holding Knight to just 6-23 shooting from the floor, and Kentucky still had one possession left with a chance to tie or win the game.
But during the timeout, Napier looked at UConn head coach Jim Calhoun and said "Coach, I'll make it up next play". And while he didn't exactly make it up the next play — when DeAndre Liggins missed a 24 foot three that would have won the game — Napier buried two free throws with 1.7 seconds left that clinched a trip to the national title game for the Huskies, 56-52.
UConn was not very good offensively. Kemba Walker played what was easily his worst game in the month of March, finishing with 18 points, seven assists, and six boards on 6-15 shooting. (It should tell you just how good Kemba has been in March that 18, seven, and six is considered an off night.) The Huskies shot just 1-12 from three. They turned the ball over 15 times. They only managed to get six offensive rebounds.
"I think that offensively we struggled with a lot of open shots. Obviously, they were loading up to find Jeremy and Kemba," Calhoun said after the game.
"I thought Kemba could have had 12, 13 assists. We missed shots we usually should make and will make."
UConn won this game with their defense.
There was Alex Oriakhi and Charles Okwandu in the paint, holding Josh Harrellson to just six points and four rebounds. There was the combined 2-14 that DeAndre Liggins and Darius Miller shot from the floor. In fact, outside of a four minute stretch to start the second half, when the Wildcats managed to score 14 points, Kentucky was downright atrocious on the offensive end.
They finished the game shooting 33.9 percent from the field. They were just 4-12 from the free-throw line. They averaged just 0.89 PPP, a number that drops all the way to 0.84 PPP if you factor out the three that Knight hit at the buzzer.
"I just think we missed a bunch of open shots," Harrellson said. "We had good looks. Me, personally, I couldn't knock anything down in the first half. Missed a bunch of one-footers. We had a bunch of good looks in the first half. We just couldn't make anything."
The best performance of the night, however, was the job that Napier did on Brandon Knight. Knight finished the game with just 17 points on 6-23 shooting from the floor. As poorly as Napier played offensively — 1-7 shooting, three turnovers — he was that good defensively.
"He played great, great defense," Calhoun said. "Knight is a very young, good player that's been going crazy. Tonight we call those costly points. I think that Knight is an absolutely magnificent player. But six for 23 is expensive. That's how we look at it. We try to use that term defensively. In other words, if you take a lot of tough shots, that's expensive because your field-goal percentage goes down and we in turn have a much better chance to win."
Perhaps the most telling statistic for the Wildcats is that despite getting 15 offensive rebounds on the night, they were only able to score five second chance points. Combine that with the 4-12 free throw shooting, and Kentucky's inability to capitalize on the opportunities that they had probably cost them.
I am an avid supporter of the use of advance statistics in college hoops. If you aren't looking at Kenpom's web site, then you aren't truly informed about college basketball. There is so much to be learned by looking at a team or a game or a matchup through that lens. But one thing that cannot be gleaned from tempo-free stats is the ability to make a big play at a big moment.
Kenpom has yet to invent a stat for "rising to the occasion", if you will.
And that is precisely what made the difference in tonight's outcome.
Take, for example, a play midway through the second half. Doron Lamb looked like he had a wide open fast break layup, but Kemba chased him down and blocked the shot. Kentucky didn't end up scoring on the possession, and the Huskies eventually won the game by one point.
That's a relatively insignificant play. It won't make Sportscenter. It won't make the One Shining Moment cut. But the effect that it had on the game was enormous, and its the kind of play that is difficult to quantify on a stat sheet.
The final eight minutes of this game were filled with moments like that.
There was the steal and layup that Kemba had with just four minutes left in the game when he was clearly exhausted. There was the nifty, up-and-under lay-in that Napier had with just over two minutes left in the game. There was DeAndre Liggins stepping on the three point line when he drew a foul on Jeremy Lamb in the final minute. There was the three that Liggins missed at the end of the game that would have given Kentucky the lead in the final seconds.
And there was Napier, knocking down the two free throws at the end to seal the win.
UConn didn't necessarily win on Saturday night because they played better or because they were the better team.
They won because they played better when it counted. The Huskies made the plays in the clutch. Kentucky didn't.
And that is why UConn will play for the national.