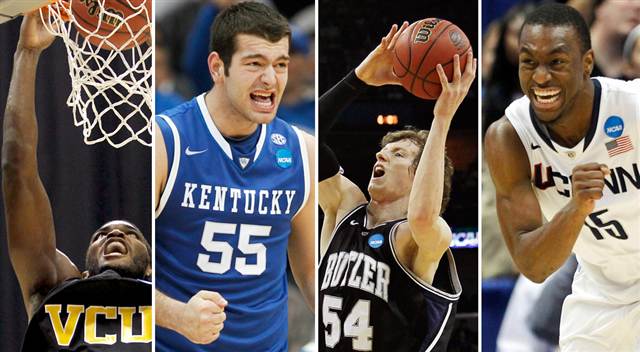 Ready for the glut of Final Four stories? The press conferences will have been held, writers will be typing away and every media outlet around the country will be posting items.
So let's have a quick review, courtesy of the Associated Press, shall we?
SOUTHEAST REGIONAL CHAMPIONS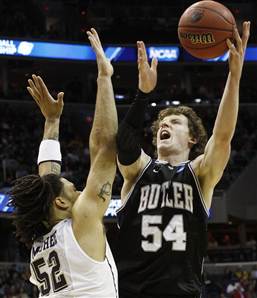 Butler Bulldogs (27-9)
Indianapolis
Coach: Brad Stevens.
Conference: Horizon League. Bid: Horizon champion.
Region: Southeast. Seed: No. 8.
Tournament Record: 17-10, 11 years. Last appearance: 2010.
Scoring: Team (72.1); Matt Howard 16.7; Shelvin Mack 15.9; Andrew Smith 8.8; Shawn Vanzant 8.1.
Rebounds: Team (34.7); Matt Howard 7.7; Andrew Smith 5.4; Shelvin Mack 4.3.
Assists/Turnovers: Team (12.2/11.1); Shelvin Mack 3.6/2.4; Ronald Nored 2.5/2.1.
3-pointers: Team (.355); Shelvin Mack 78; Matt Howard 52; Zach Hahn 44; Chase Stigall 37.
Last 10: 10-0.
Skinny: Butler is on a 13-game winning streak that gave them regular-season and conference tourney titles, four more NCAA tourney wins. The Bulldogs are the first Indiana school to reach back-to-back Final Fours. In the tournament, Butler beat Old Dominion with a second-round buzzer-beater and top-seeded Pittsburgh in a wacky foul-filled finish. They survived a late charge from Wisconsin to become the only 2010 Final Four team to make the regional finals and rallied from an 11-point deficit in the final 9 1/2 minutes to beat second-seeded Florida 74-71 in overtime. The Bulldogs are the third team in tourney history to knock off No. 1 seeds in consecutive years before reaching the Final Four. They joined UCLA (2006 and 2007) and Duke (1988, 1989 and 1990).
SOUTHWEST REGIONAL CHAMPION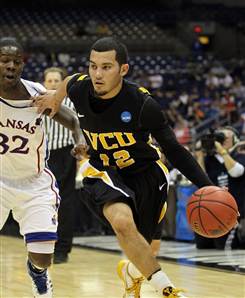 Virginia Commonwealth Rams (28-11)
Richmond
Coach: Shaka Smart.
Conference: Colonial Athletic. Bid: At large.
Region: Southwest. Seed: No. 11.
Tournament Record: 9-9, 10 years. Last appearance: 2009.
Scoring: Team (71.8); Jamie Skeen 15.4; Bradford Burgess 14.3; Brandon Rozzell 11.8; Joey Rodriguez 10.5.
Rebounds: Team (32.3); Jamie Skeen 7.4; Bradford Burgess 6.2.
Assists/Turnovers: Team (14.5/11.3); Joey Rodriguez 5.1/2.3; Darrius Theus 2.1/1.4.
3-pointers: Team (.370); Brandon Rozzell 78; Joey Rodriguez 68; Bradford Burgess 68.
Last 10: 7-3.
Skinny: The Rams have sent home five teams, all from power conferences. VCU beat Southern Cal of the Pac 10, Georgetown of the Big East, Purdue of the Big Ten, Florida State of the Atlantic Coast Conference and top-seeded powerhouse Kansas of the Big 12. All but the victory against the Seminoles came by 10 points or more. The Rams became the third 11th seed to make the Final Four. The previous time was George Mason in 2006, when that Colonial Athletic Association school stunned Connecticut in its regional final. LSU made it in 1986. The Rams' upset of the Jayhawks guaranteed a Final Four without a No. 1 seed. It is the third time since seeding began in 1979 that not a single No. 1 seed made it to the final weekend.
WEST REGIONAL CHAMPION
Connecticut Huskies (30-9)
Storrs
Coach: Jim Calhoun.
Conference: Big East. Bid: Big East champion.
Region: West. Seed: No. 3.
Tournament Record: 50-28, 30 years. Last NCAA Appearance: 2009.
Scoring: Team (73.3); Kemba Walker 23.9; Jeremy Lamb 11.1; Alex Oriakhi 9.6; Shabazz Napier 8.0.
Rebounds: Team (39.4); Alex Oriakhi 8.6; Kemba Walker 5.3; Roscoe Smith 5.2; Jeremy Lamb 4.3.
Assists/Turnovers: Team (13.1/11.3); Kemba Walker 4.5/2.2; Shabazz Napier 3.0/1.8.
3-pointers: Team (.334); Kemba Walker 74; Shabazz Napier 46; Jeremy Lamb 45.
Last 10: 9-1.
Skinny: UConn is the highest seed to make it to this year's Final Four. It's the first time not a single No. 1 or No. 2 made it to the final weekend since seeding was used in 1979. UConn also made the Final Four in 1999, 2004 and 2009 – all three times out of the West. The Huskies, 9-9 in the Big East this season, have won nine games in tournament play in 19 days. UConn won five games in five days at the conference tournament. In the NCAA tournament, the Huskies beat Bucknell, knocked off conference foe Cincinnati, eliminated second-seeded San Diego State and edged Arizona 65-63. UConn has three freshmen in its starting lineup: Jeremy Lamb, Roscoe Smith and Tyler Olander. Junior Kemba Walker was named Connecticut's first All-America since Emeka Okafor in 2004. Connecticut beat Kentucky 84-67 in the Maui Invitational championship game in November.
EAST REGIONAL CHAMPION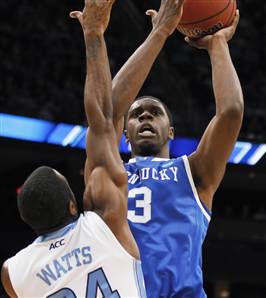 Kentucky Wildcats (29-8)
Lexington
Coach: John Calipari.
Conference: Southeastern. Bid: SEC champion.
Region: East. Seed: No. 4.
Tournament Record: 107-46, 52 years. Last appearance: 2011.
Scoring: Team (75.4); Brandon Knight 17.3; Terrence Jones 15.8; Doron Lamb 12.3; Darius Miller 11.1.
Rebounds: Team (37.4); Josh Harrellson 8.8; Terrence Jones 8.7; Darius Miller 4.6; DeAndre Liggins 4.1.
Assists/Turnovers: Team (12.7/10.7); Brandon Knight 4.2/3.1; DeAndre Liggins 2.5/1.4.
3-pointers: Team (.400); Brandon Knight 84; Doron Lamb 65; Darius Miller 57; DeAndre Liggins 35.
Last 10: 10-0.
Skinny: Freshmen Brandon Knight, Doron Lamb and Terrence Jones helped the Wildcats get to the Final Four for the first time since their 1998 national title team. Coach John Calipari joined Rick Pitino as the only coaches to lead three different programs to the Final Four. Calipari's previous visits at Massachusetts in 1996 and Memphis in 2008 were vacated by the NCAA for rules violations. Kentucky is an 8-5 favorite to win the title. Connecticut is the next favorite at 11-5, while Butler is 4-1 and VCU 7-1 to win it all. The Wildcats edged Princeton, beat West Virginia, knocked out overall No. 1 seed Ohio State and avenged a two-point December loss to No. 2 seed North Carolina to reach their 14th Final Four. Kentucky has seven national titles, second to UCLA's 11.
You also can follow me on Twitter @MikeMillerNBC.