Questions you should ask yourself before the Final Four begins: How does Kentucky thrive with pick-and-rolls? Is Matt Howard the key to Butler solving a zone defense? Is Jeremy Lamb the most effective UConn player coming off screens? Why does VCU's Jamie Skeen float into space?
The answers will help determine the winners on Saturday. And Luke Winn's the man with answers.
SI.com's writer broke down a crucial aspect of every team's offense, using screen grabs to properly illustrate how the players move and react to the defense.  And it's not just one example of each team's offense, either. He breaks down multiple sets.
An excerpt:
[Josh] Harrellson begins without the ball, setting a low-side ballscreen for Knight on the right wing (frame 1). Knight drives right off the screen, and Harrellson pops to the wing, where he receives the ball. Rather than reversing it or looking for a three, he immediately initiates a handoff play with Knight, driving at him down the right sideline (frames 2 + 3). When Harrellson's man, Jared Sullinger, hedges to prevent Knight from shooting an easy three, Harrellson rolls to the rim (frame 4) and receives a bounce pass from Knight, which is converted into a dunk.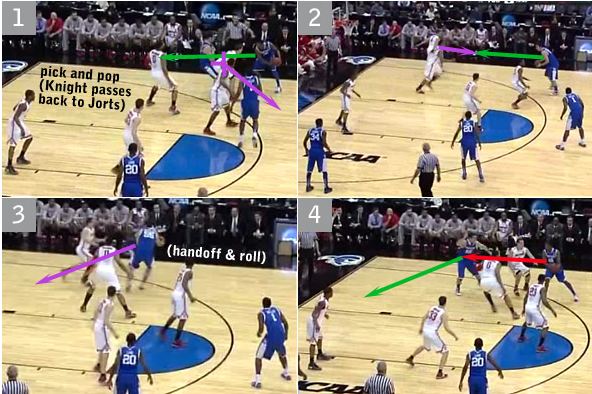 That's just for starters. Click here for more on Kentucky and the analysis of UConn, Butler and VCU.
You also can follow me on Twitter @MikeMillerNBC.