Matt Howard's value to this Butler team cannot be quantified by the numbers that he puts up.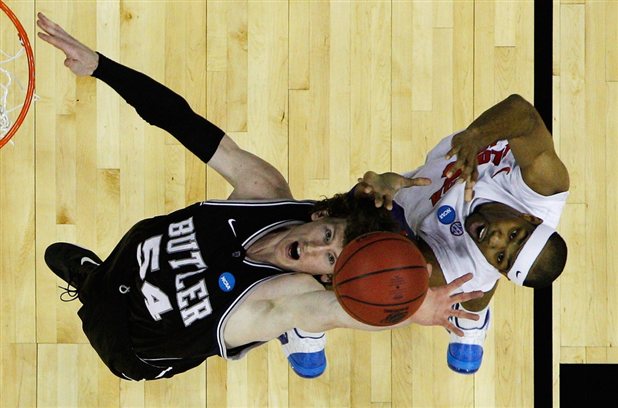 Normally when you say that about a player, it's because they are a role player. Because they are one of the guys that collect floor burns and take charges. It's rare that the leading scorer and leading rebounder for a team in the Final Four can be undervalued, but that is the case with Matt Howard.
Howard is averaging 16.7 ppg and 7.7 rpg on the season, shooting 42.6 percent from three. While his scoring has been a bit down in the tournament — he's averaging 15.8 ppg while Shelvin Mack has climbed to 21.3 ppg in the four games — Howard's contribution to this team hasn't diminished in the least.
Howard is Butler basketball.
He stands 6-foot-8 and weighs about 230 pounds, but calling him unathletic would be a compliment. He's not successful because of his outrageous vertical leap or overwhelming quickness or blazing speed. He's successful because he knows how to play and, more importantly, because he is the hardest working player on the court.
That determination rubs off on his teammates.
"He makes you play hard. I've never seen him take a play off – in a game, practice or even an open gym," Andrew Smith said of Howard.
"You don't want to let him down," Shawn Vanzant said.
"Otherwise he looks at you with those eyes," Ronald Nored said.
All of those quotes were given to Jeff Goodman at the Southeast regional in New Orleans, and all of them are completely accurate.
One of the things said about Howard is that he always seems to find himself in the right place at the right time. It's true, and its not because he is lucky. Howard gets himself into the right position. Its a manifestation of his desire to never quit on a play, which has won the Bulldogs two games in this tournament.
In the round of 64 against Old Dominion, Howard grabbed a loose ball and scored on a layup as time expired. In the round of 32 against Pitt, it was Howard boxing out Nasir Robinson and drawing a foul that resulted in the game-winning free throw.
It's more than just the attitude, however. Howard actually is a very talented basketball player. He can score in the post. He's added deadly three-point range to his arsenal. He's left the foul issues that plagued him last year behind. And he's become a solid inside-out combination with Smith.
Howard's role on this team as a scorer and a post presence makes him an important piece.
But his work ethic and leadership is why the Bulldogs have made their second straight Final Four.