Pick a storyline. Any storyline. Odds are this Final Four has it.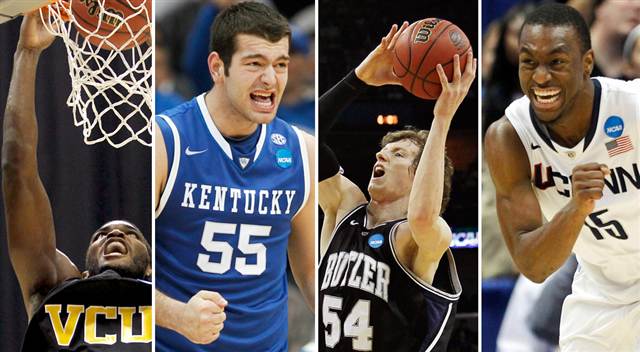 There are underdogs, fab freshmen, bluebloods, fantastic coaches and superstars. But the odds are a good place to start. The long odds, that is.
Who knew?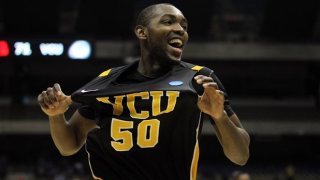 Virginia Commonwealth won five straight games and pulled off the tournament's biggest upset vs. Kansas Sunday. The chances of those five wins? At least 821:1. (Some were much, much higher.) Yet the 11-seed Rams not only defied those odds, they won four of those five games by double figures.
Compare that to their Final Four opponent, Butler. The 8-seed Bulldogs – in their second straight Final Four – had 100:1 odds of making it this far. As the power conference teams, Kentucky and Connecticut had far better odds. The 4-seed Wildcats were roughly 8:1. The 3-seed Huskies were 13:1.
If it seems like no one saw this coming, you'd be wrong. Two people – out of 5.9 million – did. Well, and the teams still playing. They expected this.
Team snapshots
Kentucky (29-8) is making its 14th Final Four appearance and first since 1998. It'll be chasing its 8th NCAA title, which is what Big Blue Nation expected of coach John Calipari when he was hired in 2009. In the two seasons since, he's racked up 64 wins and is 7-1 in the NCAA tournament. They lost five players to the NBA from last year's Elite Eight team, yet knocked off Ohio State and North Carolina in three days.
UConn (30-9) awaits Kentucky in Saturday's primetime matchup. It's the Huskies' fourth Final Four trip, all since 1999. They've won two titles and feature the best player left in the field in junior guard Kemba Walker. They're the last Big East team remaining – of 11 bids – yet finished tied for ninth during conference play.
VCU (28-11) is here for the first time, and also became the first team to reach the Final Four by winning five games. For that, the Rams can thank their inclusion into the "First Four," the result of the tournament's expansion to 68 teams. Since then, the Rams have beaten teams from the Pac-10, Big East, Big Ten, ACC and Big 12. They're the biggest underdog in the field, but aren't playing like it.
Butler (27-9), which followed up an improbable Final Four run last year with an even more unlikely run this season. The Bulldogs were just 14-9 on Feb. 3 and weren't even headed for the NIT, let alone the Big Dance. They haven't lost since (13 straight), though it's hardly been a cakewalk. Butler won its four NCAA tourney games by 2, 1, 7 and 3 points. That clutch play puts the Bulldogs in elite company, too. It joined Michigan State, Maryland, Kansas, Florida, UCLA and North Carolina as programs that have made back-to-back Final Fours since 2000.
Not the worst ever

The four teams remaining comprise the highest combined seed total (26) since the NCAA began using seeds in 1979. The previous mark was 22 (set in 2000 when two 8 seeds made it). It's also the first time no team seeded 1 or 2 made the Final Four.
However, the seeds are high, but the teams' combined records are not the worst. The 2000 Final Four still holds that (ahem) honor.
Forget the re-seeding
You'll hear chatter about the Final Four games – Kentucky-UConn; VCU-Butler – being the wrong matchups because they feature the two major conference teams and the two mid-majors. Too bad. TV executives might be nervous about the ratings, but that's how the NCAA tournament goes. Sometimes, you don't get exactly what you want, but you still enjoy it.
Good vs. Evil (or something like that)
Kentucky-UConn is the marquee matchup because of the programs' tradition and previous NCAA tournament success. Yet both coaches have had NCAA issues. UConn's Jim Calhoun was just found guilty for failing to promote an atmosphere of compliance. Calipari's technically never been to a Final Four, though he technically wasn't cited in those vacated Final Fours at UMass and Memphis.
Contrast that to their counterparts at Butler and VCU and it's an easy angle to see. Then again, neither Brad Stevens, 34, or Shaka Smart, 33, have been around long enough to do anything other than coach. This is Stevens' fourth year at Butler and Smart's second at VCU.
About that "mid-major" label
That's the de-facto term for any team not playing in the ACC, Big East, Big 12, Big Ten, Pac-10 or SEC. (Another measure includes the Mountain West.) Those conferences bring in massive amounts of money because of their football revenue, which is doled out to the basketball teams. Those resources are why the major conferences get most of the NCAA tournament bids. But with three mid-major teams making the Final Four four times  since 2006, the term might need to be redefined. At least for the teams who consistently defy those expectations like Butler, Xavier and Gonzaga.
The freshmen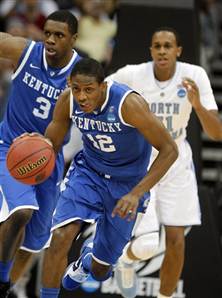 Who needs 'em? All four. But mostly Kentucky and UConn.
The Wildcats rely on three – Brandon Knight, Terrence Jones and Doron Lamb. They account for nearly 75 percent of the 'Cats' shots. Knight's been especially handy. Two game-winning shots in four games? Not bad.
UConn also plays three – Jeremy Lamb, Shabazz Napier and Roscoe Smith. Lamb's their main scoring option behind star Kemba Walker, while Napier and Smith have played increasingly larger roles as the season's progressed.
Butler and VCU each only use one, but both played key roles in their Final Four runs. Bulldogs forward Khyle Marshall grabbed seven rebounds and scored 10 points in a win over Florida, while Rams guard Rob Brandenberg got 20 key minutes vs. FSU.
The star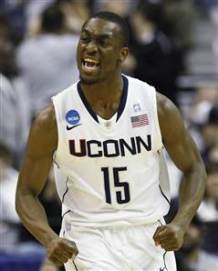 Let's close with the big one. Knight's been great, but Walker's the guy who capable of carrying the Huskies to a title, much like Carmelo Anthony did for Syracuse or Danny Manning did for Kansas. He's been spectacular – and then some – all season, and just as good the last four games. He's averaging nearly 27 a game and hitting 44 percent of his shots. He's unguardable at best, difficult to stop at worst. Kentucky may be the favorite to win, but Walker's the reason why it's foolish to count out the Huskies.
You also can follow me on Twitter @MikeMillerNBC.