Two thrillers topped what could've been a lousy NCAA tournament evening – and set up an interesting weekend in the process.
Technically, it's the Elite Eight. I prefer the intriguing eight.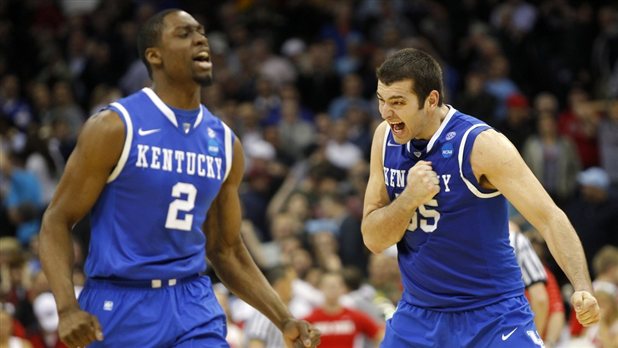 We're left with college basketball's three winningest programs, three schools that have won a title or two, last year's loveable underdog and the new Cinderella. That means Kentucky, North Carolina and Kansas. That means Connecticut, Florida and Arizona. That's Butler and VCU.
The coaches involved – John Calipari, Roy Williams, Bill Self, Jim Calhoun, Billy Donovan, Sean Miller, Brad Stevens and Shaka Smart – have a combined 17 Final Fours and seven titles. All but Smart have been this far before.
That's something for everyone.
The potential is there to top the 2005 weekend that had three overtime games and another decided by six points.
Consider the matchups:
Kentucky – coming off perhaps the game of the tournament in beating top overall seed Ohio State on a last-second shot – faces North Carolina. The Heels are the 2-seed, yet played like a 1 in an 81-63 thrashing of Marquette. The two have combined for 12 NCAA tournament titles and 31 Final Fours. It'll be a rematch of the Heels' 75-73 win earlier this season at Chapel Hill and matches UK's Calipari vs. UNC's Williams.
Yeah, that's the must-see event on Sunday night.
It's preceded by Kansas, the lone No. 1 seed remaining, vs. VCU, the lowest seed left. The Jayhawks turned in Friday night's other rout, a 77-57 win over Richmond in a performance that now makes them the team to beat. The Rams rallied past Florida State in overtime for their fourth win of the tournament (they were one of the tournament's "First Four," meaning they've played an extra game).
The Jayhawks have faced this kind of scenario before, and barely escaped. Can they do so again on Sunday afternoon?
Then you have Connecticut-Arizona on Saturday. Kemba Walker vs. Derrick Williams? That's enough reason to watch right there. (7:05 p.m. ET on CBS)
And Florida-Butler (4:30 p.m. ET on CBS) has a Gators team trying to shut up its critics and a Bulldogs team trying to cement its status as one of college basketball's elite programs.
Kansas-VCU is the only game that looks to be a blowout of the bunch – but betting against red-hot VCU at this point is just stupid.
What happens next? In this tournament, that's anyone's guess. If I were you, I'd watch.
You also can follow me on Twitter @MikeMillerNBC.