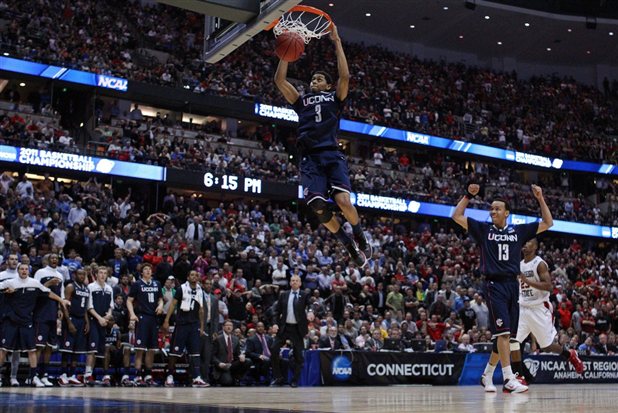 If Connecticut's Jeremy Lamb has another game like Thursday, and we'll have enough enact a moratorium on the "Lamb is a lion" headlines. In fact, we might be there already.
And the sweet-shooting guard is just a freshman.
(sighs)
Oh well. Guess that's how it goes when Lamb's on a roll like this. Lamb scored 24 points vs. San Diego State – including a clutch 3-pointer in the minutes – the most by a UConn freshman in the tourney since Khlaid El-Amin in '98.
He's averaging 18 points in three NCAA tournament games and proving to be much more than occasional support to star Kemba Walker. Lamb's already stepping into the starring role.
"I don't think he's overwhelmed by the situation at all," UConn assistant Andre LaFleur told the AP Friday. "He's one of the key guys that has come in and helped give us a new identity."
Not that Lamb's supplanting Walker. That's not only impossible, but would be dumb. He's perfectly happy t play a supporting role, stepping up for big shots when defenses key on Walker.
Arizona has noticed, too.
"With a star player some of the other guys get overlooked. He complements Kemba Walker a lot with his open shots, he drives and he's very important to that team," Arizona forward Jesse Perry said Friday. "He could easily go for 20 for 25 quietly and you wouldn't even know it. He's a big game changer and is one of the key guys we need to stop."
If the Wildcats' defense pays more attention to Lamb than SDSU did, we'll see just how ready the freshman is for prime time.
My guess? He'll leave Little Bo Peep and any other cute cuddly animal references far behind.
You also can follow me on Twitter @MikeMillerNBC.