In case Florida State's fantastic defense had any doubters, the Seminoles' pasting of Notre Dame answered that.
They held the Irish to one of their worst offensive performances of the season, mostly because Notre Dame couldn't hit a thing. An eFG% of 36.3 was its second-worst of the season – and 17 points lower than normal.
But that's what FSU does. It challenges shots at nearly every opportunity thanks to a roster filled with guys who have size and athleticism. (Considering that still-ailing defensive stopper Chris Singleton only played 10 minutes, the 71-57 win is even more impressive.
"A team like that, they're used to scoring," guard Michael Snaer said afterward. "If it gets in their head that it's not going to be easy, they're going to get down on themselves and dig a hole because they're not used to that. They're used to the ball going through the hoop. They're used to getting the easy shot. But we're not giving that up. Every shot is going to be contested."
According to David Hess over at SI.com's tourney blog, the 'Noles thrive at defending 3-pointers, yet opponents keep shooting 3s. Opponents only make 31 percent of their 3s, yet they hoist 40 percent of their shots from beyond the arc. That's just asking for a loss. (Of course, the fact that no team defends 2-point shots better than FSU may account for why teams shoot so many 3s.)
This could be really bad for VCU.
Hess ran the numbers for teams that shoot the most 3s per field-goal attempts and found that VCU tops the list of remaining teams. In fact, the Rams attempt more 3s than Notre Dame. Here's the top part of that list. You'll have to click this link to see more.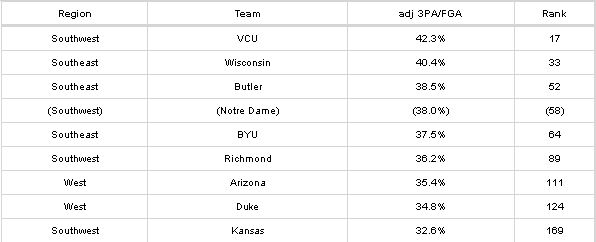 Tip-off is 9:57 p.m. ET on TBS.
You also can follow me on Twitter @MikeMillerNBC.